The Eruption on Hawaii's Kilauea Volcano Is Simmering Down
But experts caution that violent activity could start again at any moment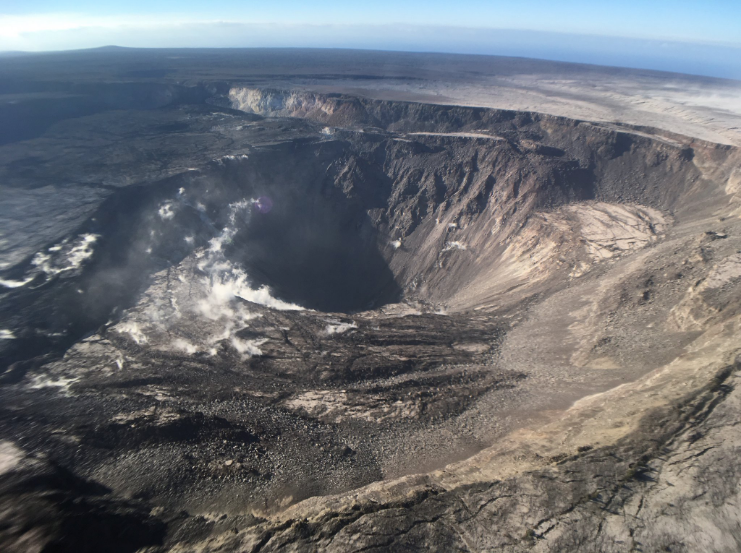 Since it began erupting dramatically in early May, Hawaii's Kilauea volcano has spewed out lava bombs, spurted huge plumes of ash and volcanic smog, and oozed so much lava into the ocean that the landscape of Big Island, where the volcano is located, has been changed. But Kilauea's wrath may be cooling; as Nathan Rott reports for NPR, the volcano's eruption seems to be slowing down.
Much of the activity on Kilauea in recent months had been coming from its largest vent, fissure 8, which continued to pour out lava even as other fissures settled. The Hawaiian Volcano Observatory announced yesterday, however, that output from fissure 8 is now low. Flight crews observed just a small lava lake in the fissure and a "weak gas plume."
The observatory cautions, however, that violent eruptions could begin again. "It is common for eruptions to wax and wane or pause completely," the statement explains. "A return to high levels of lava discharge or new outbreaks in the area of active fissures could occur at any time."
In fact, a report issued by the United States Geological Survey in July posited that it could take several months to a year for the eruption to fully settle, according to CNN's Ursula Perano. The recent update "paints a picture of a pause," the USGS said in a tweet, "but we're not yet ready to say if it's a full stop."
Though it may be temporary, the pause in Kilauea's activity offers some much-needed respite to residents of Big Island. The eruption has forced the evacuation of thousands of people, and 700 homes have been destroyed by lava flow. Clouds of toxic "laze," which is formed when blazing lava hits the ocean water, posed an acute health threat. Much of Hawaii Volcanoes National Park, which has been hit by 18,000 earthquakes in the past month alone, has shut down.
Unfortunately, Big Islanders may soon have to contend with another natural adversary. As Hurricane Hector makes its way towards Hawaii, a tropical storm warning has been issued for the area.