Have You Seen This David Bowie Dress? A London Museum Is Looking For It
The Museum of London Docklands is hoping to locate lost garments for an exhibition on Jewish fashion designers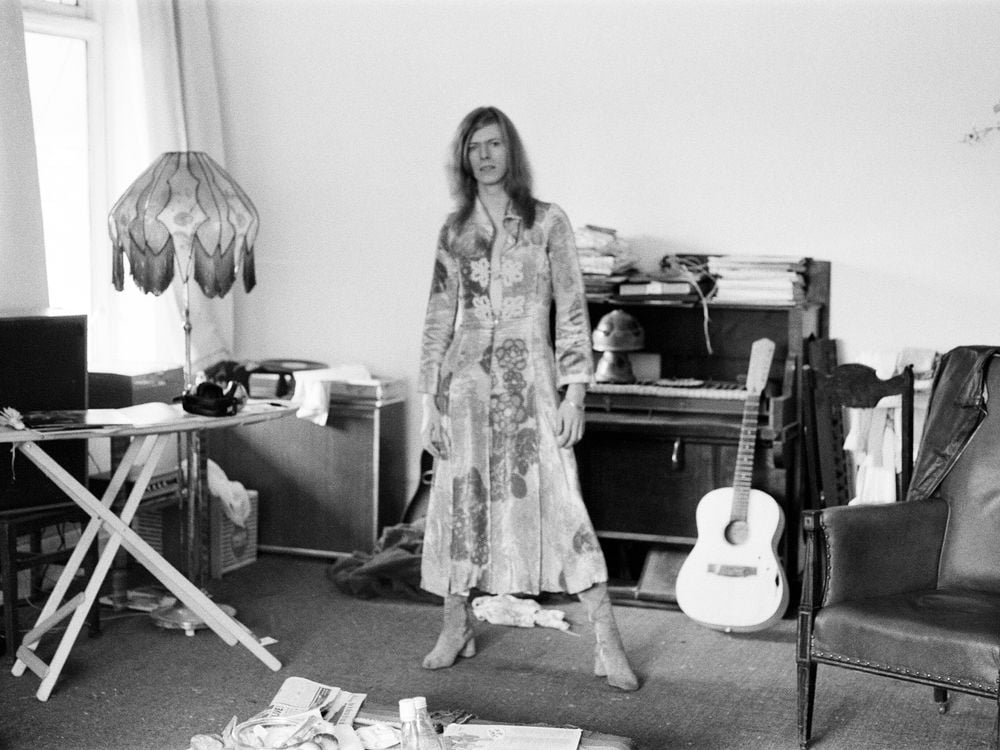 If you happen to have the dress David Bowie sported on the cover of his 1970 album, The Man Who Sold the World, around the house, then a certain London museum wants to hear from you. Ditto if you've got Sean Connery's original James Bond shirts hanging up somewhere. Oh, and also any Madame Isobel gowns you might have stashed away.
This week, the Museum of London Docklands announced that it's looking for these and other pieces created by Jewish designers working in the London fashion scene. They were worn by celebrities like Greta Garbo and members of the Beatles, but their current whereabouts are unknown. The museum is hoping to find and feature some of them in its exhibition "Fashion City: How Jewish Londoners Shaped Global Style."
We're on the lookout for iconic pieces of #fashion history for our upcoming exhibition #FashionCity: How Jewish Londoners Shaped Global Style.

Can you help us find David Bowie's dress from the cover of The Man Who Sold the World?

© Trinity Mirror/Mirrorpix/Alamy Stock pic.twitter.com/yeOvThdAoG

— Museum of London (@MuseumofLondon) January 23, 2023
"Jewish people were working at all levels of the fashion industry in London throughout the 20th century," says Lucie Whitmore, the museum's fashion curator, in a statement. "… Many of these designers were internationally famous—favored by the rich and famous and highly respected for their creativity, skill and originality. It's a contribution that deserves to be recognized."
The museum is especially interested in pieces by the designer Michael Fish, better known as Mr. Fish. Fish is known for his gender-bending designs, perhaps most notably his "man dress," worn by celebrities like Mick Jagger and Bowie. Yasmin Rufo writes for BBC News that Fish's "gender-fluid style continues to have relevance today, as reflected in the designs worn by celebrities such as Harry Styles."
In 2016, Alexander Fury of the New York Times Style magazine wrote that, "Men in the mid-'60s, amid the sexual revolution, feminism and the influence of musicians like Mick Jagger and the Beatles, began to embrace pageantry and explore new modes of dressing in a manner unseen since the late 18th century," a movement of which Fish was the "leading architect."
In addition to Fish, the museum also hopes to display pieces by Cecil Gee, the Rahvis sisters, Madame Isobel, Otto Lucas and Neymar in "Fashion City," which opens in October. In addition to clothing, photos and oral histories, the exhibition will feature recreations of a tailoring workshop from the city's East End, as well as the inside of one of the stylish boutiques found on Carnaby Street in the '60s.
"Fashion City" isn't just about famous names. Whitmore tells the Guardian's Esther Addley that the story of the exhibition is personal for many, since an estimated 60 to 70 percent of London's Jewish immigrants worked in fashion or textile trades in the early 20th century.
"We are not going to be talking about one shared experience, but we are using Jewishness as a lens through which to view London fashion," Whitmore says. "When you do that, you realize that Jewish people's contribution is massive and really important, and we are just celebrating that."
"Fashion City: How Jewish Londoners Shaped Global Style" will be on view at the Museum of London Docklands from October 13, 2023 to April 14, 2024.