Have Bedbugs Been Vanquished At Last?
Bedbugs have terrorized cities long enough, and now a human drug might stop them in their tracks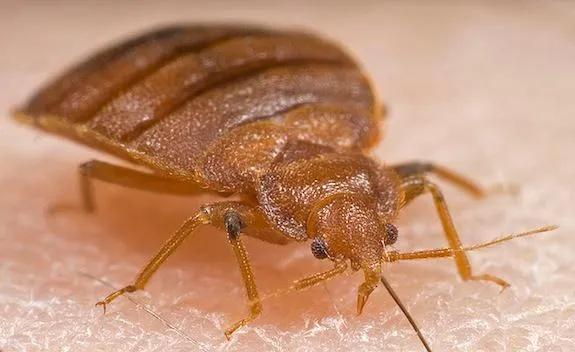 Anyone who's ever lived in a big city knows the scourge that is bedbugs. If you have them, you get these itchy, terrible bites on your skin. If you don't have them, you're convinced you do have them and think every little bug is definitely a bed bug. Everyone is miserable.
And up until now, there's been extraordinarily little progress in killing the little buggers. Standard pesticides work alright, but the tiny blood sucking creatures can hide away in cracks and live for months before emerging again. And they're not even a new nuisance. BBC Future writes:
Since the late 1990s, the bed bug has become an increasingly common urban nuisance in homes and hotels worldwide. A 2010 survey from the University of Kentucky and the National Pest Management Association found that 95% of US pest control companies had treated a bed bug infestation in the previous year, up from 25% a decade before, and 11% before that. Only last month, New York's Department of Health and Mental Hygiene, a resource for other people with bed bug infestations, had to fumigate one of its floors.
But a new drug produced by Merck might change all that. Bloomberg writes:
Three out of five bed bugs died after blood meals from people who had taken Stromectol, also called ivermectin, three hours earlier, according to research presented at a scientific meeting in Atlanta yesterday. The pill, along with conventional measures such as pesticides, may improve chances of eliminating the pest, said John Sheele, an emergency physician at Eastern Virginia Medical School in Norfolk, who led the study.
What the heck is Stromectol, you ask? Bloomberg explains:
Stromectol is used to treat diseases caused by worm parasites such as river blindness, one of the leading causes of preventable blindness, and elephantiasis, or lymphatic filariasis, which causes certain parts of the body to become enlarged. Sheele's research suggests its pesticidal properties may also fight bed-beg incursions, experienced by more than 400,000 New York City residents in 2009.
Here's Slate on the breakthrough:
<iframe frameborder="0" height="338" src="http://www.youtube.com/embed/ZE2RkgTOAMc" width="600"></iframe>
So people taking this drug, seemed to inadvertently poison the bedbugs that tried to feed on them. Now, it's probably not the case that everyone should go out and take Stomectol. But it could be one avenue of fighting off the blood sucking beasts.
More from Smithsonian.com:
Bed Bugs Are Even Peskier Than We Thought
Bugs, Brains and Trivia