Happy Birthday Winnie-the-Pooh
Winnie-the-Pooh's entrance wasn't loud or flashy, much like the bear himself it was simple and sweet: a short poem in a little magazine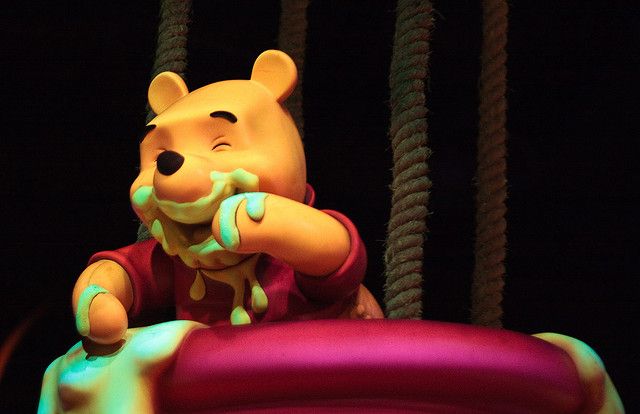 On February 13, 1924, Winnie the Pooh was born into the world. His entrance wasn't loud or flashy, much like the bear himself it was simple and sweet: a short poem in Punch magazine by the author Alan Alexander Milne called "Teddy Bear." Both the author and the bear would later go by different names—A.A. Milne and Winnie-the-Pooh—but the poem is what brought the Winnie-the-Pooh story to the people.
In that original poem, the bear was not named Winnie. The name Winnie-the-Pooh didn't appear until December 1925, in a story published by the Evening News, a paper in London. Some say that the Pooh was added because Winnie (short for Winnipeg) wasn't particularly nice-smelling, for a toy bear. The rest of the 100 Acre Wood crew—Piglet, Eeyore, Kanga, Roo, Owl, Rabbit and Tigger—were all actual stuffed animals that Christopher Robin (Milne's son) received between 1920 and 1928. (According to the Daily Mail, Roo was lost in an apple orchard in the 1930s). 
To celebrate Winnie-the-Pooh's quiet birthday, you can listen to this wonderful recording of A.A. Milne reading from Winnie-the-Pooh in 1929, brought to you by Brain Pickings.
And if you want to celebrate Winnie's birthday with him in person, you can head over to the New York Public Library to say hi:
Anyone can visit the real Winnie-the-Pooh and his pals. Every year thousands of children and their parents have come to see them. They have recently moved from their previous home at the Donnell Library Center to grand new quarters in the Stephen A. Schwarzman Building at Fifth Avenue and 42nd Street. Pooh and his friends are as happy as when they lived in the 100 Acre Wood.
Or, you can stay home and watch all ten Disney movie adaptations of Winnie-the-Pooh—plus three Russian ones for good measure.