Divers Are About to Pull a 3,000-Year-Old Shipwreck From the Depths
Found off of Croatia, the hand-sewn vessel will be the subject of extensive study once it's back on dry land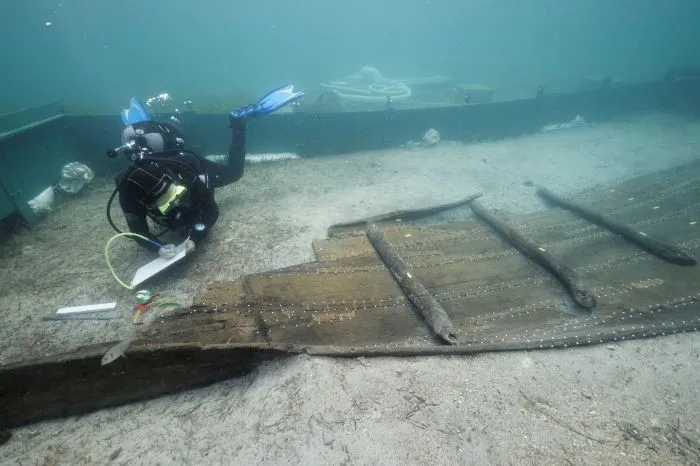 Some 3,000 years ago, a hand-sewn boat sank off the coast of what is now Croatia. Now, researchers plan to pull the wreck from the depths in hopes of learning more about historical shipbuilding techniques.
Marine archaeologists began studying the 39-foot-long vessel—nicknamed the "Zambratija boat" because of its location in the Bay of Zambratija—after hearing reports from local fishermen in 2008. Researchers were surprised to learn the vessel dated to between the 12th and 10th centuries B.C.E, which they say makes it the oldest entirely hand-sewn boat in the Mediterranean.
Workers painstakingly constructed the vessel by using flexible fibers to stitch together pieces of wood. While that technique was popular around the world both before and after the introduction of metal components, researchers say the Zambratija boat is unique because it's a rare surviving example of the "ancient naval tradition" of the Istria and Dalmatia regions, says the French National Center for Scientific Research (CNRS) in a statement, per Google Translate.
The removal process will begin on July 2. Divers will carefully move pieces of the boat, which they'll gently place into a custom-made support structure.
Once the boat is on land, the team will reconstruct it—and begin studying it up close. In their initial examinations, they'll try to more accurately date the vessel, determine its materials and learn more about the techniques used to shape its wood.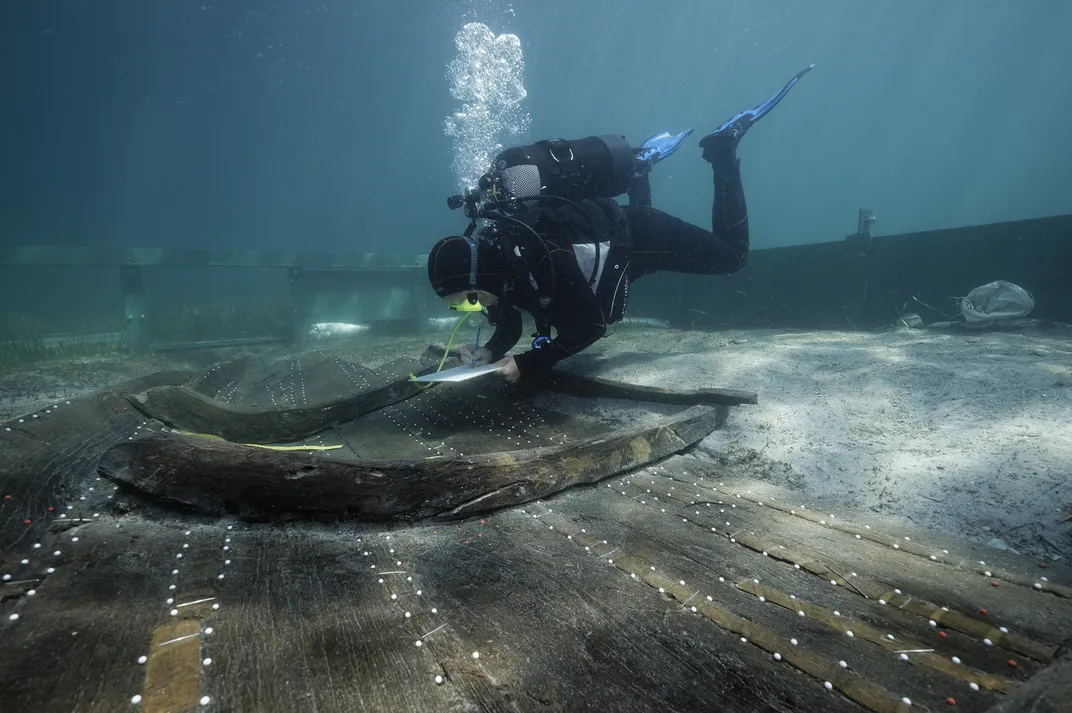 Next, they'll send it off to Croatia for salt removal, or desalination. By 2024, if all goes well, the vessel will be on its way to Grenoble, France, where specialists can begin the work of restoring it.
"Handling remains of this caliber is a delicate matter, [and] each stage of the process requires the greatest precautions to preserve this exceptional vessel," writes the CNRS in the statement.
Eventually, the researchers hope to display the vessel in a planned maritime history museum in Pula, Croatia, reports Newsweek's Aristos Georgiou.
"Its architecture and its construction, the assembly technique of the strakes, as well as the waterproofing system of the hull, have no equivalent in the Mediterranean area," per a statement from the Camille Jullian Center, a research organization connected to the CNRS.
Marine archaeologists rarely remove shipwrecks—especially large ones—because of the cost and logistical challenges involved. In many cases, these underwater sites also serve as the final resting places of passengers and crew members who perished in the wreck, so conservationists often leave the vessels in place out of respect. Some states, including Michigan, also have laws on the books that prohibit the removal of underwater artifacts.
With more recent wrecks, researchers must also consider the wishes of surviving family members. For instance, while the wreck of Antarctic explorer Ernest Shackleton's ship Endurance is slowly decaying, his granddaughter has asked marine archaeologists to leave it alone.