Five-Year Photo Project Captures the Sistine Chapel in High-Res Detail
Released in a new set of books, the 1:1 photos will be used by restorers to restore and assess damage to Michaelangelo's masterpieces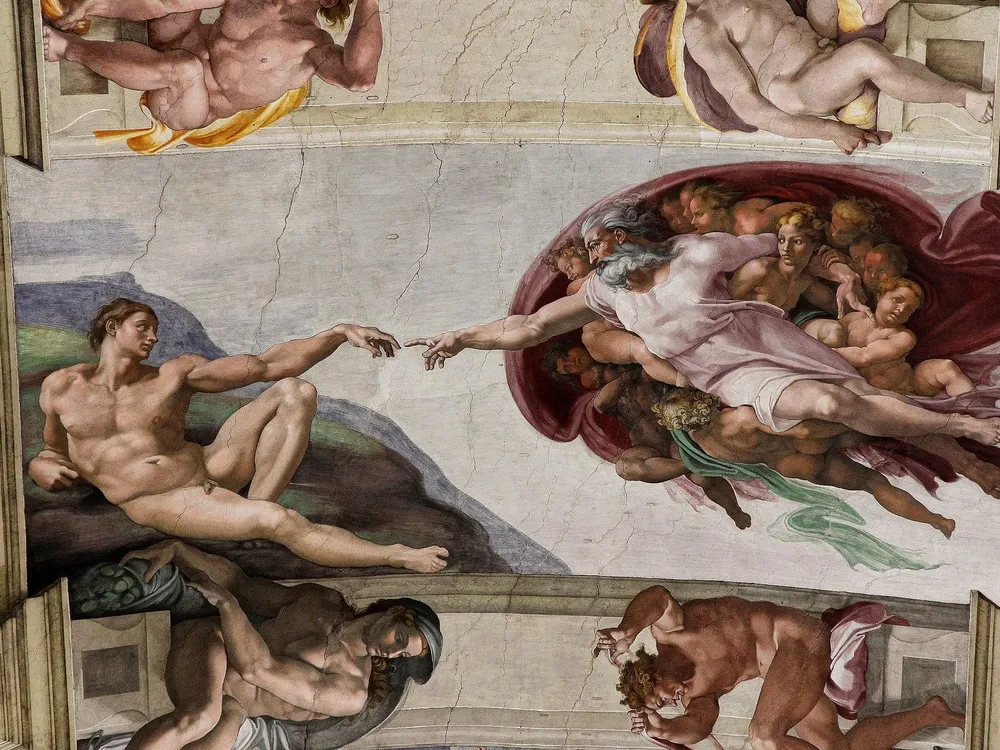 Michelangelo's paintings on the ceiling of the Sistine Chapel are iconic. But unlike other Renaissance masterpieces that hang a few feet away in a gallery, his work is a bit difficult to see up close without binoculars. Now, a recently completed project to photograph every bit of the chapel is giving art lovers the chance to get their closest views yet of his masterpiece, reports Philip Pullella at Reuters.
Over the past five years, a project sponsored by the Vatican Museums and Italy's Scripta Maneant high-end art publishers took 270,000 images of the chapel's artworks, including the ceiling which Michelangelo completed in 1512 and "Last Judgment," a large frescoe behind the altar that the master artist painted between 1535 and 1541. The results are presented in a massive book that shows the images in 1:1 ratio, or the actual size Michelangelo painted them. The images also include the magnificent floor tiles and other artworks throughout the chapel.
The project was kept under wraps until it was revealed to the public last Friday. Pullella reports that photographers worked from 7 at night until 2 in the morning for 65 nights to capture the high-res images of the frescoes. Using 33-foot-tall scaffolds, they shot the images using telescopic lenses, capturing 30 terabytes of data that are now stored on Vatican servers. The images are so crisp that the master painter's brush strokes are visible.
"We used special post-production software to get the depth, intensity, warmth and nuance of colors to an accuracy of 99.9 percent," Giorgio Armaroli, head of Scripta Maneant, the publishing house producing the book tells Pullella.
The three-volume set contains 870-pages including 220, 24-inch by 51-inch fold-out pages. Each book weighs about 20 pounds and the set retails for $12,700. According to Guy Martin at Forbes, the books will be offered primarily to universities and libraries. But the project has a purpose beyond producing the ultimate coffee-table book. Martin reports that restorers and researchers will use the high quality images as a baseline to understand how to best maintain and restore the chapel. "In the future, this will allow us to know the state of every centimeter of the chapel as it is today, in 2017," Antonio Paolucci, former head of the Vatican Museums says.
The last time Michelangelo's frescoes were restored took place between 1980 and 1994.