Five Ways Cultural Institutions, Landmarks and Zoos Are Prepping for Hurricane Florence
Many museums are closing their doors, while zoos and aquariums are moving their animals indoors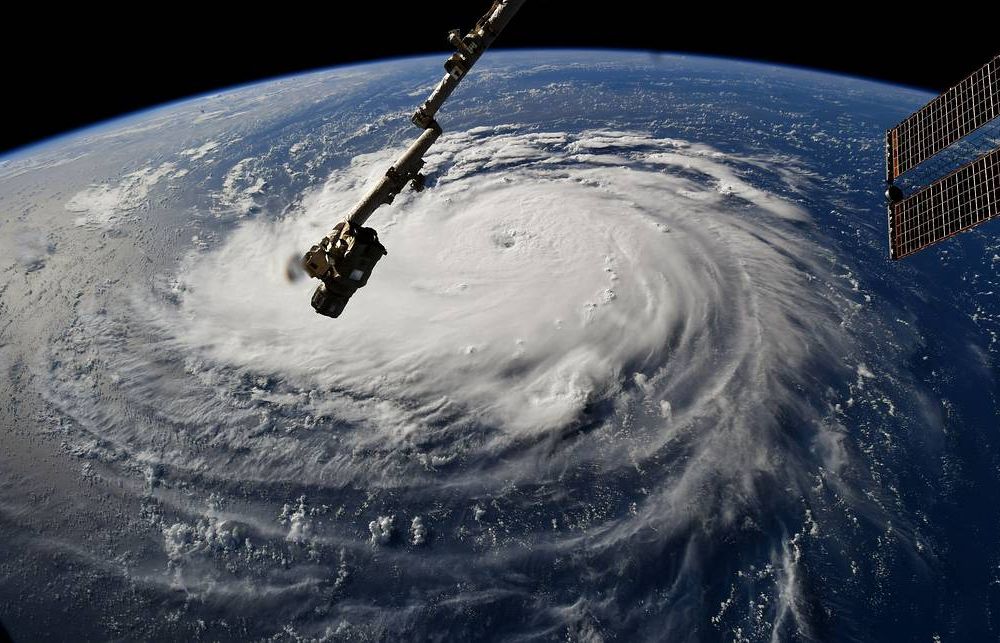 The first stage of Hurricane Florence's onslaught began this morning, battering the Carolinas with rainfall predicted to reach up to 40 inches, winds of up to 110 miles per hour and storm surges measuring up to 13 feet. Florence was downgraded to a Category 2 hurricane late last night, but as Steve Kiggins reports for USA Today, the storm still poses an unprecedented threat to the southeast coast. Roughly 10 million individuals living in the Carolinas and Virginia are currently under storm watches or warnings, and one of the region's top power suppliers, Duke Energy, warns that Florence could leave millions without power for weeks on end.
The Associated Press' Jeffrey Collins writes that the eye of the storm is expected to reach land as early as Friday, lingering along the eastern seaboard over the coming days and generating catastrophic inland flooding. As Florence approaches, here's how zoos, museums and cultural institutions across the southeast are preparing.
The Virginia Zoo and Aquarium will move animals into "permanent, secure buildings." A team of staffers will remain on-site to monitor generators and keep an eye on weather conditions
According to The Virginian-Pilot's Stacy Parker, the Virginia Zoo's more than 500 critters and the Virginia Aquarium's thousands of marine animals are headed indoors, trading in their normal enclosures for shelter in "permanent, secure buildings." Staffers from both institutions will remain with the animals over the course of the storm, providing medical care and tracking any damage incurred.
Flooding is a particular concern, as both the zoo and the aquarium are located on Virginia's eastern shore, but personnel are working to thwart a potential storm surge by securing loose items and maintaining the properties' back-up generators. Although floodwaters have previously reached the zoo's parking lot, zoo spokesperson Ashley Mars tells ABC News' Meghan Keneally that "we've never really had any flooding on zoo grounds."
Similar preparations are underway in the Carolinas: The State's Jeff Wilkinson reports that the Riverbanks Zoo in Columbia, South Carolina, began moving its birds indoors earlier this week. As zoo spokesperson Susan O'Cain tells Wilkinson, "Several of our outdoor exhibits are not made to withstand hurricane winds." Other local zoos, including the Lynnwood Park Zoo near Jacksonville, North Carolina, and Charleston's South Carolina Aquarium, have closed in preparation for the storm.
Several of @RiverbanksZoo's outdoor avian species are now safely sheltered indoors in preparation for potential impacts from Hurricane Florence. Other animals at the Zoo will be moved inside as the storm moves closer to the Carolinas. #HurricaneFlorence pic.twitter.com/mWYRp7Fi3r

— Riverbanks Zoo (@RiverbanksZoo) September 11, 2018
Keneally writes that the majority of the roughly 150 dogs and cats housed at the Society for the Prevention of Cruelty to Animals shelter in northeastern North Carolina will also ride out the storm in place. Manager Judy Anthony has found temporary foster homes for about 30 of the animals, but the remaining ones will stay at the shelter under the care of a staff member or volunteer who will check in and feed them "as conditions allow."
The area's wild animals will need to battle the storm on their own, but as Denise Lavoie reports for the Associated Press, at least one group is expected to escape largely unscathed. The Outer Banks' famed wild horses are well-versed in storm survival and instinctively know how to protect themselves.
"They know where to go to stay high and dry and are probably in better shape right now than most of us humans who are scrambling with final preparations," the Corolla Wild Horse Fund, an organization dedicated to one of the area's herds, wrote on its Facebook page earlier this week. "They are much better off without any help from us; anything we might do in the hopes of 'protecting' them would probably end up being more dangerous and stressful for them than the storm."
Museums and cultural institutions across the Carolinas and Virginia are closing ahead of the storm's arrival
In North Carolina, Cape Hatteras' North Carolina Maritime Museums, Raleigh's North Carolina Museum of Art, UNC-Chapel Hill's Ackland Art Museum and Fayetteville's Museum of the Cape Fear are amongst the many museums shutting their doors through the weekend. The state's Department of Natural and Cultural Resources has a comprehensive list of closings.
Patriot Points Naval and Maritime Museum, the Children's Museum of the Lowcountry and the South Carolina State Library are several of the institutions closing in South Carolina. The Post and Courier and Fox24 have more complete lists of local closings.
The latest forecasts suggest Virginia will not be as heavily hit as the Carolinas, but state museums and cultural centers are still readying themselves for the worst. Amongst the institutions locking their doors are the Chrysler Museum of Art, Glass Studio and historic houses and the Suffolk Center for Cultural Arts. The Virginian-Pilot has a list of most regional closings, cancellations and postponements.
Kris King, executive director of the Preservation Society of Charleston, tells Charleston City Paper's Connelly Hardaway that museums, particularly those housed in historic estates, follow a general set of rules when preparing for storms: pull furniture into the center of the room, put plastic over everything and store the most valuable items on the second floor (the first floor may flood, and the roof could blow off of the third floor).
Major tourist sites and historical landmarks are readying themselves for the worst. The aftershocks of the storm could pose a significant threat to the region's thriving tourism industries
Agence France-Presse reports that Charleston, South Carolina, boasts a $4.2 billion tourism industry. The oldest and largest city in the southern state, Charleston is home to Civil War icon Fort Sumter, as well as Revolutionary War bunker Fort Moultrie. Both forts, as well as the numerous national parks in the area, have been closed since Tuesday, according to The Post and Courier.
Charleston is also home to an array of historic estates that require a different form of hurricane preparation than newer houses. Some of these houses serve as public tourist attractions. Charleston City Paper's Hardaway writes that older homes tend to exhibit "structural sturdiness." Still, the buildings' high number of windows leave them vulnerable to gales of wind and heavy rainfall.
North Carolina's most significant tourism draw, the 200-mile-long string of barrier islands known as the Outer Banks, once hosted Orville and Wilbur Wright's historic first flight, as well as the mysterious colonial settlement of Roanoke. The town of Kitty Hawk, site of the Wright Brothers' record-breaking launch, is under a mandatory evacuation notice. A museum dedicated to the triumph has been closed for renovations since 2016 and was scheduled to re-open on September 28.
A very educational and timely exhibit outside of the #WrightsvilleBeach History Museum. Some context of past hurricanes and the storm surge they brought with them. The high water mark from Hazel is terrifying. @accuweather @breakingweather #HurricaneFlorence pic.twitter.com/d0NzrfQVHp

— Jonathan Petramala (@jpetramala) September 12, 2018
The Williamsburg-Yorktown Daily notes that the three areas constituting America's Historic Triangle—Williamsburg, Jamestown and Yorktown—have not opted to close, as the storm's most devastating effects are projected to bypass southern Virginia. Still, AFP points out that the sites are susceptible to flooding.
Many universities, public schools, government offices and local businesses are closing in anticipation of Florence. Hundreds of cultural events have been postponed or canceled
Higher education institutions ranging from the College of William & Mary in Williamsburg, Virginia, to the College of Charleston and Raleigh's North Carolina State University have cancelled classes and/or evacuated students. As Science magazine's Frankie Schembri reports, researchers at affected universities are scrambling to protect their life's work: NC State toxicologist Heather Patisaul says that she and her research team moved their "most precious samples" to freezers equipped with backup power generators. She adds, "I'm also going to have at least two coolers of dry ice at home. So, if our freezers go down, at the very least I can get into campus with those coolers and get our most precious samples on dry ice."
Ann Ross, a forensic anthropologist at NC State, tells Schembri that she's most concerned about maintaining her lab's security during a power outage, as some of the human and animal remains she and her team study relate to ongoing law enforcement investigations.
Listings of public school, government and local business closings are available at The Port City Daily, The Post and Courier and The Virginian-Pilot.
Singer-songwriter J. Cole's inaugural Dreamville Festival, a celebration of North Carolina music culture that was expected to bring 35,000 people to Raleigh this weekend, is one of the most prominent events shuttered by Florence. The News & Observer's David Menconi reports that festival organizers hope to reschedule the event.
SPARKcon, an annual arts festival held in downtown Raleigh, has also been postponed. INDY Week has a more comprehensive list of North Carolina event cancellations and delays.
Mannn. Due to this Hurricane heading to NC, we have to cancel Dreamville Festival. We're working to get another date, but right now safety is most important. I appreciate everybody that was headed to rock with us. 30,000 + were expected.

All tickets will be refunded. Bsafe

— J. Cole (@JColeNC) September 10, 2018
SPARKcon, an annual arts festival held in downtown Raleigh, has also been postponed. INDY Week has a more comprehensive list of North Carolina event cancellations and delays.
Some are looking to the past, hoping to learn from previous storms such as 1989's Hurricane Hugo
Yesterday, AccuWeather's Jonathan Petramala posted a Twitter video describing a hurricane-centric exhibit at the Wrightsville Beach History Museum in North Carolina. A post marks the heights reached by prior floodwaters, such as the 10-feet storm surges of Hurricane Floyd in 1999 and the more than 17-feet surges of Hurricane Hazel in 1954. Comparatively, Florence is expected to produce storm surges measuring up to 13 feet.
Outside magazine's Wes Siler notes that many are comparing Florence to Hurricane Hugo, a category four hurricane that made landfall north of Charleston in September 1989. Ultimately, Hugo damaged or destroyed 108,658 South Carolina homes, trailers or apartments, claimed 19 lives, and caused $6.9 billion in damage.
It's possible that Florence will be even more devastating than Hugo, Eric Holthaus writes for Grist. "Florence's deluge will extend inland for hundreds of miles, which would flood virtually every river and stream in the Carolinas," Holthaus explains. "Worst of all, Florence will likely slide southward after reaching the shore, following the coastline and inflicting damage down to Charleston ... or as far south as Savannah, Georgia. In contrast, Hugo's landfall was relatively quick, weakening to a tropical storm in less than a day. Florence's long coastal tour could take as long as two and a half days."