Five Things to Know About Tom Wolfe
The late author had an undeniable influence on American writing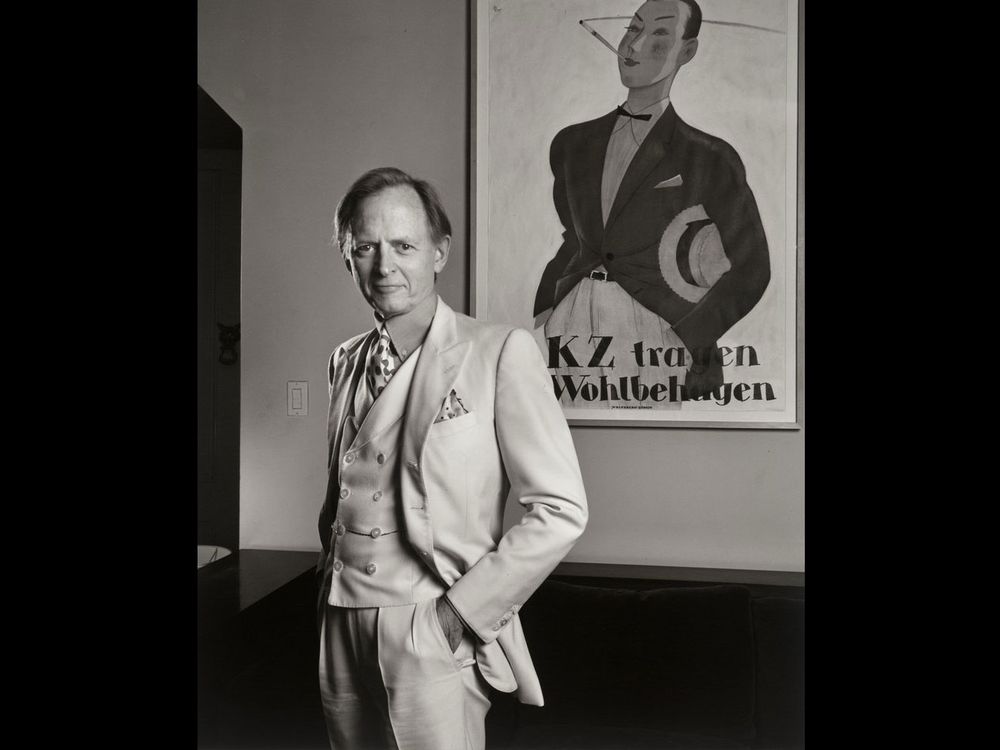 Tom Wolfe, the 88-year-old journalist and best-selling author known for his immersive style, contrarian attitude and hallmark white suits, died Monday in a New York City hospital.
Wolfe leaves behind a literary legacy that details the lives of diverse milieus, from Cuban immigrants to New York City's elite to the hippie counterculture. His novelistic nonfiction particularly helped expose the pluralism and peculiarities of American culture and usher in a new writing style that he called New Journalism.
Here are five things to know about the late author:
Before starting his career as a journalist, he aspired to play Major League Baseball
While the English degree Wolfe earned from Washington and Lee University in 1951 would arguably serve him further in the long run, as an undergraduate he dreamed about becoming a baseball star. A self-described "struggling middle reliever," according to Matt Chittum at The Roanoke Times, Wolfe was talented enough that he earned a tryout with the New York Giants. But that was as far as he went. As The New York Times' Deirdre Carmody and William Grimes put it: "He did not make the cut."
"I think if I could have been a baseball star at Washington and Lee, I probably never would have touched a typewriter again," Wolfe told Chittum in 1999. "Maybe it was a good thing for my family that things worked out as they did."
His major breakthrough came while reporting a story on custom cars in Southern California
While earning his PhD from Yale University in American studies, Wolfe got his start as a journalist writing for Massachusetts' Springfield Union. He went on to write for a stint at the Washington Post. But he really began carving a space for himself in the profession when he was hired on at the New York Herald Tribune in 1962.
While writing for the New York Herald Tribune's brash Sunday supplement (which would later become New York magazine), Wolfe covered a Hot Rod and Custom Car show at the now-closed Coliseum in Manhattan. As Tim Grierson recounts for Rolling Stone, that afternoon ultimately inspired him to report on the broader hotrod culture taking hold on both coasts. Wolfe was especially struck by the absurdity he saw in the hotrodders he met, such as Dale Alexander, a custom car artist who had devoted his life (and sacrificed all financial security) for his niche craft. "He had starved, suffered – the whole thing – so he could sit inside a garage and create these cars which more than 99 percent of the American people would consider ridiculous, vulgar and lower-class-awful beyond comment almost," Wolfe later wrote incredulously about Alexander.
After he pitched the idea to Esquire and traveled all the way out to Los Angeles to learn more about the culture, however, he experienced immense writers' block. "I couldn't even write the story," he would say about the experience. "I came back to New York and just sat around worrying over the thing."
With the encouragement of Esquire's managing editor at the time, Byron Dobell, Wolfe finally overcame his paralysis by simply typing out his notes. The resulting stream-of-conscious narrative would become Wolfe's hallmark style. To his surprise, Dobell and the editorial staff loved the vivid, idiosyncratic technique. His piece would go on to become the titular installment of his first book of essays, The Kandy-Kolored Tangerine-Flake Streamline Baby.
Wolfe is credited for popularizing now-common phrases, including "the Me Decade" and "the Right Stuff"
As the New York Times' Dwight Garner reports, Wolfe's innovative writing left quite the impact on colloquial language.
The titular phrase of his 1976 essay in New York Magazine, for instance, captured the zeitgeist of the era. Titled "The 'Me' Decade and the Third Great Awakening," the piece details the narcissism that Wolfe observed in the era's art, politics and popular culture. The "Me Decade" resonated with other cultural commentators of the time and quickly took hold among critics of '70s-era materialism.
"The Right Stuff," for its part, was the title of another Wolfe piece, this time a 1979 book about Cold War-era pilots researching rocket-powered, high-speed aircrafts. Though the phrase had previously appeared in W. Somerset Maugham's 1927 novel Ashenden: Or, The British Agent, its appearance on the cover of Wolfe's wildly popular book made it become a widely used metonym for the wherewithal and ambition needed for success.
Some of the most-well known "Wolfe-isms" that have entrenched themselves into the American vernacular include "pushing the envelope" and "screw the pooch," both of which appear in The Right Stuff.
His signature white suit stemmed from his Virginia roots
Throughout his career, Wolfe was almost never seen or photographed without a sharp, if eccentric, three-piece white suit. The sartorial decision quickly became his hallmark – many even referred to him as "the man in the white suit."
Wolfe's affinity for this dapper look dates back to his early years as a journalist in New York City. The way Wolfe told it, Vanity Fair's Michael Lewis details, the writer came to New York City with only two sports jackets to his name. He quickly realized that he needed a suit to fit into the city culture. In his hometown of Richmond, Virginia, one wore a white suit in the summer, so that was what he picked out. To his cash-strapped delight, Wolfe found that the suit was thick enough to keep him warm even as the weather grew colder.
Later, he had the financial heft to purchase many suits. But he always stuck with the white ones that had turned into his signature fashion.
Wolfe's writing isn't without its critics. He was charged with propogating racist, anti-Semitic and homophobic depictions throughout his career
One of Wolfe's most criticized works is a 1970 piece published in New York Magazine about a Black Panthers fundraiser held in the legendary composer Leonard Bernstein's penthouse. Entitled "Radical Chic," Wolfe's scathing, satirical portrayal of the event criticized Bernstein's passion for civil rights as disingenuous "racial tourism."
But many objected to his mockery of African-American vernacular and his references to gas chambers. One member of the Black Panthers infamously called him a "dirty, blatant, lying, racist dog." Bernstein's daughter later referred to Wolfe as a "callow journalist" who "[discredited] the left-wing New York Jewish liberals while simultaneously pitting them against the black activist movement―thereby disempowering both groups in a single deft stroke."
Wolfe's former editor Byron Dobell later told GQ's Ed Caesar that he had a falling out with Wolfe himself over the novella "Ambush At Fort Bragg," the first installment of which was published in Rolling Stone in 1996. Wolfe's first work of fiction since Bonfire of the Vanities, "Ambush" follows two journalists as they uncover the mystery of a gay soldier's murder on a North Carolina military base. Critics of the novella said that Wolfe did not sufficiently condemn the killer's violently homophobic motivations; for his part, Dobell called it "anti-Semitic, subtly, anti-black, subtly, and anti-gay, not so subtly." Though Dobell said the two later reconciled, he told Caesar that he saw Wolfe as a "Puritan in Cavalier clothing".
For his part, Wolfe firmly stood by his writing, telling the Guardian's Ed Vulliamy in 2004 that "the liberal élite hasn't got a clue."
"I was denounced because people thought I had jeopardized all progressive causes," he said of his New York Magazine piece. "But my impulse was not political, it was simply the absurdity of the occasion."
The portrait of Tom Wolfe, a photograph by Yousuf Karsh, will be on display at the Smithsonian's National Portrait Gallery in honor of the late author through June 3.