First Rabid Moose Recorded in Alaska Was Stumbling Through a Town
The large mammal likely contracted the virus from a fox, say wildlife officials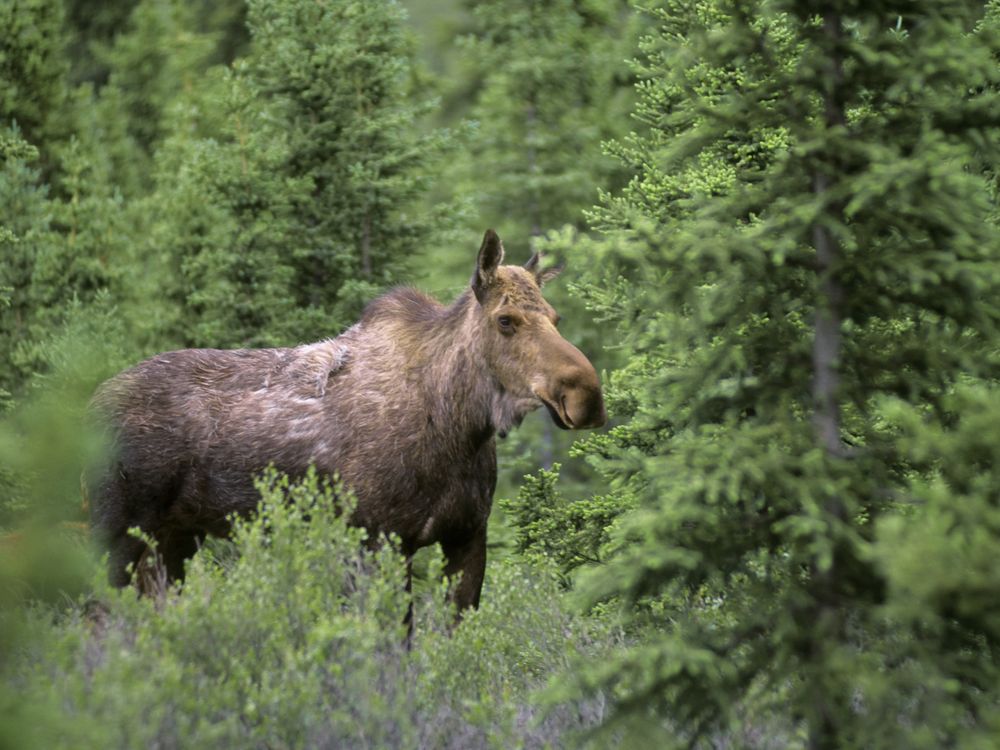 Wildlife and disease officials have recorded the first-ever case of rabies in a moose in Alaska, and according to the state's Department of Fish and Game, it's also the first confirmed rabid moose on the continent.
The animal, which had injuries on its side, had been wandering in and around Teller, Alaska, acting oddly and charging at people, per Joe Kinneen of KTUU. 
"It was drooling and being very aggressive toward people, and it was wobbly, unstable on its legs," Kimberlee Beckmen, a wildlife veterinarian with the Alaska Department of Fish and Game, tells Alena Naiden of Anchorage Daily News. "That was very unusual behavior."
Following several reports of the moose to the department on June 2, staff euthanized it, collected samples for testing and then burned the carcass to ensure scavenger animals wouldn't become infected, per a statement released last week. On June 5, the state's virology laboratory detected rabies in the moose's brain. The next day, test results from the Centers for Disease Control and Prevention confirmed the virus was an Arctic Fox rabies variant. 
Rabies is enzootic—or always present at some level—among fox populations in northern and western coastal Alaska, writes Live Science's Sascha Pare. But larger outbreaks occur every eight to ten years, per the Anchorage Daily News.  
"Last winter was our largest outbreak that we detected," Beckmen tells the publication. "There was a very large number of red foxes in the Nome area that were rabid—29 percent of the foxes sampled were." Usually, about 3 to 5 percent of foxes tested will have rabies, and during an outbreak, that will rise to 15 percent, she tells KTUU.
Rabies is a viral disease that affects the central nervous system of mammals, including humans. It is commonly passed through the bites of infected animals, which shed the virus in their saliva before death. In the United States, rabies cases in humans are rare: Numbers declined dramatically in the 20th century because of animal control and vaccination programs, public education, public surveillance and a vaccine for humans. Now, usually only about one to three cases are reported per year in the country—compared to more than 100 annual cases in the early 1900s.
While rabies has nearly a 100 percent fatality rate in humans who do not seek medical attention following a bite, the disease is almost completely preventable with a vaccine. But rabies still causes about 59,000 deaths annually, with more than 95 percent occurring in Asia and Africa. Most human infections worldwide occur because of dog bites. In the U.S., rabies caused by a dog bite has not been reported for several years. Most infections are in wild animals such as raccoons, bats and foxes.
Because moose are largely solitary creatures, it is "very unlikely that any rabies outbreak will occur in the moose population," per the statement.  Still, the department plans to increase its rabies surveillance.  
"We're going to begin testing all mammals that come out of Northwest Alaska and other parts of the endemic region for fox rabies," Beckmen tells KTUU. "That includes Southwest Alaska, the Alaska Peninsula and the North Slope. We'll test all mammals now."