The First-Known Photograph of the White House Was Taken by an Immigrant
John Plumbe, Jr. was one of America's first rockstar photographers
The White House as it stands today is a very different building than when it was first constructed. While its essential features—the classically inspired columns, large, airy windows, and rooftop railings—have stayed the same, it has gone through all sorts of renovations since it was rebuilt after the War of 1812. Luckily, the reason historians still know what the president's residence originally looked like is thanks to an 1846 photograph by a civil engineer, entrepreneurial photographer and immigrant named John Plumbe, Jr., Allison Meier reports for Hyperallergic.
Plumbe was born and spent his early years in Wales, but immigrated to the United States with his parents in 1821. First landing in Pennsylvania, and later retiring in Dubuque, Iowa, Plumbe originally trained to become a civil engineer—and by all accounts was a good one, at that. He quickly found work out west surveying routes for new railroads and soon became one of the earliest advocates for building a transcontinental railroad to connect the country's two coasts. But it was his work as a photographer that he is best known today.
Photography was in its infancy when Plumbe saw his first daguerreotype in 1840, but it inspired him to take it up himself. While waiting for the U.S. government to award him a commission to survey routes for a transcontinental railroad, Plumbe took up the art and became one of the first people to open a photography gallery. Starting in Boston, Plumbe opened branches in 13 other cities, including the first in Washington, D.C., in 1846, according to the Getty Museum, becoming one of the most well-known of the country's early photographers.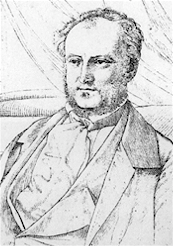 Of his work, Plumbe's most famous piece remains his photograph of the White House. Taken in January, the black-and-white image shows off the gleaming White House in the clear morning light framed by barren trees and with patches of snow on its famous lawn, as The White House Historical Association points out. This was the White House as it was originally built, nearly a century before Harry Truman added a second balcony to its columned front or the building's current top floor was constructed.
The White House wasn't Plumbe's only subject that he documented in the capital. That same year, he canvassed the city, taking photographs of many of Washington, D.C.'s grandest buildings. The Library of Congress, General Post Office, and of course, the Capitol all passed before his lens. But then, Plumbe's fortunes took a turn for the worse. By 1857, with his financial situation in ruins, Plumbe took his own life.
Though Plumbe was consigned to an unmarked grave in Dubuque, his invaluable work documenting the nation's capital makes his story forever ingrained in the fabric of American history.