The First Delivery Drone in the United States Lands a Spot at the Smithsonian
The Flirtey F3.0 hexacopter touches ground at the National Air and Space Museum
Last year, a medical supply company made history when its drone completed the first sanctioned delivery in the United States. Now, that drone has joined its barrier-breaking brethren at the National Air and Space Museum in Washington, D.C.
As popular as drones have become with hobbyists over the last few years, businesses and regulatory agencies are still trying to figure out how best to take advantage of the devices. While companies like Amazon, Walmart and Alphabet have been working on systems for delivering packages via drones, a small Australian medical supplies company named Flirtey was the first to get clearance from the Federal Aviation Administration to make drone-borne deliveries, Mike Murphy reports for Quartz.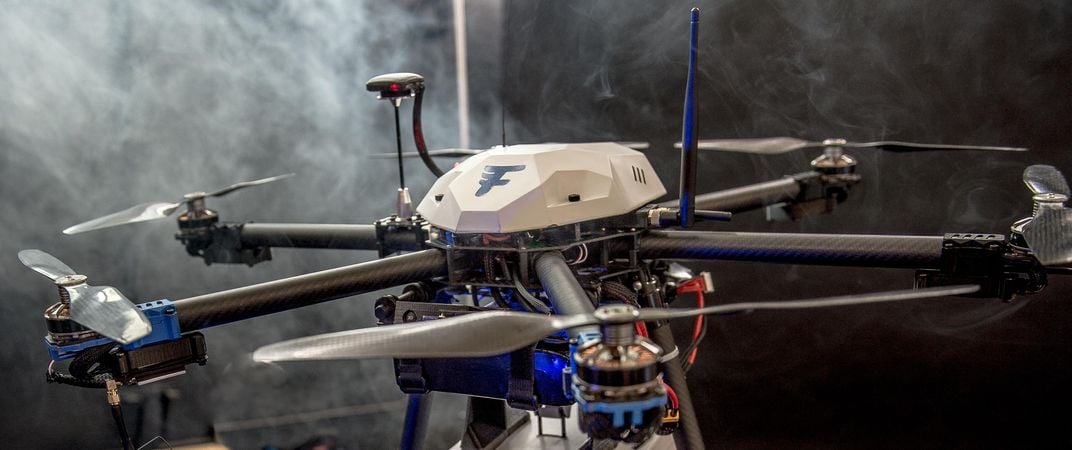 "Now people feel this as an inevitability," Matt Sweeney, Flirtey's CEO, tells Murphy. "This is now just a question of when, not if."
Flirtey's F3.0 hexacopter completed the first sanctioned delivery last June, when it flew a shipment of emergency medical supplies to Wise, Virginia's Remote Area Medical Clinic on July 17, 2015. Now, the company has donated the groundbreaking drone to the Air and Space Museum, where it joins other historic aircraft like the Wright Brother's airplane, the space shuttle Discovery, and the first airplane ever used by FedEx, Robert Sorrell writes for the Bristol Herald Courier as reported in the Roanoke Times.
"The use of remotely piloted and autonomous aircraft, or drones, is one of the hottest topics in the aerospace industry today and has inspired intense public interest," Alison Mitchell, a spokesperson for the Museum, tells Sorrell. "In response, the National Air and Space Museum has taken the opportunity to acquire the examples of unmanned systems that are achieving milestone events in the so-called drone revolution."
The six-bladed drone is equipped with a delivery system that carefully lowers its cargo while the drone hovers in place. The drone also includes several safety features including the ability to automatically return to its home base if its battery gets too low or it loses contact with its GPS tracking systems or remote operators, the American Journal of Transportation reports.
Don't expect drone delivery to become a regular thing any time soon, however. While Flirtey may have been the first to make an FAA-sanctioned drone delivery, businesses that want to take advantage of the technology have to apply for various exemptions from the FAA—a significant bureaucratic hurdle. Because of the potential of drones to be used in everything from mail delivery to search-and-rescue operations, Murphy reports that the FAA has a large backlog of applications from all sorts of businesses, meaning it will take a lot of time for drones to become more commonplace. Though the U.S. Senate recently passed a bill that would require the FAA to develop a plan to regulate drone deliveries in two years, it still has to pass the House of Representatives. Not to mention that it might be difficult to implement the infrastructure to control and manage thousands of delivery drones once those regulatory systems are put into place.
Right now, the first delivery drone is being prepared for future exhibition by curators at the National Air and Space Museum's Udvar-Hazy Center in Chantilly, Virginia. While there is no set date for its museum debut, it could be the first of many historic drones to enter its collections in the coming years.