The Number of Female Rappers Signed to Major Labels Dropped From 40 to Just Three
Female MC's, rappers and producers haven't gone away; they just aren't getting contracts with major labels anymore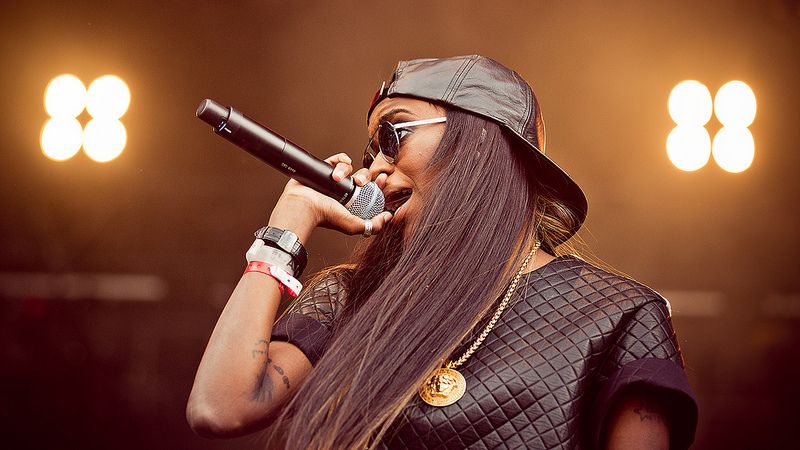 The gap between men and women in the workplace is bigger than just the wage gap. There simply are fewer women working in all sorts of industries. Take rap, for example. In a recent post at NPR's Code Switch, Erik Nielson points out that the number of female rappers signed to major labels isn't just low—it's lower than it has been in nearly thirty years. 
"Whereas in the late 1980s and early 1990s there were more than 40 women signed to major labels, in 2010 there were just three," Nielson writes. When Nicki Minaj's album "Pink Friday" was certified platinum in 2010, it broke an eight year dry spell for solo female MCs. But Nielson says that Minaj is an exception, not the rule. "Nicki Minaj's commercial success over the last decade has stood as an exception to the unwritten rule that women rappers no longer have a place among elite artists," he writes. 
Women used to be a regular feature on the rap scene: Salt-n-Pepa, Eve, Lauryn Hill, Missy Elliot, Foxy Brown, Amil, Monie Love, Queen Latifah all had major successes in the 80s and 90s. And male rap groups often had a female member, "Death Row had Lady of Rage, Flipmode Squad had Rah Digga, Native Tongues had Monie Love (and Latifah) and so on," writes Neilson. In 2003, the Grammys added a category for Best Female Rap Solo Performance. 
But just two years later the Grammys had nixed the category, as the number of women signed with major labels dropped. But why? Nielson talked to MC Lyte, the first woman to release a solo rap album with a major label:
She offered a number of explanations for the shift, but one of her points in particular caught my attention. According to Lyte, it's far more risky to sign women artists today because of the costs associated with their physical appearance. Hair, make-up and wardrobe all add up, she said, and therefore women — who already face an uphill battle when it comes to selling records — become an even more questionable business proposition.
Of course, the female MCs, rappers and producers haven't gone away. They've always been here. They just aren't getting contracts with major labels. Which of course, isn't unlike any other male dominated industry. Take architecture for example: women represent about 50 percent of the students in architecture programs in the United States. But only 18 percent of licensed architects are women. It's not that women aren't interested in these industries, it's that something is keeping them out.