Hamilton Family Heirlooms to Go on View at Philadelphia Exhibition
Artifacts include an eagle pendant owned by Alexander Hamilton and a gold mourning ring worn by Elizabeth following his death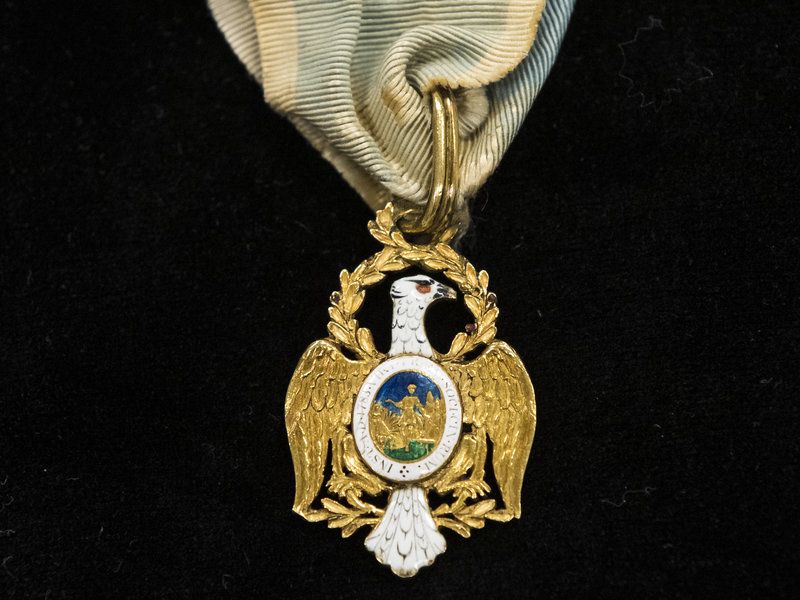 The "ten-dollar Founding Father without a father" may have lacked a paternal presence during his lifetime, but that didn't stop Alexander Hamilton from fathering eight children of his own, many of whom went on to start their own families. Today, the robust Hamilton line is still going strong, and as Kristen De Groot reports for the Associated Press, one such relation—the fifth great-grandson Douglas Hamilton—is sharing a quartet of family heirlooms with the public. The loan is set to join the roughly 30 artifacts featured in the Philadelphia-based Museum of the American Revolution's Hamilton Was Here exhibition.
The artifacts include a gold mourning ring (complete with a lock of the Founding Father's hair) worn by Elizabeth Schuyler Hamilton following her husband's untimely death in 1804, an eagle-emblazoned Society of the Cincinnati pendant that Hamilton wore, a handkerchief embroidered with Elizabeth's name and a christening dress sewn by Elizabeth.
Douglas tells De Groot that the pendant, which still includes its original ribbon, signified Hamilton's membership in an elite society founded by veteran officers of the Revolutionary War. Descendants of these original members continue the club to this day, as Douglas notes in an interview with the Inquirer's Lauren McCutcheon, and thanks to the blockbuster success of Lin-Manuel Miranda's Hamilton, their work is finding new relevance. "In the Society of the Cincinnati, we're all kind of elderly white men," Douglas says. "Now, I go to libraries and schools, and kids of all different kinds of backgrounds want to sing me the songs from Hamilton. This has been awesome for us Hamiltonians. We had been struggling to figure out how to get our message out to a more diverse group of people."
According to the AP, the heirlooms were once stored in a cardboard box handed down from generation to generation of Hamiltons. Growing up, Douglas says his father never really discussed their famous ancestor. But the wave of interest sparked by the musical has led him and other descendants to revisit their family's past; Douglas even has a grandson named after his famous forefather.
The Philadelphia exhibition opened on October 27 and remains on view through March 17, 2019. As Eric Moody writes for the Philadelphia Tribune, the show's collection of 30 or so artifacts will be updated throughout its run. Although Hamilton Was Here is mainly aimed toward younger individuals—it relies on interactive games and experiences to guide visitors through six sites associated with Hamilton's time in the region—Philip Mead, chief historian and director of curatorial affairs, tells the Inquirer's Shaun Brady that its goal is not to idolify Hamilton, but "think through and question … what he was about."
Visitors are asked to place themselves in Hamilton and his contemporaries' shoes, reflecting on "predicaments of long ago," as Mead puts it. "It's an exercise in empathy and a way of teaching people about more than history," he says.
Hamilton Was Here is on view at the Museum of the American Revolution in Philadelphia through March 17, 2019.