Facebook's Most Popular Check-In Spots This Year Include Places in Iceland, Argentina and Nigeria
Top world destinations for check-ins are a bit unexpected, but perhaps reflect Facebook's popularity among varying cultures, interest groups and nations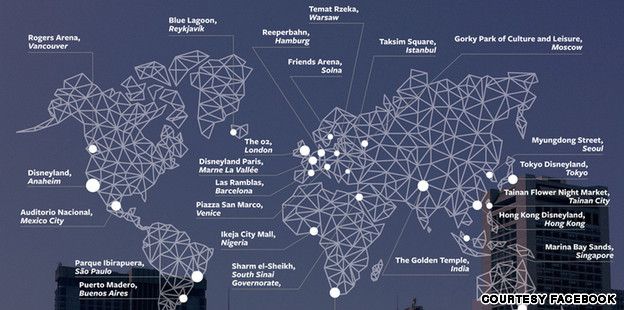 This post and headline have been updated to reflect the following correction: Facebook's top global destinations are listed in alphabetical order, not in order of their popularity ranking. 
With the end of the year approaching, Facebook just released its annual compilation of the year's most popular destinations—or, at least, those most popular for Facebook users to check in to. CNN reports:
The list includes the top checked in places, excluding transportation hubs, in 25 of the countries with the most active Facebook users in 2013.

Travel is big business for the global social network, which confirmed that travel continues to be the second most talked-about life event on Facebook after relationship updates.
Some of the top world destinations for check-ins are typical, such as Venice's famous Piazza San Marco and various Disneylands around the world. Others, however are a bit unexpected. (A waterfront neighborhood in Argentina is #1? Do Australians really love cricket that much? What's going on at that mall in Nigeria?) But they reflect Facebook's popularity around the world. Unfortunately, Facebook doesn't get into any analysis besides simply presenting the results, which follow in alphabetical order:
Argentina: Puerto Madero, Buenos Aires
Australia: Melbourne Cricket Ground (MCG), East Melbourne, Victoria
Brazil: Parque Ibirapuera, São Paulo
Canada: Rogers Arena, Vancouver, British Columbia
Egypt: Sharm el-Sheikh, South Sinai Governorate, Egypt
France: Disneyland Paris, Marne La Vallée
Germany: Reeperbahn, Hamburg
Hong Kong: 香港迪士尼樂園 | Hong Kong Disneyland
Iceland: Blue Lagoon, Reykjavík, Iceland
India: Harmandir Sahib (The Golden Temple)
Italy: Piazza San Marco, Venice
Japan: 東京ディズニーランド (Tokyo Disneyland), Tokyo
Mexico: Auditorio Nacional, Mexico City
Nigeria: Ikeja City Mall, Ikeja, Lagos, Nigeria
Poland: Temat Rzeka, Warsaw
Russia: Центральный парк культуры и отдыха им. Горького | Gorky Park of Culture and Leisure
Singapore: Marina Bay Sands
South Africa: Victoria & Alfred Waterfront
South Korea: Myungdong Street, Seoul
Spain: Las Ramblas, Barcelona, Catalonia
Sweden: Friends Arena, Solna
Taiwan: 花園夜市Tainan Flower Night Market, Tainan City
Turkey: Taksim Square, Istanbul
United Kingdom: The 02, London
United States: Disneyland, Anaheim, California
As for those traveling closer to home (or visiting the U.S.), the top ten posts within the country were a bit less surprising:
1. Disneyland & Disney California Adventure (Anaheim, CA)
2. Times Square (New York, NY)
3. Epcot – Walt Disney World (Lake Buena Vista, FL)
4. Dodger Stadium (Los Angeles, CA)
5. AT&T Park (San Francisco, CA)
6. Rangers Ballpark (Arlington, TX)
7. Universal Studios Hollywood (Universal City, CA)
8. Fenway Park (Boston, MA)
9. MGM Grand Hotel & Casino (Las Vegas, NV)
10. Houston Livestock Show & Rodeo (Houston, TX)
More from Smithsonian.com:
Your Facebook Likes Are an Expression of Free Speech  
The World's Closest International Relationships, According to Facebook