Extreme Heat Wave Hits India
In recent days, nearly 200 people have died across two of the country's most populous states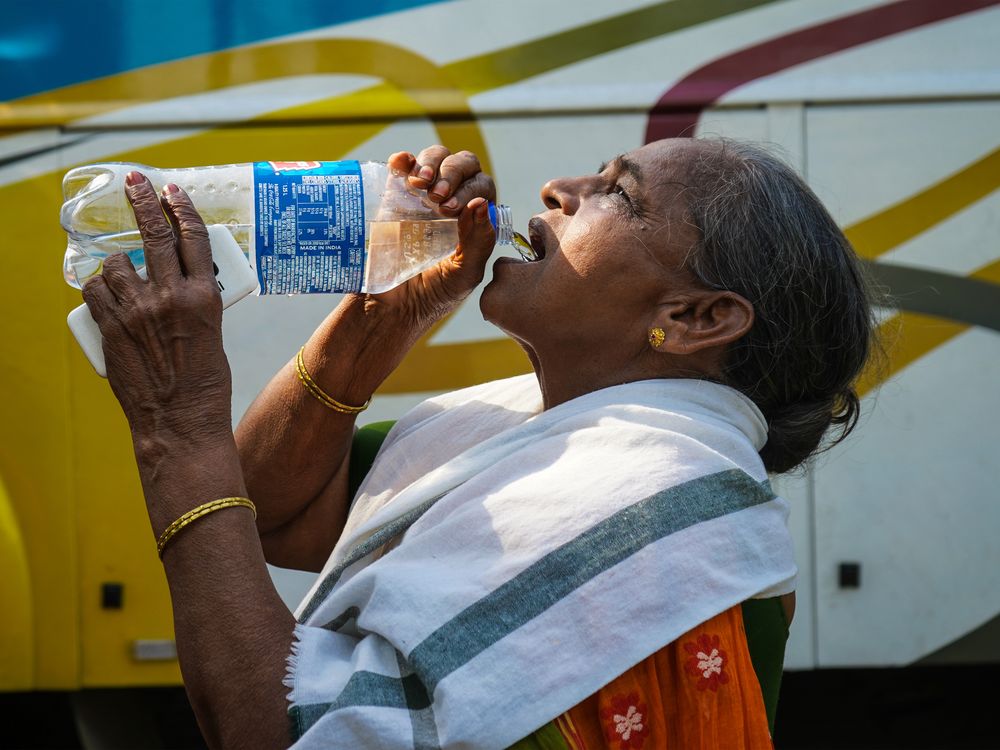 An intense heat wave has swept across India, sending hundreds to hospitals and overwhelming morgues.
Amid the higher-than-average temperatures, nearly 200 people have died in two of the country's most populous states. In Uttar Pradesh in the north, the death toll has risen to 119 in the past few days, and to the east, the state of Bihar has documented 47 fatalities, report Rajesh Kumar Singh, Piyush Nagpal and Sibi Arasu of the Associated Press (AP).
"So many people are dying from the heat that we are not getting a minute's time to rest. On Sunday, I carried 26 dead bodies," Jitendra Kumar Yadav, a hearse driver in Deoria town in Uttar Pradesh, tells the AP. 
However, some officials say they are still investigating whether the heat has caused these deaths, per BBC News' Chandan Kumar. In Ballia, the Uttar Pradesh district where most of the deaths occurred, the main state hospital's chief medical officer was transferred from his post after attributing 34 fatalities to heat stroke in a conversation with reporters. 
"Deaths have occurred in the district, but it is very difficult to say if that happened due to the heat wave," Ravindra Kumar, the top administrative official of Uttar Pradesh's Ballia district, tells Reuters' Saurabh Sharma. "A few of the deaths are related to old age, while some have different reasons. There is no concrete evidence of heat wave behind these deaths."
Some doctors say the patients aren't displaying typical heat-related symptoms, and officials have pointed out that neighboring states, which are also facing extreme heat, are not seeing comparable death rates, per the Guardian's Amrit Dhillon. Investigators are looking into other explanations for the deaths, including contaminated water.
At this time of year, heat is common in northern India, but this is more extreme. Temperatures hit 113 degrees Fahrenheit in recent days—above average for the region. The country declares a heat wave if temperatures are at least 8.1 degrees Fahrenheit above normal or if the temperature surpasses 113 degrees, per the AP.
Severe heat combined with the high humidity often seen in India can be fatal, because under these conditions, the body cannot easily cool itself down by sweating. 
Experts say climate change has made such events more common, and India has already faced unusual weather this year. In February, maximum temperatures climbed to their highest monthly average since 1901. Earlier this month, Kolkata recorded its warmest June night in 50 years. 
The current heat wave comes on the heels of extremely hot weather that has gripped much of Southeast Asia for two months. Parts of India, Bangladesh, Thailand and Laos recorded temperatures of up to 113 degrees Fahrenheit in April during what some have called the region's "harshest heat wave on record," per CNN's Carlotta Dotto, Krystina Shveda and Lou Robinson. Scientists say these temperatures were made 30 times more likely due to climate change.
A recent study estimated that if the world warms to 2.7 degrees Celsius (4.86 degrees Fahrenheit) above pre-industrial levels, more than 600 million people in India would be exposed to intense heat by the end of the century.
Political opposition leaders have criticized India's government for its response to the current heat wave, saying it was "careless" in not warning people sooner, per BBC News. Climate experts say the country needs to better prepare for intense heat as global warming continues.
"Plans for dealing with heatwaves are essential for minimizing their effects and preserving lives. These plans include all-inclusive approaches to dealing with high heat occurrences, such as public awareness campaigns, the provision of cooling centers and healthcare assistance," Aditya Valiathan Pillai, an associate fellow at a New Delhi-based think tank, Center for Policy Research, tells the AP.