You Can Own Guitars Played by Eric Clapton and Kurt Cobain
Both instruments are expected to sell for between $1 million and $2 million at auction next month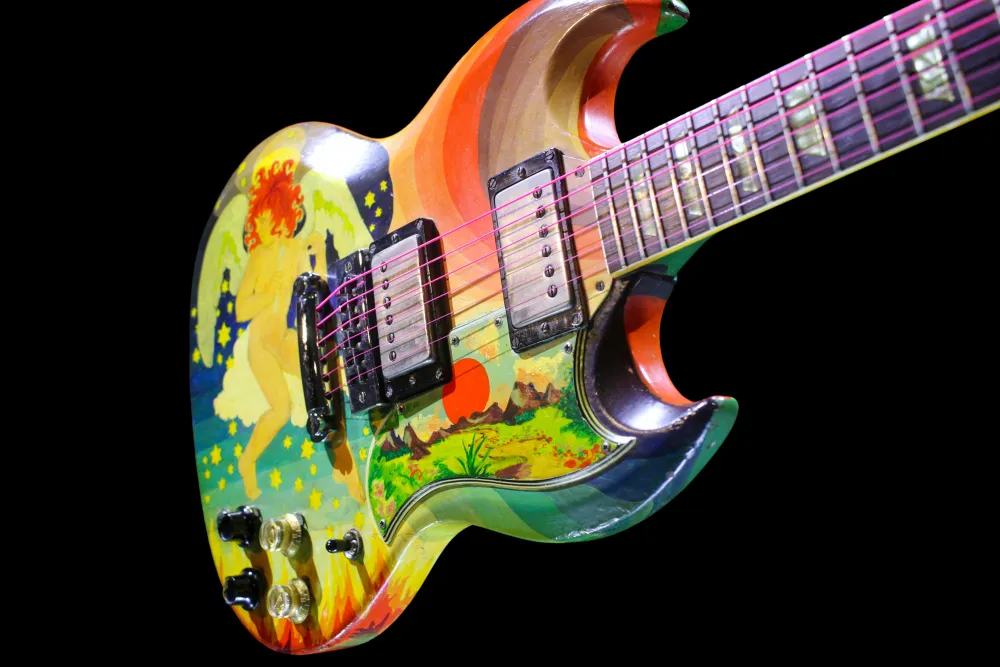 Next month, two guitars—one played by Eric Clapton and another by Kurt Cobain—are heading to the auction block, where they could fetch between $1 million and $2 million.
Clapton's guitar, nicknamed the "Fool," features bright colors and a psychedelic scene depicting a nude angel on a cloud. The rock 'n' roll icon first played the 1964 Gibson SG electric guitar on stage while touring the United States with the British rock band Cream, per the auction house.
The Beatles' George Harrison gave the guitar to Clapton around 1965 after Clapton's Les Paul Standard was stolen. Cream's manager, Robert Stigwood, commissioned Dutch artists Marijke Koger and Simon Posthuma—collectively known as the Fool—to give the instrument a fresh look. The duo sanded, primed and applied oil-based enamel paints to create the guitar's vibrant design.
In addition to its culturally significant psychedelic style, the guitar was also musically significant. Clapton used it to perfect his signature sound known as "woman tone." In a 1967 interview with Beat Instrumental magazine, Clapton described it as a "sweet sound" that seems "more like a human voice than the guitar," according to the auction house.
"You wouldn't think it was a guitar for the first few passages," he added.
The Cobain guitar, known as "Skystang I," is a light blue, left-handed Fender Mustang. The American musician played the electric guitar throughout Nirvana's In Utero tour in 1993 and 1994, including during the band's final public performance in March 1994. Cobain died by suicide roughly a month later.
Skystang I still bears many traces of its former owner, including the black tape Cobain put over the Fender logo. "Kurt hated corporate sponsorship and corporate branding," says Martin Nolan, founder of Julien's Auctions, to Reuters' Rollo Ross.
Another Cobain guitar—a 1959 Martin D-18E model he played in 1993—holds the world record for the most expensive guitar ever sold at auction. It went for more than $6 million in 2020.
The upcoming sale will take place at Nashville's Hard Rock Cafe between November 16 and 18. A portion of the proceeds will go to a mental health initiative called Kicking the Stigma.
In addition to Skystang I, several other Cobain possessions will also be available, including a pair of his Levi's jeans and cassette tapes with handwritten notes, per the Independent's Hannah Roberts.
In total, the auction will feature more than 1,000 rock 'n' roll artifacts. Other notable items include Elvis Presley's 1977 Lincoln Continental and several of Dolly Parton's custom-made capes. Paul McCartney's 1972 tour bus is also up for grabs.