Envisioning Vermeer, Master of Genre Painting, at the National Gallery of Art
Exhibition explores the Dutch artist's connections with his contemporaries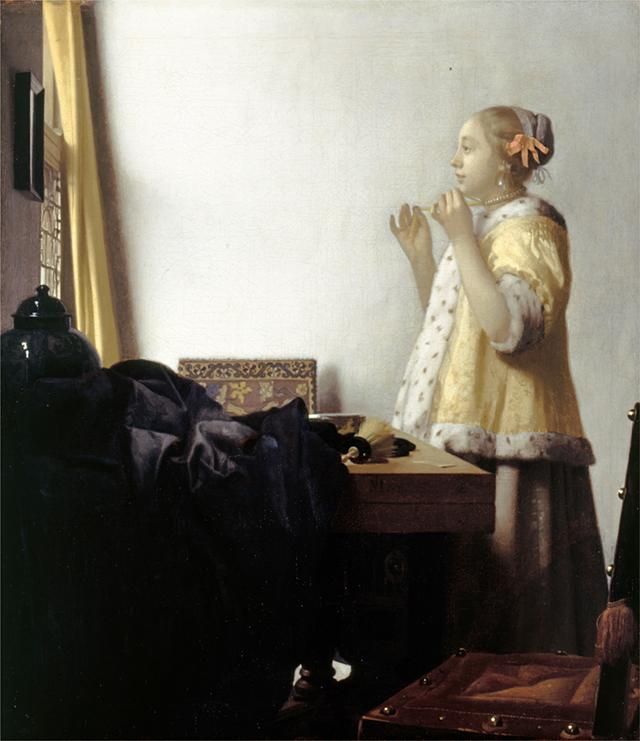 Johannes Vermeer's paintings are populated largely by women. Some gaze out at the viewer, seemingly caught in a moment of quiet contemplation; others engage in the mundane activities of daily life—reading and writing letters, playing a musical instrument—without acknowledging the artist's intrusion.
Vermeer has long been considered the master of Dutch genre painting. His depictions of the everyday, bathed in soft light and carefully composed to highlight the essence of individuals, show the beauty of quotidian life and elevate their subjects to the level of religious and classical themes beloved by Renaissance artists.
Curators at the National Gallery of Art in Washington, D.C., are keenly aware of the Dutch artist's allure—and they hope to replicate the success of a previous Vermeer retrospective with new exhibition "Vermeer and the Masters of Genre Painting: Inspiration and Rivalry."
Philip Kennicott of The Washington Post writes that the gallery's 1995 exhibition, which brought together 21 of Vermeer's 35 surviving works, attracted roughly 300,000 visitors, many of whom represented the frenzied, willing-to-camp-out-for-tickets class of museumgoers typically reserved for blockbusters like Marina Abramovic's 2010 Museum of Modern Art retrospective, "The Artist is Present."
This exhibition, on display until January 21, 2018, doesn't feature quite as many Vermeer pieces as its predecessor—there are 10 works by the artist, plus about 65 paintings by contemporaries such as Gerard ter Borch, Gerrit Dou and Pieter de Hooch.
Thanks to the efforts of Arthur K. Wheelock, Jr., the gallery's curator of northern baroque paintings, many of the artists featured in "Vermeer and the Masters of Genre Painting" have already been showcased in monographic shows.
According to a gallery press release, the exhibition draws on newly understood connections between Dutch Golden Age artists, demonstrating how "these painters admired, challenged, and pushed each other to greater artistic achievement."
As DCist's Pat Padua notes, the show's thematic organization elucidates the relationships between Vermeer and his peers: Borch's paintings of young women engaged in everyday activities likely inspired the Dutch master's similarly themed works, while the attention to texture in Frans van Mieris' paintings mirrors Vermeer's painstakingly crafted realism.
It's difficult to explain Vermeer's dominance over his contemporaries. As the exhibition aptly shows, a lack of dramatic subject matter only exacerbated baroque artists' creative powers. Kennicott explains that these works are filled with "imitations, variations and adaptations" of common domestic scenes—one painting of a woman reading a letter reveals a story unseen in another, all thanks to the artist's mastery of composition, light and minute detail.
Still, there's no one quite like Vermeer.
Wheelock tells The Daily Beast's William O'Connor, "One gets an element of dignity in doing things that are pretty much daily activities. Vermeer finds these moments and makes them important, and hence we feel more important in our connections with them. You come away from Vermeer feeling better about yourself after you saw it."