Eleven Never-Before-Seen Artworks Found in the Walls of James Castle's House
The renowned Idaho Outsider artist was known for squirreling his drawings and sculptures away in the walls and ceiling of his Boise home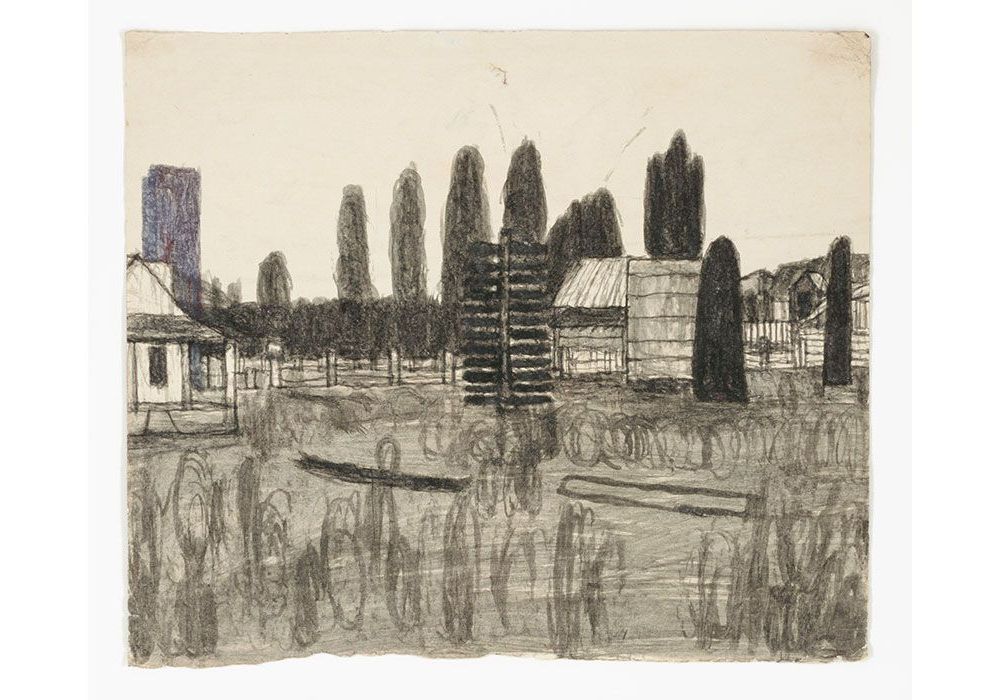 At the end of this month, the city of Boise, Idaho, will reopen the James Castle House after a major renovation and expansion. Among the 61 works that will be on display by the acclaimed self-taught artist will include 11 never before seen by the public. That's because, as Anna Webb at the Idaho Statesman explains, they were found stuffed in the wall of his house during the renovation.
Rachel Reichert, cultural sites manager for Boise, tells Webb that the artworks were found in 2016 during the restoration process. She had a feeling that something was hidden behind a wall covered with newspaper and fabric insulation in the living room. Sure enough, when the insulation was peeled back it revealed ten artworks as well as blank paper, marbles, pencils and a tobacco bag. Reichert tells Eileen Kinsella at artnet News that one other newly discovered work was found in a small book in the wall of a bedroom. "It's hard to say what the intention was. I don't get the sense that it was a storage issue, " Reichert says. "It's almost like a little time capsule."
James Castle was born in Garden Valley, Idaho, in 1899. As Natasha Geiling reported for Smithsonian.com in 2014, though Castle was profoundly deaf at birth, he was never formally taught sign language. He did not attend school until he was ten years old when he was sent to the Gooding School for the Deaf and Blind. While he struggled to communicate in a traditional sense throughout his life, over the years, he developed his own form of communication through his art. He used found objects including paper, envelopes and matchbooks from the post office and general store his parents ran to create drawings of his rural Idaho home. He checked the trash daily to find potential materials for his art. He created small sculptures of chickens and animals out of paper, though his most famous technique was using soot from the woodstove mixed with his own saliva to create a type of ink.
Castle's subjects primarily focused on rural scenes from his childhood in Garden Valley as well as his neighborhood in Boise, where he moved in 1931. He also had a fascination for texts and labels, though it's unclear to what extent Castle himself could read.
In the 1950s, his nephew Bob Beach decided to take some of his uncle's artwork back to Portland, Oregon, where he was studying art at the Museum Art School. Castle's talent caught the eye of Beach's professors and soon Castle's work was being featured in museums and exhibitions throughout the northwest until his death in 1977. At that time, overwhelmed by the constant demand to display his works, his family cut off public access to Castle's oeuvre for some 20 years. In 1998, however, his artwork re-emerged at the Outsider Art Fair in New York City, which recognizes creators who do not conform to traditional paths or mediums of the art world but are united by a "common denominator of raw creativity." The fair led to exhibitions and retrospectives. In 2013, the Smithsonian acquired 54 of his artworks, putting on a Castle exhibition in 2014.
This is not the first time artwork has been found in Castle's house, where he lived the last 46 years of his life. Webb reports that after a woman named Jeannie Schmidt bought the house in 1996, she discovered about 150 of Castle's artworks in the ceiling (though a judge ultimately ruled Castle's heirs the rightful owners of the art).
In fact, Castle was known for squirreling away his artworks. "He stored his art in many locations around the family property—in barns, sheds, attics, walls," Nicholas Bell, curator of the Smithsonian exhibition says. "But I wouldn't say he was trying to hide it from anyone, per se. Before he died he communicated through gestures to his family where all of his art was stored so they could take care of it."
In 2015, Schmidt sold the house to the City of Boise. A University of Idaho archaeological dig that followed in 2016 unearthed pencils, rags and other artifacts Castle likely used in his work.
"One of the most incredible parts of this project was to realize the connection between the house and Castle's work," Reichert tells Kinsella. "We discovered that many of the materials that Castle used in his work were quite possibly the same types of materials that were used to construct the house or to add on to the house."
When the James Castle House reopens on April 28 it will host several marquee events including the exhibition and a symposium in which the new artworks will be revealed.