Dutch King Apologizes for the Netherlands' Role in the Slave Trade
The monarch's statement coincided with the 150th anniversary of slavery's abolition in the country's colonies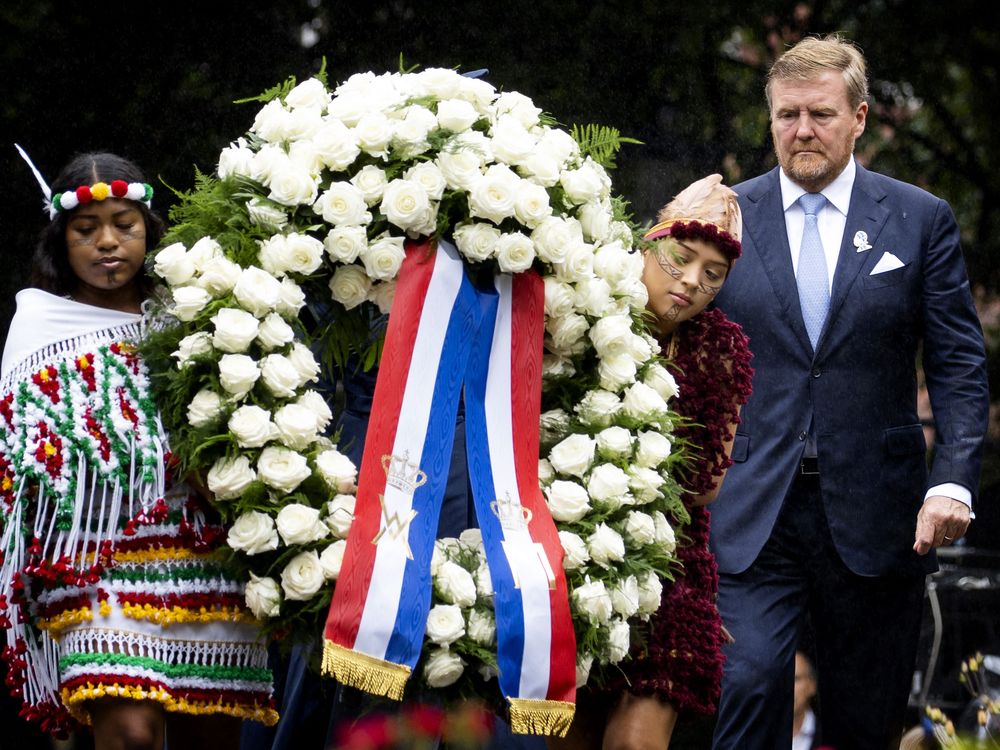 King Willem-Alexander of the Netherlands has issued an apology for the country's involvement in the slave trade, asking forgiveness for the "clear failure to act in the face of this crime against humanity."
"Of all the ways in which a person can be robbed of their freedom, slavery is surely the most painful," he said in a speech on Saturday. "The most degrading. The most inhuman."
As Willem-Alexander spoke, the country was in the midst of observing the 150th anniversary of slavery's abolition in the Netherlands' colonies.
Slavery was officially banned in the colonies in 1863, but it didn't truly end until 1873, because "many enslaved people were forced to work on plantations for a decade longer to limit financial losses for the owners," writes the New York Times' Claire Moses.
In his speech, Willem-Alexander said that Dutch ships transported more than 600,000 individuals out of Africa and across the Atlantic, 75,000 of whom did not survive the journey. The monarch also recently commissioned independent research into his family's involvement in the slave trade, with results expected in 2026.
"His family was involved since the beginning of the 17th century," says Gert Oostindie, a historian at the Netherlands' Leiden University who is part of the research team, to the Times. "It's much more personal for him and more difficult to express apologies."
According to a study published last month, the House of Orange-Nassau—the royal house of the Netherlands—made around $600 million in today's money from slavery in the Dutch colonies between 1675 and 1770, including shares in the Dutch East India Company gifted to the family, reports the Observer's Donna Ferguson.
Willem-Alexander's apology comes in the midst of a larger reckoning with the Netherlands' involvement in the slave trade. In December, the country's prime minister, Mark Rutte, made a similar apology. The government also announced a fund of more than $200 million to increase "awareness and involvement and follow-up" regarding the country's legacy of slavery, reports the Times. 
Some critics argue that more is needed and that the country must commit to reparations. On the other hand, as Willem-Alexander noted in his speech, some "feel that apologizing now, so long after the abolition of slavery, is going too far." In a 2019 survey on European and Japanese attitudes about their imperial histories, "half of respondents in the Netherlands—more than any other country—said their former empire was more something to be proud of than ashamed about," reports the Washington Post's Niha Masih.
Still, the monarch said the apology was necessary. "The horrific legacy of slavery remains with us today," he said in his speech. "Its effects can still be felt in racism in our society." Even as many celebrated the anniversary of abolition, unknown vandals sprayed racist slogans on the wall beside a slavery monument in Vlissingen, a city in the southwestern part of the country.
Willem-Alexander's speech was unusual, as many European monarchs have avoided outright apologies or have spoken only euphemistically. For example, in 2020, King Philippe of Belgium "expressed his 'deepest regrets' for the country's bloody colonization of the Democratic Republic of Congo but stopped short of apologizing," per the Washington Post. 
During his speech, Willem-Alexander also lauded the bravery of enslaved individuals who led revolts against their captors, and he recalled recent conversations with enslaved individuals' descendants who wanted the country to "embrace discomfort." 
He concluded the speech by calling on the Dutch people to "build a world without racism, discrimination and exploitation."
"After acknowledgment and apologies," he added, "let us work together to foster healing, reconciliation and recovery so that we can all be proud of what we share."