Shoppers at Dublin Grocery Store Glimpse Viking History Beneath Their Feet
A new Lidl boasts plexiglass windows that reveal archaeological wonders, including an 11th-century house and 18th-century staircase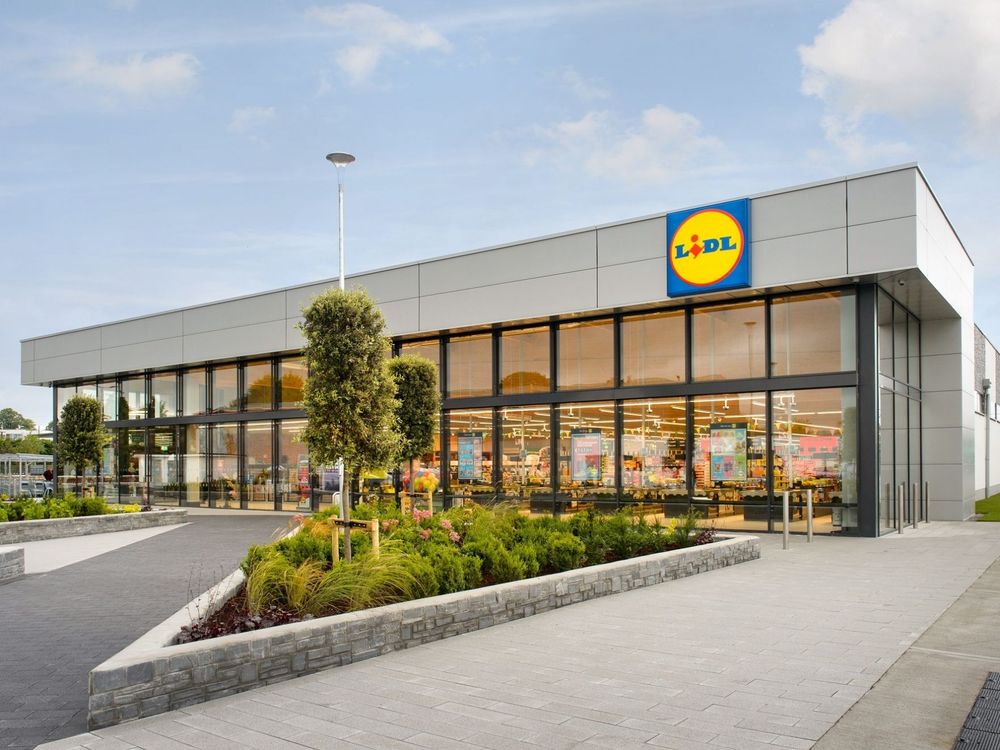 A newly opened grocery store in Dublin, Ireland, is stocked with all the essentials, from milk and eggs to butter and bread. But shoppers who round the corner of certain aisles will find an additional offering beneath their feet: clear panes of plexiglass that reveal an active archaeological site, complete with the sunken remains of an 11th-century home.
As Philip Bromwell reports for Irish broadcaster RTÉ, the glass flooring is part of a joint preservation effort by German grocery chain Lidl, the city of Dublin and the Irish Archaeological Consultancy (IAC). One of the unique displays is sandwiched between shelves of home goods, while the other is situated near the checkout counters.
Lidl called archaeologists in to consult on the project while the superstore was under construction, according to RTÉ. The branch opened near Dublin Castle in the Irish capital's historic city center on October 15.
Speaking with Scott Simon of NPR's "Weekend Edition," Paul Duffy, archaeological director of the IAC, notes that given the site's location along Aungier Street, the team expected to discover a church.
Instead, the researchers discovered a window into the city's medieval past: the remains of the basement or storage space of an 11th-century house tentatively dated to about 1070 A.D., per Eoghan Moloney of Irish news site Independent.ie.
"It is a unique structure for Dublin," Duffy tells RTÉ. "We don't know of anything quite like this in the city."
Archaeologists say that the house was likely built by Hiberno-Norse people who lived in this part of Dublin during the Middle Ages. As Madeleine Muzdakis writes for My Modern Met, the designation of Hiberno-Norse is "contested in scholarship" but commonly refers to Irish people descended from Scandinavian Vikings who arrived on the island in the ninth century.
According to Independent.ie, the underground space was constructed with local calp limestone and plank floors. The space could have functioned as storage space or part of the family's living quarters, Duffy says to RTÉ.
Speaking with NPR, Duffy adds, "The amazing thing about it is it's an everyday structure. …. It's somewhere that people, you know, sat down in the evening and did a bit of craft work while they were sitting around the fire."
Hey there :) Of course - hopefully these photos will do until you are able to visit & see for yourself :) pic.twitter.com/BftN2gmvv2

— Lidl Ireland (@lidl_ireland) October 16, 2020
The glass panel installed near the Lidl store's checkout counters showcases the hidden staircase of an 18th-century "pit trap." A remnant of the Aungier Street Theatre that once stood on the site, the device was used by actors to sneak up and appear onstage as if by magic, Linzi Simpson, a consultant archaeologist on the project, tells RTÉ.
Researchers also uncovered a well-preserved 13th-century wine jug and the foundations of the medieval church of Saint Peter, which operated on the site between about 1050 and 1650 A.D. Lidl has installed additional informational posters on finds next to the window displays, reports RTÉ.
Ruth Johnson, city archaeologist for Dublin, tells RTÉ that she thinks these kinds of preservation efforts could be a model for future projects. She cites the Celtic Tiger, a 2000s-era boom period in Ireland's economy that saw a significant amount of urban development and commercial archaeology take place, as an example of what not to do.
"I think—the Celtic Tiger model of, put up a hoarding and excavate a site, and then put up a development—I think we have to challenge that," says Johnson.
Instead, she suggests, "say, 'Is that sustainable, and what does that bring to the city?'"