This Digital Collection of Babe Ruth's Scrapbooks Is a Piece of Home Run History
The Baseball Hall of Fame is sharing its collection with the internet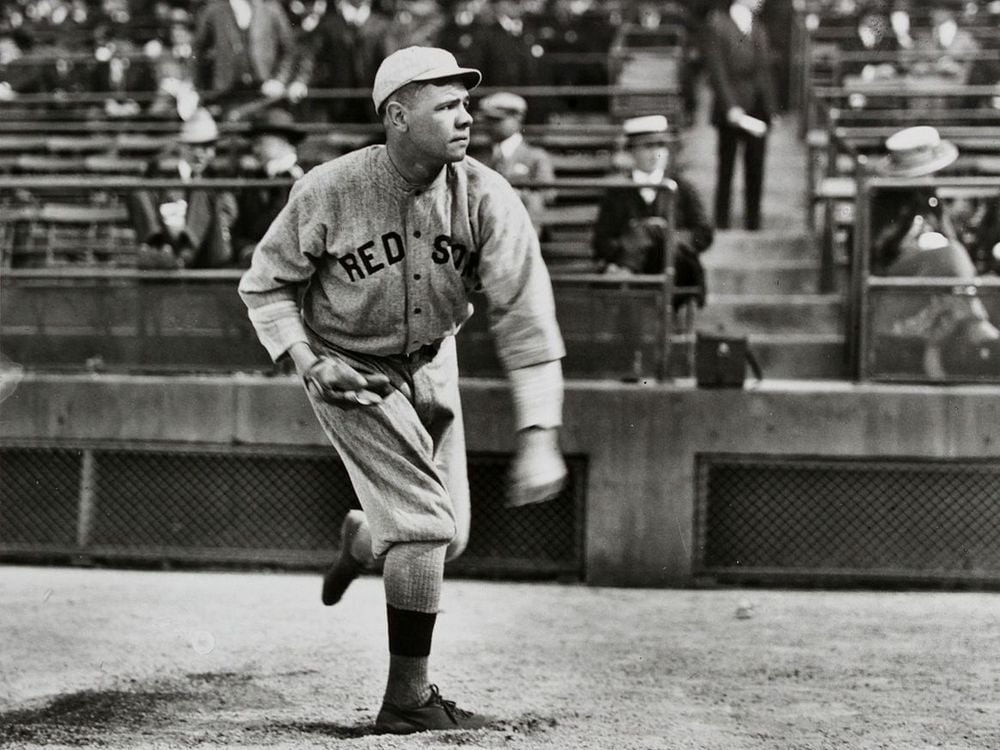 For decades, when anyone wanted to look back at old newspaper clippings about legendary baseball players like Babe Ruth and Jackie Robinson, they had to go to the source: the Baseball Hall of Fame and Museum in Cooperstown, New York. However, those resources were only available to researchers, and then only by appointment. Now, the Hall of Fame is finally digitizing selections from their collection and making them publicly available, starting with volumes and volumes of Babe Ruth's scrapbooks.
"The idea is to make as wide a variety of material as accessible as possible," Jeff Idelson, the Hall of Fame's president, tells Tyler Kepner for The New York Times. "For those who can't get here, it allows them to touch the Hall of Fame and have a relationship with us."
Digitizing the Hall of Fame's collection is a daunting one. It holds tens of thousands of artifacts ranging from scrapbooks of newspaper clippings to baseballs and mitts, as well as books and letters. Not only does that make cataloguing and arranging the collection difficult, but making these items public can lead to issues with copyright and the wishes of the players' families, Kepner reports. However, the museum still has plenty of artifacts that hold value for the public and don't necessarily cause tricky issues.
"The greatest barriers to digitizing the vast majority of history are funding and lack of understanding about what digitization involves," Kristen Gwinn-Becker, the CEO of HistoryIT, an archival company behind the Hall of Fame's new project, tells Adrienne LaFrance for The Atlantic. "That doesn't mean that we shouldn't strive to digitize as much as possible and, more importantly, to do so in such a way that makes it truly accessible."
Ruth's scrapbooks are the perfect example. The scrapbooks, which are currently available to read online for free on the Hall of Fame's website, were originally compiled by Ruth's agent, Christy Walsh. Each book is packed with newspaper articles, game scores and all sorts of other memorabilia from Ruth's career in the 1920s and '30s, LaFrance reports.
While the scrapbooks provide a great blow-by-blow of Ruth's legendary career, they're not just about his performance on the baseball diamond: they also touch on his stage performances. In addition to being one of the most beloved athletes in baseball history, Ruth also performed in vaudeville shows, and later on television and movies, LaFrance reports.
One 1921 newspaper clipping from the scrapbook captures Ruth at a vaudeville show, just before he started to sing in a "pleasing baritone voice." As J.D. McGlone wrote for The Evening Tribune: 
The Bambino comes out on the stage in a Yankee uniform, has some cross-fire with [vaudeville artist Duke] Cross, grabs a bat and shows how he manufactures home runs, telling Cross all one has to do is to follow the course of the ball as it leaves the hands of the pitcher and crack it "just like that," taking a swing. Cross asks him if that was the way he did it against [New York Giants pitcher] Art Nehf. Dyed-in-the-wool-fans needed no further explanation. The Babe grins.
The scrapbooks even include articles from toward the end of his career, as sportswriters were beginning to muse about who might pick up the Great Bambino's mantle. Two years before he announced his retirement, one newspaper writer charting "Twenty Years of Hits and Headlines" wrote that Babe, once a home run king, is now a "bit more serious, a lot more rotund." The piece finishes, asking: "HOW LONG CAN HE KEEP GOING? IS 1933 THE FINISH?"
Making these items more accessible isn't just about making it easier for researchers who can't afford a trip to upstate New York: it's about giving fans more insight into the lives and characters of baseball's greats. It doesn't stop at Ruth, either—the Hall of Fame has plans to add digitized items from players like Jackie Robinson and Ty Cobb, as well as lesser-known figures from the Negro Leagues.
"You want to know the full story behind them, as opposed to just appreciating them as a great baseball player," former Baltimore Orioles infielder Cal Ripken, Jr. tells Kepner. "All the stories—are they rumors and myths, or not? It's interesting to hear them and to go back, and the Hall of Fame has all that. There's so much you can tap into, it's almost overwhelming."