Did Vermeer's 'Girl' Really Have a Pearl Earring?
A real pearl of that size would have been "astronomically expensive," art historian says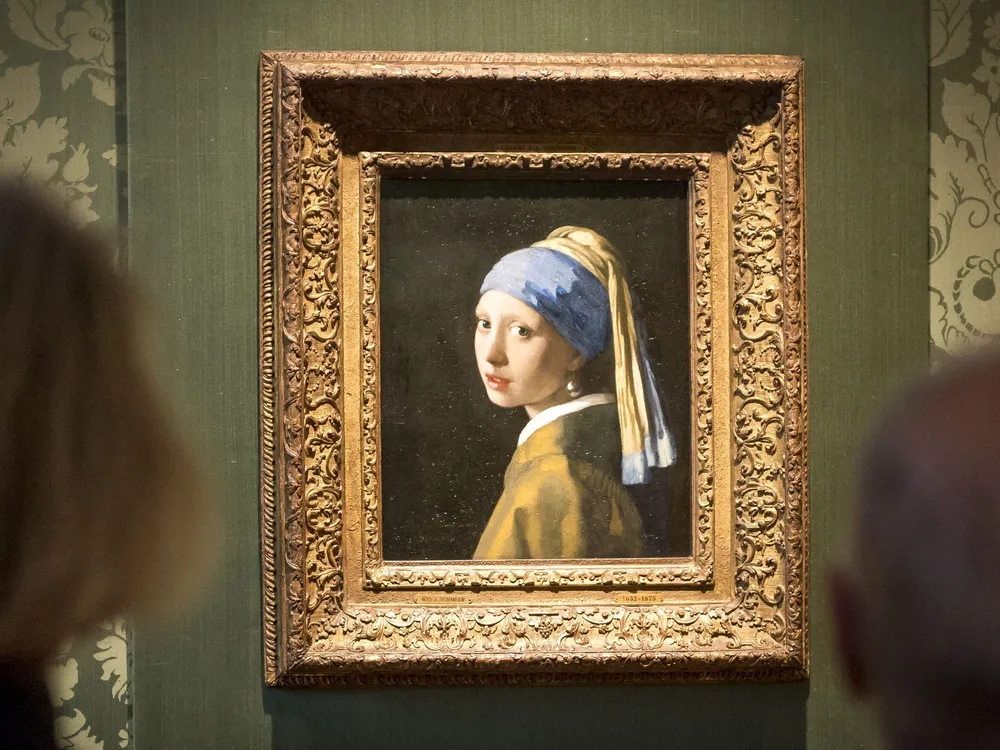 Something isn't right about Johannes Vermeer's iconic Girl With a Pearl Earring. 
No, it hasn't been misattributed, and no, it's not a fake. But according to Dutch art historian Pieter Roelofs, the earring was likely an imitation glass bauble, rather than a real pearl.
Others have raised this possibility before, but the claim is resurfacing thanks to a new blockbuster Vermeer exhibition—the largest ever staged—at Amsterdam's Rijksmuseum. 
Roelofs, who is co-curator of the display, writes in the exhibition catalog that a pearl of this size would have been "astronomically expensive," far beyond the financial reach of the Dutch painter, per the Art Newspaper's Martin Bailey.
He writes, "In Vermeer's work we are looking at imitation glass pearls, which in his time were mainly sold by Venetian glass blowers."
Pearl earrings and necklaces were all the rage in the second half of the 17th century in Europe, but they were decidedly luxurious items. Vermeer lived in the Netherlands, and pearls like this one would have had to be shipped there all the way from South Asia, according to Hyperallergic's Taylor Michael. At the size the painting portrays it, it would have been extremely valuable, Roelofs writes.
Girl With a Pearl Earring is probably the most well-known of Vermeer's pieces. It has certainly captured popular imagination, and it is often referenced in pop culture. The piece inspired a popular 1995 historical novel, which was adapted into a 2003 film starring Scarlett Johansson and Colin Firth.
The painting wasn't always called Girl With a Pearl Earring. According to the Art Newspaper, a curator at the Hague's Mauritshuis museum decided to use the title in the mid '90s. Before that, it was often referred to as Girl With the Turban.
The Mauritshuis' current director, Martine Gosselink, has a rather philosophical view of the earring's status: "It is neither a pearl nor glass, simply paint," she tells the Art Newspaper.
Painted around 1665, Girl With a Pearl Earring is a tronie, a work that isn't a portrait of a specific person; rather, it's focused on depicting facial expressions. "A young woman might have sat for Vermeer," per Encyclopedia Britannica, "but the painting is not meant to portray her or any specific individual." 
The Rijksmuseum's new exhibition, titled simply "Vermeer," brings together far-flung works by the celebrated Dutch artist that are on loan from museums around the world, including the Mauritshuis, New York's Metropolitan Museum of Art and Washington, D.C.'s National Gallery of Art. Vermeer only made some 35 works in his lifetime, and the exhibition brings together about 28 of them.