Dead Fish and Chemical Smells Plague Ohio Community Two Weeks After Train Derailment
Health department officials will establish a clinic for residents experiencing symptoms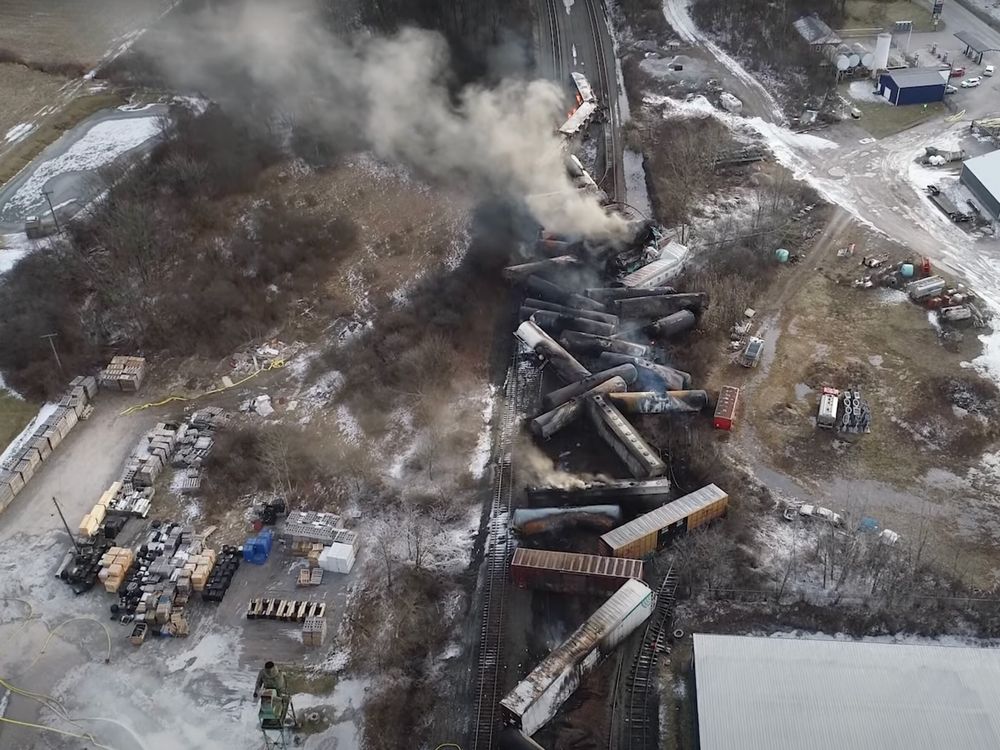 Two weeks after a train carrying hazardous chemicals derailed in East Palestine, Ohio, residents are continuing to report health concerns and anecdotes of animals falling ill.
As officials scramble to understand and contain the incident's impacts, Ohio Governor Mike DeWine requested further federal assistance in responding to the crisis. State and federal health departments will soon set up a clinic for community members to get any health symptoms checked out, regardless of whether they have health insurance, writes Axios' Jacob Knutson.
"I am concerned that the area has been deemed safe so quickly without extensive data to show the risk has been reduced," Michael Koehler, a member of the American Chemical Society's Committee on Chemical Safety, tells the New Republic's Prem Thakker. "As long as safety concerns remain, it is hard to understand how they authorized residents to return."
On the evening of February 3, 38 cars of a 150-car train derailed and caught fire—11 of which were carrying hazardous materials. Two days later, officials grew worried about rising temperatures in one of the rail cars, signaling the possibility of a catastrophic explosion. To avert this, authorities issued an evacuation notice for a one-by-two-mile area surrounding the site and carried out a controlled release and burn of the chemical vinyl chloride from five cars.
Plumes of black smoke rose from the train as the chemicals burned. After the fire was extinguished on February 8, officials determined the air quality was safe and residents were allowed to return home, per NPR's Becky Sullivan.
Since the incident, people have reported symptoms including respiratory problems, itchy and burning eyes and sore throats. Chemical odors persist in some places, and anecdotes of dead wildlife and ailing pets are mounting.
As of February 8, the Ohio Department of Natural Resources said the spilled chemicals had killed an estimated 3,500 fish across 7.5 miles of streams, write NBC News' Aria Bendix and David K. Li. Department officials have found no evidence of harm to other animals, per NPR. But residents have reported anecdotes of foxes, cats and chickens falling ill or dying, though so far no official evidence has tied these incidents to the derailment.
Meanwhile, Environmental Protection Agency (EPA) officials maintain that the air quality is safe.
"Since the fire went out on February 8, EPA air monitoring has not detected any levels of health concern in the community that are attributed to the train derailment," Debra Shore, regional administrator for the EPA, says in a statement.
As of the evening of February 16, the EPA had assisted in monitoring the air quality in 500 homes in the area and had not detected vinyl chloride or hydrogen above levels of concern.
But in a February 10 letter sent to the train's operator, Norfolk Southern, the EPA said materials released from the derailment were detected in several bodies of water, including the Ohio River.
Exposure to vinyl chloride is linked to liver cancer, brain and lung cancer, lymphoma and leukemia, according to the National Cancer Institute. When burned, vinyl chloride can break down into hydrogen chloride, phosgene, carbon dioxide and carbon monoxide vapors, according to the EPA. Hydrogen chloride can irritate the skin, nose, eyes, throat and larynx, while phosgene can irritate the eyes and throat and induce vomiting, coughing and difficulty breathing.
Other chemicals spilled in the derailment included butyl acrylate, which can cause skin irritation, as well as petroleum and the carcinogen ethylhexyl acrylate, which has been linked to aquatic death, according to Grist's John McCracken.
Officials said this week that water from municipal sources is safe to drink, but they urged people with private wells to have their water tested and drink bottled water for now, per NPR.