Crocodile Mummy Found Packed With Dozens of Smaller Crocodile Mummies
The little critters escaped notice until high-powered modern scanners tackled the mummified remains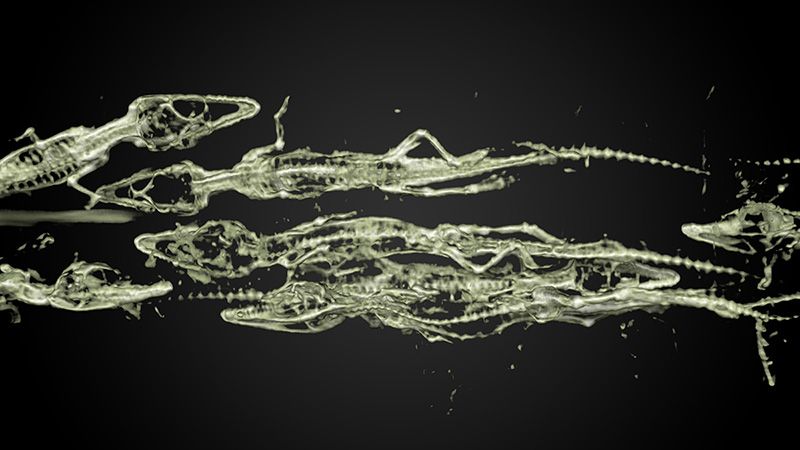 Since 1828, a nearly ten-foot-long crocodile mummy has been on display at the Netherlands' National Museum of Antiquities in Leiden. Until recently, however, researchers had no idea the mummy contained 47 smaller crocodiles packed in alongside the giant beast.
The 2,500-year-old mummy in question had previously been subjected to traditional X-ray and CT scans, which revealed that the creature is made up of two juvenile crocodile skeletons. But when the museum recently ordered a more comprehensive 3D CT scan last year in preparation for a new exhibit, they were shocked to discover 47 separate baby crocodiles contained within the artifact, the BBC reports.
"You can't see them properly on the old scans unless you know they're there. And we never expected to find this," museum curator Lara Weiss tells Maarten Keulemans for the Dutch news site de Volkskrant.
Mummification was a booming business for the Ancient Egyptians, who used them as offerings to the gods during religious rituals. Mummies were so important and popular that many people may have even willing purchased mummified animals that contained scraps of the honored beasts—a fact that makes this latest find particularly surprising.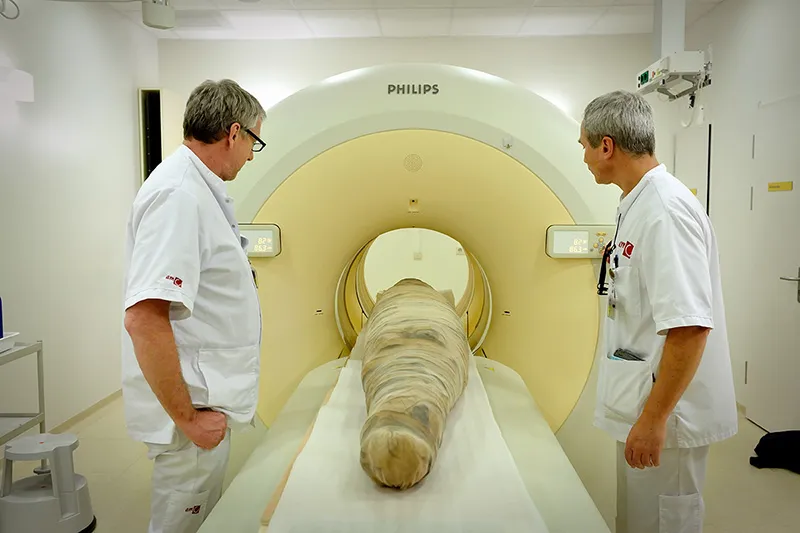 The new scans revealed that each of the tiny crocs were individually mummified before being packed into the larger mummy. It's unclear exactly why so many little mummies were bound together to make the big one, but researchers at the National Museum of Antiquities suspect that reasons could range from a symbolic nod towards the Ancient Egyptian belief in resurrection, or simply that there weren't enough large crocodiles to go around, according to a statement.
The discovery has vaulted this mummy into a select club as the second-known crocodile mummy to have been made with multiple crocs. In 2015, a scan of a similar mummy belonging to the British Museum in London revealed it had about 20 tiny hatchlings wrapped into the larger crocodile's back, the BBC reports.
Luckily, visitors curious to peer inside the mummy's wrappings will soon get the chance. The National Museum of Antiquities is still going ahead with the exhibit as planned, which allows museum-goers to conduct a virtual autopsy of the crocodile mummy and provides a rare chance to take a peek at the previously unseen little mummies.