Crayola Has At Least 16 Different Names For What Most of Us Would Call 'Orange'
Crayola is the master of colors. Sort of. In fact, what they're actually the master of is color naming, and renaming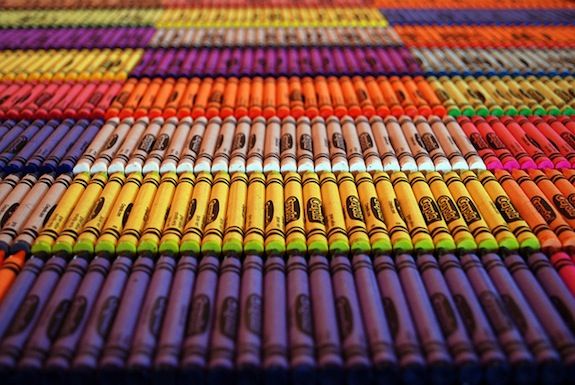 You probably grew up envying the kid who had the big box of crayons. He had colors you had never even heard of. Tamborine Green? Razzle Dazzle Rose? You weren't sure what to color with those colors, but you wanted them anyway.
Crayola is the master of colors. Sort of. In fact, what they're actually the master of is color naming, and renaming. This list of Crayola colors has 745 entries. But it doesn't actually have 745 different colors. Instead, it's a great lesson in marketing.
Take black, for example. How many different names for black are there? If you're Crayola, a lot. There's Kitty Cat Black, Leather Jacket, Licorice, Black Hole, Muscle Shell Black (Black), New Sneakers, Starry Night, Storm Cloud Black, Cosmic Black, Shades of Black, Allen Iverson's favorite – black, Illinois Abe Lincoln's Hat, Cleaner Coal Black, Eerie Black, Carbon Black.
But they're all the same color—what an average person would call…well, Black.
And it's not just black either. Here are the names for basic blue:
Birdie Blue, Blueberry, New Car, Blustery Blue, Deep Sea, Galaxy Blue, Hetty the Duck Blue, Mole Blue, Overalls Blue, Bell-Bottom Blue, Derrick Coleman's favorite – blue, Matt Harpring's favorite – blue, Speedy Claxton's favorite – blue, iron man blue, liberty blue, Blue Cheese, Bushkill Blue, America the Blue-tiful, Clearwater Blue
And for orange:
Jack "O" Lantern Orange, Tulip, Cyberspace Orange, Grandma's Perfume, Huggable Bear Orange, Jupiter Orange, Shrimp (Orange), Solar Flare (Orange),Damone Brown's favorite – orange, Jack-O-Lantern Orange, go O's, Dreamy Creamy Orange, Orange you glad you're in America?, Evolution Orange, Orange Soda, Smashed Pumpkin
And for brown:
Van Dyke Brown, Bunny Brown, Chocolate, Mouse Brown, Asteroid Brown, Ocean Floor (Brown), Pet Shop, Whoo Brown, Woodstock Mud, Chock-A-Lot Shake, Portobello, Mississippi Mud Pie, Brown Sugar, Mother Earth Brown, Sweet Brown
A lot of what Crayola does is take classic colors, give them fun names and remarket them in different combinations. Even Burnt Sienna has pseudonyms like Baseball Mitt and Massachusetts Boston Tea Party.
Some colors tell us a little bit about culture and social change, too. The light pink crayon, for example, is no longer called "Flesh." In 1962 they changed the name to "Peach," to acknowledge that there are in fact more flesh tones than pink, and now it's possible to buy a special set of "multicultural crayons." In 1999, Crayola renamed "India Red" to ensure that kids didn't think it referred to the skin color of Native Americans. (In fact, the color was named after a pigment that originated in India.)
And clearly their marketing of a million colors has worked. In 2011, Smarty Pants ranked Crayola as the top brand among mothers, and in the top 20 among kids. According to a Yale study, a box of crayons is the 18th most recognizable smell to American adults.
But at least you can now feel a little bit better about being the kid that didn't have the 64-color crayon set, since while those crayons had fancier names, they were really just the same colors you had.
More from Smithsonian.com:
The Colors of Childhood
Colorful Kindergarten Lessons Throw Color-Blind Kids Off Their Game