Climate Change Is Pushing Salmon North in Alaska, Scientists Say
Researchers recently found about 100 chum salmon spawning in the Arctic, suggesting the species is shifting to new habitats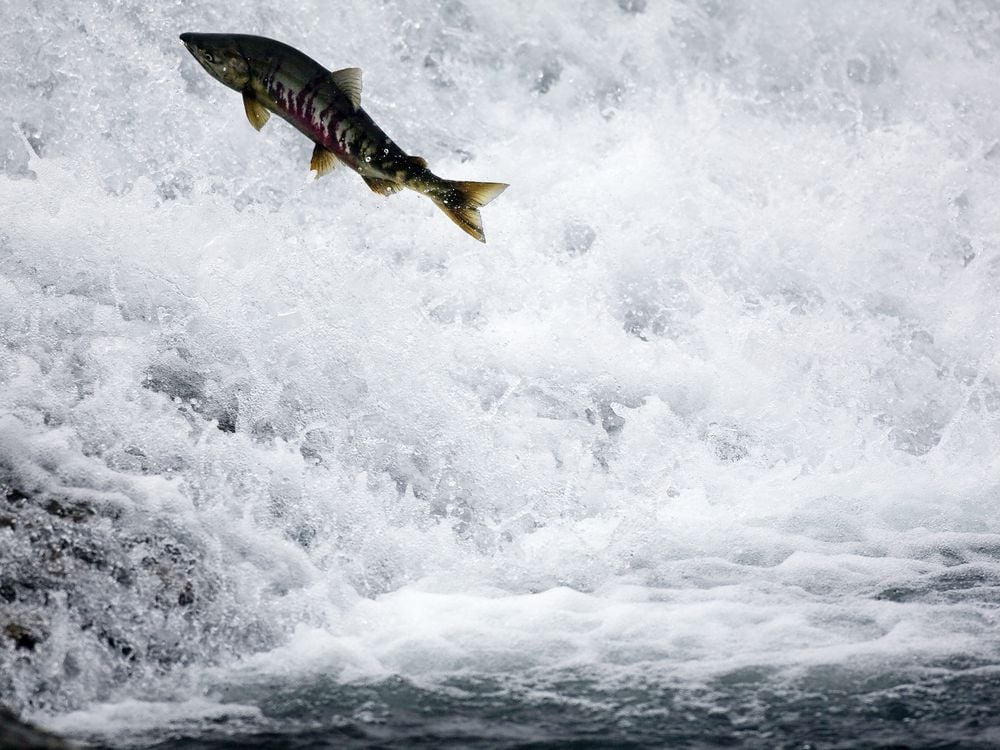 Chum salmon, the second-largest Pacific salmon species, can be found throughout the northern coastal regions of North America and Asia. But now, as the climate warms, the fish are laying eggs even farther north—in Alaska rivers that feed into the Arctic Ocean, according to a statement from the University of Alaska Fairbanks (UAF).
"We saw not only fish that were actively spawning, or had finished spawning and were still alive, but also carcasses—fish that had been spawning and already died," Peter Westley, an evolutionary ecologist at UAF who led the recent research, tells Wired's Matt Simon. "It's really consistent with that clear harbinger of climate change: this shift toward the poles."
The research team found about 100 chum salmon that were spawning or had just finished spawning in the Anaktuvuk and Itkillik rivers of the North Slope, Alaska's northernmost borough. However, this finding is not entirely unprecedented. Locals have reported sightings of chum salmon before, and in 2017, researchers in northern Alaska found a juvenile of the species, according to the Alaska Beacon's Yereth Rosen.
"I don't want to portray our discovery as the first ever. That assumes no one has ever seen this before, and people have been there for thousands of years," Elizabeth Mik'aq Lindley, a UAF evolutionary ecologist, says in the statement.
However, the recent announcement demonstrates that salmon numbers appear to be increasing in northern Alaska.
"When I first came here, if someone got a salmon, it was the talk of the town," Robert Thompson, who moved to Kaktovik, Alaska, in the 1970s, tells the Alaska Beacon. Now, he adds, people catch salmon regularly, though still in low numbers.
Chum salmon hatch in freshwater streams and rivers, then migrate to salty oceans to feed and grow. As adults, often between the ages of three and six, they typically return to the areas in which they were born to spawn. After spawning, they die. But the new findings suggest some salmon may be traveling farther north to spawn, rather than swimming back to their home waters, per the statement.
The researchers think climate change is driving this shift north, as salmon populations decline in places like California and Washington. This year, fewer salmon are in the Yukon River in Alaska and Canada than there have been historically. The Arctic, meanwhile, is warming four times faster than the rest of the planet.
So far, the researchers haven't been able to determine whether the salmon eggs laid in northern Alaska survive. To find out, they left temperature sensors that could detect whether the rivers freeze in the winter.
"If they freeze solid, it's pretty much the end of the road," Westley tells the Alaska Beacon. "Salmon eggs can't survive if they freeze."
Additionally, scientists wonder whether increasing salmon numbers are good for the region. Larger populations could potentially take space and resources away from native fish, writes Wired. On the other hand, salmon eggs could become a new food source for native species.
At a workshop last year, scientists, residents and Indigenous fishers shared their thoughts about the salmon trends.
"Some community members that were present expressed concern over increasing salmon and not wanting to catch more salmon, because it interferes with cultural harvesting practices," Lindley tells KUAC's Dan Bross. "But I think it really varies by the person and the community."