China Is Opening Around 100 Museums Every Year
Since 2008, the Chinese have allocated something like $800 million to building new museums, and the country now has over 3,000 of them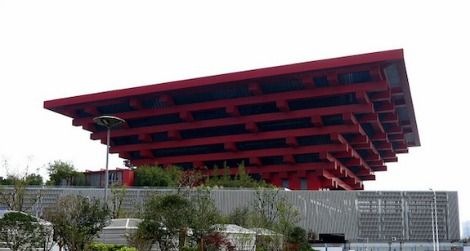 There's the China Art Palace, the size of New York City's Museum of Modern Art. Just down the river there's the Power Station of Art that, according to NPR, resembles the Tate Modern. There's the China Fire Museum, and the Shanghai Museum of Glass. Since 2008, the Chinese have allocated something like $800 million to building new museums, and for the past few years, the country has opened about 100 each year, NPR says. In 2011 alone, 400 were built. China now has over 3,000 museums.
But while China might be booming in museums, the museums are not necessarily booming in visitors. Over half of the museums in China are free to visit. The others are relatively inexpensive. But when a big Andy Warhol exhibit opened up at the Power Station of Art, just 6,000 people came. The city boasts 23 million residents.
NPR reports that this statistic has a few explanations. First, The Power Station isn't in an obvious place, sitting in an abandoned part of the old Shanghai Expo. Second, most people in China don't know who Andy Warhol is. "When it comes to contemporary art, says, most Chinese don't know where to begin because cultural education has lagged far behind China's economic boom," NPR writes. Xu says that "one-third to one-half of artworks are hard for average visitors to understand if they didn't receive sufficient art education. Chinese graduate students' understanding of art only reaches the level of middle school students in the U.S."
While most museum-curious people in the United States might immediately recognize Andy Warhol or Van Gogh or Georgia O'Keefe, the average Chinese has never heard of them. (And, let's be fair, do names like Liu Ye, Zhang Xiaogang, Yu Youhan, and Mao Xuhui—all artists China Daily calls "celebrated figures"—mean much to American audiences?)
The other problem with these booming museums is that they might not be sustainable. Even now, after just opening, many of the museums aren't open regularly. "They might have a grand opening or a press conference with great photographs and government officials," Jeffrey Johnson, an architect who studies Chinese urbanization told NPR, "but if you return to this museum, which officially has been open for three months, it … might be closed and locked."
According to the China News Service, the government is ready to commit money and resources to keep these museums going: "In the next ten years, the cultural industries are expected to see a golden period of development in China, and more residents can expect museums near their homes," the service reports. Other groups in China are trying to educate their residents about art, so they can recognize and appreciate exhibits better. But it has become clear that if you build them, people won't necessarily come.
More from Smithsonian.com:
China's Artistic Diaspora
Video: Take a Virtual 3D Journey to Visit China's Caves of the Thousand Buddhas