Cats in Literature? It's a Long Tail
A new exhibition at the British Library explores how cats have inspired—and frightened—writers across the centuries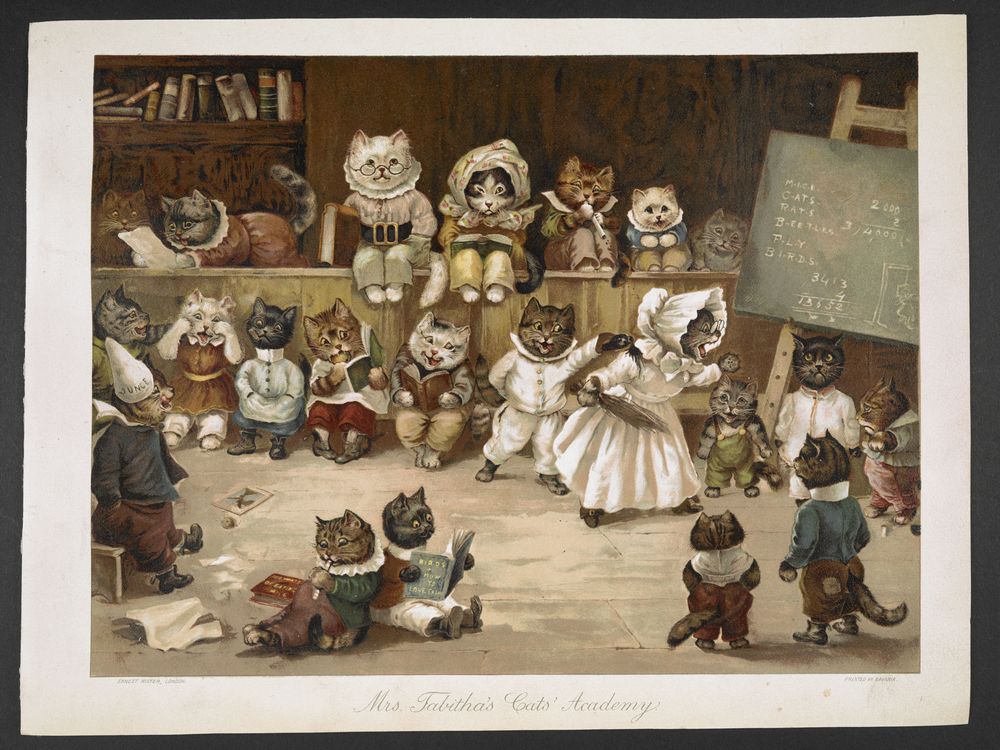 Cats reign supreme in the internet age, but humans' fascination with fluffy felines is nothing new. Long before the dawn of memes and Grumpy Cat, the aloof creatures popped up in books, poems and illustrations, rendered as everything from loveable companions to sinister agents of witchcraft. Now, as Mark Brown reports for the Guardian, a new exhibition at the British Library explores the rich literary history of cats through, ahem, a purr-fect display of books, manuscripts and artwork.
Titled Cats on the Page, the new show features relics that span from the 16th century to the modern era. Perhaps unsurprisingly, many of the works on display originate from children's literature. There are, for instance, illustrations of Cat in the Hat, Mog (the feline protagonist of a beloved series by Judith Kerr) and a rendering of Beatrix Potter's Kitty-in-Boots by Quentin Blake, the British artist best known for illustrating the books of Roald Dahl.
One of the highlights of the exhibition is Lewis Carroll's personal copy of the third edition of Through the Looking-Glass and What Alice Found There, in which the author scrawled his displeasure at a drawing of Alice holding her pet kitten. "Much over printed," Carroll fumed. "Very bad." According to Brown, Carroll was so angered by what he saw as the poor quality of the printing that he demanded his publisher destroy all 940 copies of the edition that it still held. (The publisher, mercifully, did not heed his orders.)
The works of T.S. Eliot also feature prominently in the exhibition—the show is, in fact, timed to overlap with the 80th anniversary of his whimsical poetry collection Old Possum's Book of Practical Cats, according to Ailis Brennan of the Evening Standard.
Eliot loved cats and owned many of them throughout his life, giving them names like Jellylorum, Pettipaws, Wiscus and George Pushdragon. Old Possum's Book of Practical Cats was made up of poems that Eliot wrote for his friends' children; the exhibition includes a draft of one of those poems, "Mungojerrie and Rumpelteazer," which Eliot sent in a letter to a girl named Alison, the daughter of his friend Geoffrey Tandy. Cats on the Page also displays Alison's reply to the poet, which includes drawings of the two cats.
Not all of the items on view, however, are quite so fuzzy in nature. Visitors can see a late 16th century pamphlet describing the alleged misdeeds of four women accused of witchcraft. A woodcut illustration in the pamphlet depicts a black cat purported to be one of the witches' "familiars"—wicked spirits that took the form of animals and fed on the witches' blood.
"The range in which [cats] have been used is just astonishing," Alison Bailey, lead curator of the exhibition, tells Brown. In a statement, Bailey notes that the show was able to feature only some "of the hundreds of paws prowling the pages of [the British Library's] books and manuscripts."
So the next time you find yourself stuck in an endless loop of cat videos, why not consider yourself part of a robust cultural tradition? As Bailey says, "[c]ats have inspired our imagination and creativity for many years."