Before the World Cup, Brazilians Are Trying to Learn English
Brazilians have 211 days left to prepare for the World Cup one of the things many of them are doing to get ready is to try and learn English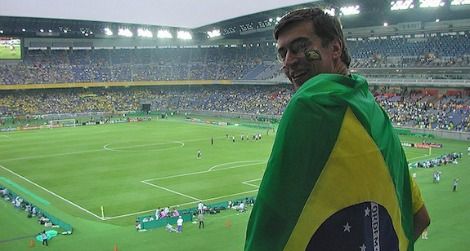 The 2014 FIFA World Cup will kick off on June 12th, which gives Brazilians 211 days prepare. And one of the things many of them are doing to get ready is to try and learn English.
According to Vanessa Barbara at the New York Times, Brazilians aren't really ready for the influx of international visitors that the World Cup will bring. Croatia, Lebanon and Malaysia all get more international tourism than Brazil does. And the Education First English Proficiency Index ranks Brazil at number 46 out of its 54 ranked countries. But Barbara says that it's not that the Brazilians aren't trying:
There's a school teaching English on almost every corner, seeming as common as bakeries, hair salons and evangelical churches. The Brazilian Association of Franchising estimates that there are a total of 6,088 franchises of 77 language schools with names like Wizard, Yes! and Wise Up. Some schools guarantee that a student will learn English in 18 months, six months, eight weeks and, yes, 24 hours. The Ministry of Tourism has created a program to increase access to English classes called Hello, Tourist!
And tourists, Barbara says, will have to learn how to interpret the Brazilian form of English, which is full of word-by-word translations often based on sounds rather than meanings. She gives some hilarious examples:
To Americanize some foods, we could write "Barbie Kill Sauce" instead of "Barbecue Sauce." Trying to explain some typical food to foreigners, we often create nonsensical expression such as: "Meat of the Sun with Fried Potato" (Carne de Sol com Batatas Fritas), "Crazy Meat" (Carne Louca), "Sleeve Juice" (Suco de Manga), "Chicken to the Bird" (Frango à Passarinho) and "Against the Brazilian Steak" (Contra-filé à Brasileira).
Perhaps English speakers should go to a Brazilinglish school before heading off to the cup.
More from Smithsonian.com:
How to Train a World Cup Referee
Is the World Cup Trophy Hollow?