Banksy May Be Opening A Dystopian Disneyland Park
The elusive street artist's take on Disneyland is chock-full of dystopia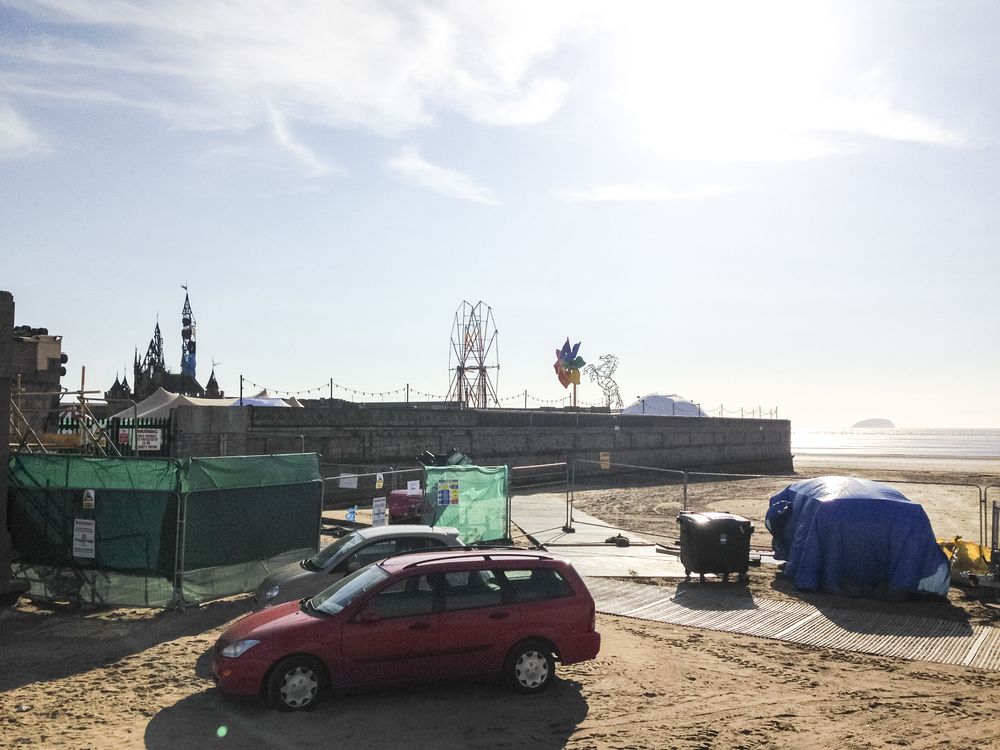 A mysterious construction site in an English beach town might actually be a nightmare version of Disneyland designed by Banksy, the mysterious artist and activist.
While Disney was busy announcing that it is adding a new "Star Wars Land" to its theme parks, Banksy might have been building his own answer to the Magic Kingdom. According to the Bristol Post, the secretive street artist has spent several months working on a new installation project called "Dismaland" in the seaside town of Weston-super-Mare. The site appears to be a dystopian take on Disney theme parks, featuring a dilapidated pink castle as the centerpiece. There are several other large-scale sculptures surrounding the castle, including a giant horse made from metal pipes, enormous pinwheels covered in plastic sheets and a piece made from old oil rigs that resembles Brooklyn-based artist Mike Ross' "Big Rig Jig," Ben Wilkinson writes for The Daily Mail.
So far, people familiar with Banksy's work have pieced together clues as to the site's true identity by keeping an eye on his associates. Officially, the strange sculptures were built as a set for a movie called "Grey Fox" that is supposedly being directed by Declan Whitebloom, who has shot music videos for Taylor Swift and One Direction. However, Marlow Stern reports for The Daily Beast that Whitebloom's representatives have denied that he was present. In the meantime, Holly Cushing, who is Banksy's alleged manager and executive producer of his film Exit Through The Gift Shop (a film about Banksy), was seen checking in on the construction site in early August. The Bristol Post also reports that financial records show that Cushing set up a company called "Dismaland Ltd." in May along with Simon Durban, who is believed to be Banksy's accountant.
This isn't the first time that Banksy has used his art to troll Disney: the artist has used the name "Dismaland" in stencils since 2012 and in 2006 he managed to slip a mannequin dressed like a Guantanamo Bay detainee into the Big Thunder Mountain Railroad ride at California's Disneyland. Dressed in an orange jumpsuit and wearing a black hood, the model stayed in place for an hour and a half before park employees shut down the ride and removed the piece. A representative of Banksy's claimed responsibility on his behalf, saying the figure "was intended to highlight the plight of terror suspects at the controversial detention centre in Cuba," according to a BBC report at the time.
Banksy fans won't have long to wait to get to the bottom of the mystery: according to the Bristol Post, the park is scheduled to open this Friday.