Is This the Bag That Held Sir Walter Raleigh's Mummified Head?
Legend has it his wife retained his embalmed head. But while the sack dates to the correct era and was found in his son's home, scholars are not convinced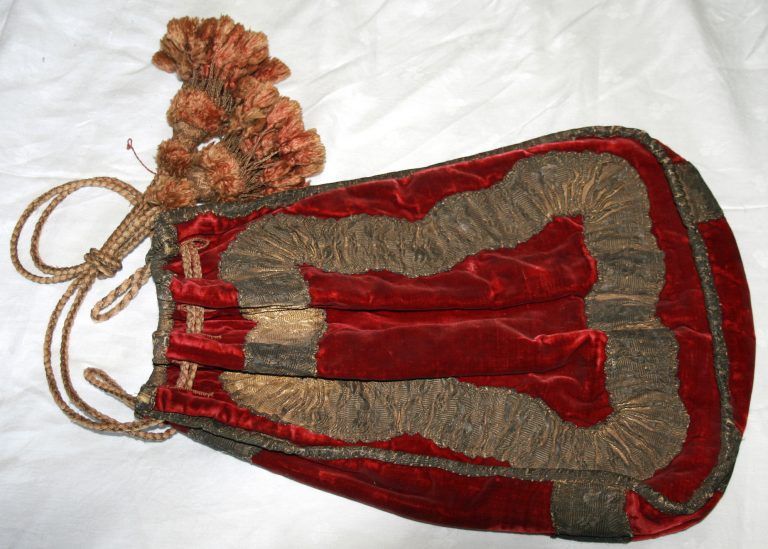 Four hundred years ago, Sir Walter Raleigh, the poet, soldier and favorite courtier of Elizabeth I had his head chopped off after he was convicted on charges of conspiring against the monarch's successor, James I. Legend has it that Raleigh's widow, Bess, was so distraught that she took the head and had it embalmed, then kept it near her in a bag the rest of her life. Now, West Horsley Place, where Raleigh's third son, Carew, lived, says they have found a bag that could have held Raleigh's head, as David Batty at The Guardian reports.
In a real Halloween headliner (sorry), West Horsley Place broke the news of the find on its website, explaining the discovery was made after the estate's attic was cleared out for emergency repairs in 2014. There, a red velvet bag was discovered, just the right size for an embalmed human head. Mark Wallis, co-director of a company that makes historical costumes and expert on period clothing took a closer look at the bag earlier this month, determining that it dates to the time of Raleigh's death.
"It's clearly a bag of the period. Whether it held the mummified head, I couldn't say. But that Lady Raleigh lived there means that it's much more likely than it would be otherwise," he tells Batty. "If it did hold the head it would have been when it was mummified, and not covered in blood and gore. I doubt this was the bag that Lady Raleigh took away from Whitehall where he'd been executed."
Raleigh's fall from grace is a long, complex tale, but the favorite confidante and advisor of Elizabeth (except when he wasn't) made no attempt to ingratiate himself to the monarch next in line, James, who had ruled Scotland as James VI, before Elizabeth died. When James ascended the throne, he stripped Raleigh of his royal station and turned him out of his home. Raleigh and several other notables were then accused of conspiring with Spain to kill James and put his cousin Arabella on the throne in a scheme called the Main Plot.
Though Raleigh was hated by the public and they threw stones and pipes at him as he was carted to the courthouse, their ire soon changed. His personal defense was eloquent and a master class in law, theater and logic, climaxing with the presentation of statement in which his sole accuser recanted his accusation. Even though the guilty verdict and sentence of execution was a forgone conclusion, Raleigh won over the public and many courtiers, which caught the attention of authorities. His writ of execution was stayed by the king and Raleigh returned to the Tower of London until 1616 when he was tapped to lead a gold-hunting expedition to South America. Raleigh, however, violated the king's orders and attacked a Spanish fort. To calm down the Spanish, James finally had Raleigh's head lopped off in 1618, 15 years after he was declared legally dead.
According to West Horsley, there is some evidence that Bess did, indeed, keep her husband's dismembered head with her. Accounts of Raleigh's execution state that the head was displayed to the crowd before it was presented to Bess in a red velvet or red leather bag. The widow had the head embalmed and brought her husband with her when she moved in with her son Carew and his family at West Horsley.
After Bess' death in 1647, family lore alleges the head was placed in a cupboard under the stairs (which is, probably, the creepiest place to store your severed heads). In 1660, after Carew's three children all died during an epidemic, the family decided to bury their grandfather's head along with them at nearby St. Mary's Church. In 1703, the story was partially corroborated when a diary entry made after the family plot was dug up during another burial, noted that Raleigh's head was found, with no other bones and no room for other bones.
Peter Pearce, director of the Mary Roxburghe Trust which supports the House says that it was assumed the bag that contained it was buried, too, but the find opens up the possibility that it was not. The velvet bag is currently out for analysis to look for signs that it once held an embalmed head.
Cultural historian Anna Beer, author of the new book Patriot or Traitor: The Life and Death of Sir Walter Raleigh, tells Batty that she doubts the story and says she has not come across any eyewitness accounts that Bess kept a mummified head in her possession. She points out that there are many apocryphal stories about Raleigh, including the story that he brought the first potato to Europe and that he once placed his cloak over a puddle for Elizabeth I. "It's almost definitely not the bag," she says. "Almost every source on Raleigh's execution has wonderful detail of the full horror of it, and that Lady Raleigh took his head away in a red leather bag."
There is one way to find out for sure: on Halloween night, get out a Ouija board, light some candles and look into the bag at the stroke of midnight. Then turn on the lights, adjust your glasses and read the lab report to see if they found any traces of Raleigh's head.