Bacteria to Blame for Elephant Deaths in Zimbabwe
Researchers are just now uncovering what may have killed 35 of the animals three years ago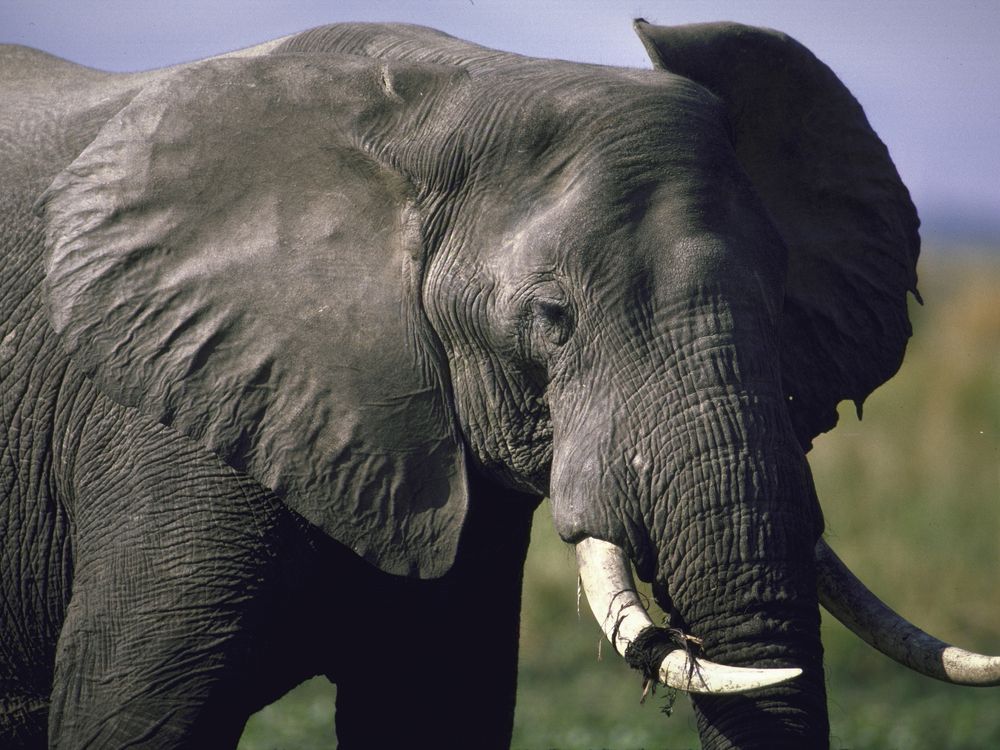 In a period of less than a month in 2020, 34 African elephants were unexpectedly found dead in northwestern Zimbabwe. A 35th dead elephant was found dead six weeks later.
At the time, experts ruled out some common causes of elephant deaths, including poaching and anthrax. In a new study in Nature Communications, the researchers identify the likely cause: a type of bacterium called Bisgaard taxon 45. The bacterium had not been previously known to kill elephants, according to the Guardian's Phoebe Weston.
That elephants can be killed by this type of infection presents conservation concerns, the study authors write. The bacterium is now another thing to look for when investigating mysterious wildlife deaths, Shahan Azeem, a veterinary microbiologist at the University of Veterinary and Animal Sciences in Pakistan who did not contribute to the findings, tells Science News' Tawanda Karombo.
Threatened by both poaching and habitat loss, African elephants are an endangered species. Their population declined by around 144,000 between 2007 and 2014, to about 350,000 elephants, according to the study.
A significant number of African elephants live in Zimbabwe and neighboring Botswana. In the past, elephants have died in Zimbabwe from drought, starvation or anthrax during hot and dry seasons, as well as from cyanide poisoning. In June 2020, around 350 elephants died in Botswana from an unspecified cyanobacterial toxin, per the study.
The first 34 dead elephants in Zimbabwe were found between August 24 and September 20, including 11 in a 24-hour period in an area of about 19 square miles.
"They died over a very narrow window. That's one of the most enigmatic parts of the whole puzzle. That many animals dying quite close together but not right next to each other over such a narrow space of time. It's really, to my mind, rather unique, certainly in this part of the world," Chris Foggin, a co-author of the study and a veterinarian at Victoria Falls Wildlife Trust in Zimbabwe, tells CNN's Katie Hunt.
No dead scavengers or other wildlife were found near the dead elephants, which would have been expected if the elephants had been poisoned. And none of the elephants had their tusks removed or had external signs of trauma, the study authors write.
Post-mortems of five of the elephants revealed inflamed internal organs and hemorrhaging of the heart, liver, lungs and intestines. Toxicology analyses didn't find any evidence of poisoning and the stomach contents didn't show signs of toxins. These findings pointed to blood poisoning by bacteria.
Further analysis of 15 elephants found signs of Bisgaard taxon 45 in six of them. The bacterium had previously been found in tiger and lion bite wounds in humans, a chipmunk and healthy captive parrots, according to the study.
The reason why the researchers were only able to find the bacterium in some of the elephants is probably because of poor sample quality and testing delays, the study authors write. Most of the carcasses were decaying, and it took time to get the necessary permits needed for exporting the samples.
The bacterium is closely related to Pasteurella multocida, which also causes fatal blood poisoning, writes Science News. In 2015, around 200,000 critically endangered antelope died in Kazakhstan from P. multocida infection.
"The most worrying thing is that we believe Pasteurella Bisgaard taxon 45 might have the potential to kill a large number of elephants," Foggin tells the Guardian.
Scientists aren't sure how the elephants became infected, Laura Rosen, a co-author of the study and epidemiologist at the Kavango-Zambezi Transfrontier Conservation Area in Zimbabwe, tells Science News. But heat, drought and population density likely contributed, the authors write.
Similar outbreaks could become more likely with predicted climate change, which will lead to warmer temperatures and increased humidity or drought, per the paper.
"It's premature to say that climate change has influenced [this] but it may do so in future if we get more and prolonged droughts, or the rainfall patterns [change] and we have a much harsher dry season," Foggin tells CNN. "I do think that if that is the case, then we are more likely to see this sort of mortality event occurring again."