Austria Offers Free Rail Travel in Exchange for Getting a Tattoo
Six people with a "Klimaticket" tattoo received an unlimited one-year public transit pass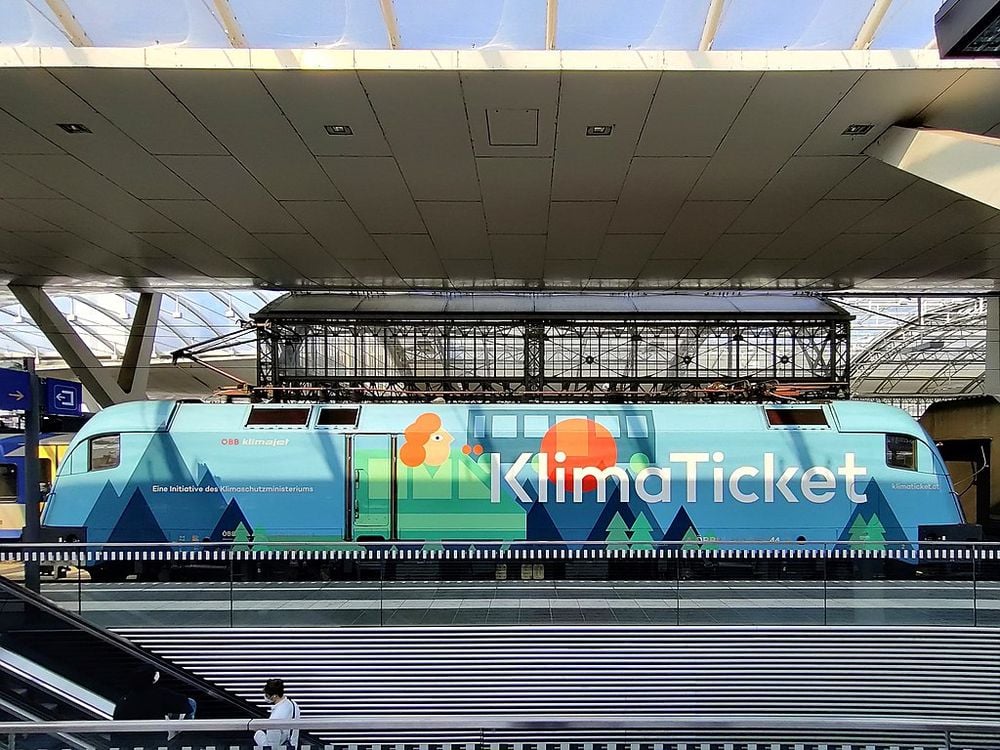 For several of the bravest (or perhaps the most frugal) public transit users, the Austrian government recently offered an unconventional deal: A select few would receive free, unlimited transit tickets for a year—but only if they got a tattoo of the word "Klimaticket," the name of the pass, reports the Austria Press Agency (APA).
This summer, a total of six people attending one of two music events—the Electric Love Festival in Salzburg and the Frequency Festival in the town of St. Pölten—took the government up on its offer. At each festival, only the first three participants were eligible for the passes, though many others still got free tattoos at the pop-up stands.
To promote the deal, Leonore Gewessler, Austria's climate minister, got her own temporary tattoo, per the Telegraph's Jörg Luyken. It read, "Gewessler takes the lead."
The Klimaticket (which means "climate ticket") is worth €1,000 (roughly $1,080) and can be used on almost all forms of public transportation in Austria. Officials have said that the initiative generated buzz among festival attendees. "The campaign [has been] extremely well received by the target group," Jakob Lambert, managing director of One Mobility, the company that operates the Klimaticket, tells the APA, per Google Translate.
Not everyone, however, was excited about the campaign, which some have criticized as irresponsible.
"Questionable tattoos" are often spur-of-the-moment decisions, writes Henrike Brandstötter, a member of parliament for Austria's NEOS party, on X, formerly known as Twitter. She adds that offering the passes in exchange "for advertising under the skin" unnerves her.
Lambert tells the APA that the tattoos were only offered during the day, rather than at night, and only to participants over 18.
"None of them got the first tattoo of their lives," he adds. "It was more like people who already have a few and now have one more."
The Klimaticket initiative isn't the only campaign to use tattoos as a marketing strategy. Earlier this year, for example, Amsterdam's Rembrandt House Museum launched the "Poor Man's Rembrandt Project." For one week in June, tattoo artists offered designs inspired by the 17th-century artist. While those tattoos weren't free, the museum billed the project as an effort to connect with new audiences and artists in the city.
Austria's Klimaticket launched in 2021, 15 years after the Austrian government first proposed it to help fight climate change. Beyond the tattoo incentive, the Klimaticket has "been praised as a model of subsidizing rail travel that could be emulated by other European states looking to cut carbon emissions," writes the Telegraph.
Around 245,000 people in Austria currently hold the transit passes. And now, six of them are riding for free, with the logo permanently inscribed on their arms.