There Are About 600,000 Dahlias on These Van Gogh Themed Floats
The colorful floats can be covered in up to one million dahlias apiece.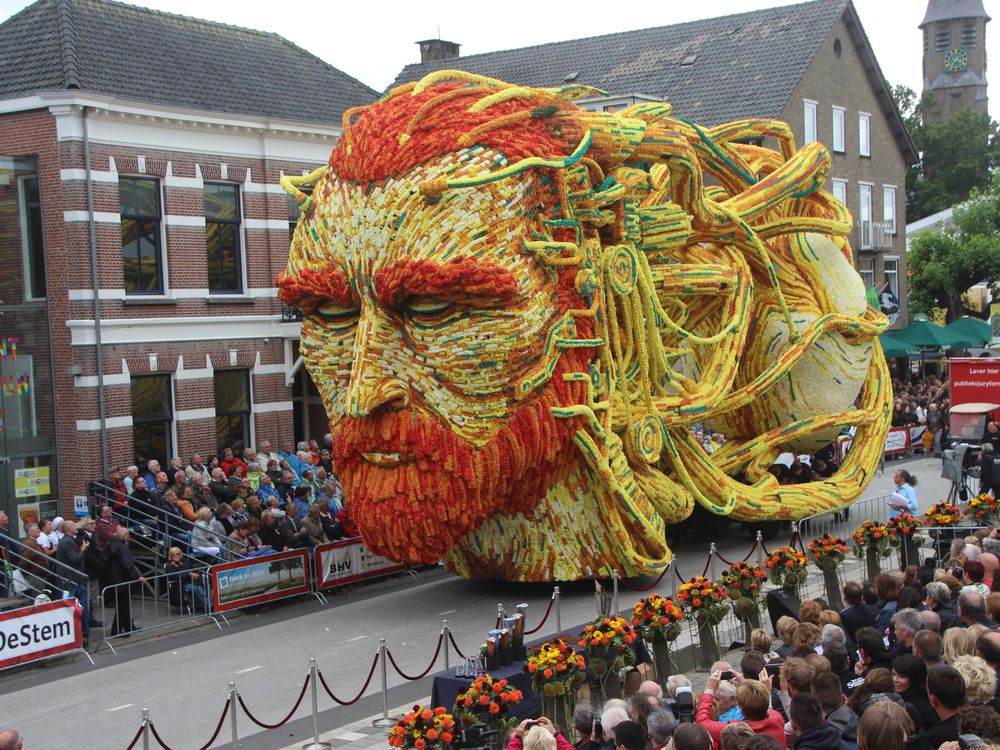 Every September, people from all over the Netherlands gather in the town of Zundert to watch extravagant dahlia-covered floats parade down the streets for the "Bloemencorso Zundert," an annual parade celebrating the region's many varieties of dahlias. This year, the 19 teams competing for the best and brightest display honored the town's most famous son, Vincent Van Gogh.
The Bloemencorso Zundert has come a long way since it first began as a humble parade of flower–covered bicycles and horse–drawn carts in 1936. Originally founded to celebrate Queen Wilhemina's birthday, the festival quickly became an annual tradition as the floats grew in size and became more intricate each year, according to the parade's website. These days, Zundert dedicates 81 acres of land to grow about 600,000 dahlias of 50 different varieties, all to cover the floats for the Bloemencorso.
In honor of the 125th anniversary of Van Gogh's death, this year the parade floats drew inspiration from the painter's palate and subjects, including his iconic self–portraits. However, this was only the third time since the parade began where the float designers have followed a set theme, according to the parade's website:
Only twice a theme parade took place, in 1990 and in 2003, when the parade honoured Vincent van Gogh who was born in Zundert. For its most famous inhabitant Zundert's flower parade is prepared to make an exception.
Along with the Bloemencorso Zundert, other celebrations marking the 125th anniversary of Van Gogh's death have been planned throughout the Netherlands and Auvers-sur-Oise, the French village where he spent his last days before committing suicide at the age of 37. As Van Gogh died penniless and with his work unrecognized, he might have been pleasantly shocked to see his portrait rendered in thousands dahlias grown right in his childhood backyard.