America's Bridges Really Are Getting Old: One Just Collapsed Into the Skagit River
While there may not be money laying around to fix bridges, there are certainly bridges laying around that need fixing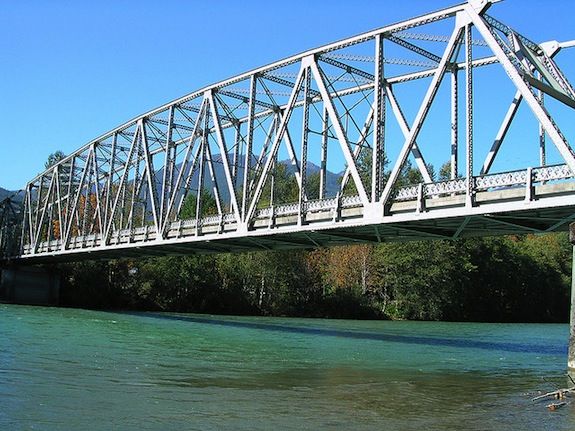 Just north of Seattle, a bridge over the Skagit River collapsed yesterday, plunging cars and their drivers into the water. The Interstate 5 bridge, built in 1955, was listed as "functionally obsolete" but was not considered structurally unsound. No one was killed in the collapse.
Authorities are still investigating what caused the bridge to break apart and have suggested that a commercial vehicle might have hit it, prompting the collapse. But they aren't sure yet. At least three vehicles wound up in the water, including a camping trailer, according to witnesses.
The New York Times explains that the bridge was certainly old and outdated, but no more so than many of Seattle's bridges:
The bridge was built in 1955 and has a sufficiency rating of 57.4 out of 100, according to federal records. That is well below the statewide average rating of 80, according to an Associated Press analysis of federal data, but 759 bridges in the state have a lower sufficiency score.

According to a 2012 Skagit County Public Works Department report, 42 of the county's 108 bridges are 50 years or older. The document says eight of the bridges are more than 70 years old and two are over 80.
According to the American Society of Civil Engineers, Washington isn't the only state whose infrastructure is in need of serious work. Their 2013 report card gave the entire United States a D+ overall, and a C+ for bridges. Washington State got a C- for it's bridges, " in part due to the nearly 400 structurally deficient bridges in Washington State. 36 percent of Washington's bridges are past their design life of 50 years."
The report explains that bridges in the United States are in pretty bad condition overall:
Over two hundred million trips are taken daily across deficient bridges in the nation's 102 largest metropolitan regions. In total, one in nine of the nation's bridges are rated as structurally deficient, while the average age of the nation's 607,380 bridges is currently 42 years. The Federal Highway Administration (FHWA) estimates that to eliminate the nation's bridge deficient backlog by 2028, we would need to invest $20.5 billion annually, while only $12.8 billion is being spent currently. The challenge for federal, state, and local governments is to increase bridge investments by $8 billion annually to address the identified $76 billion in needs for deficient bridges across the United States.
The 2007 bridge collapse in Minneapolis, which killed thirteen people, made the consequences of these numbers all too real. And in Washington, D.C., a 60-year-old bridge over the Anacostia River was in the news in January as it began to fall apart faster than repairs could be made.
"If any bridge is unsafe, we immediately take it out of service," Transportation Secretary Ray LaHood told the Washington Post in January. "However, it's no secret that many aging bridges across the country are in need of repair or replacement, and there simply isn't enough money in Washington to fund them all."
Transportation for America released a report last year that mapped and documented the state of the country's bridges. The report found that "68,842 bridges — 11.5 percent of total highway bridges in the U.S. — are classified as 'structurally deficient,' requiring significant maintenance, rehabilitation or replacement."
And it wasn't just the I-5 bridge that collapsed yesterday, either. In Texas, a railroad bridge caught on fire and collapsed into the Colorado River. 
So while there may not be money laying around to fix bridges, there are certainly bridges laying around that need fixing.
More from Smithsonian.com:
World's Coolest Animal Bridges
The Bay Bridge Gets Its Glow On