Airlines Will Be Required to Make Bathrooms More Accessible
Single-aisle planes will face new rules from the U.S. Department of Transportation—but they won't go into effect for more than a decade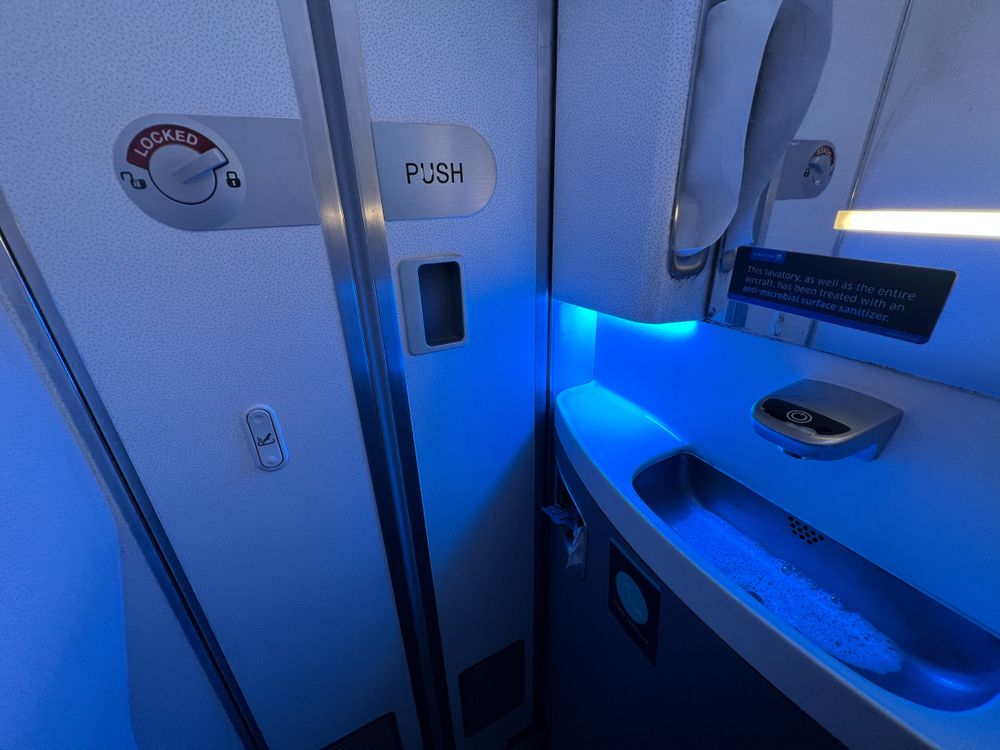 Travelers with disabilities face myriad challenges while flying, from airport staffers damaging or destroying their wheelchairs to cabin crew members making hurtful and humiliating comments.
Among the largest of those challenges are airplanes without accessible restrooms. Some passengers must go to great lengths to avoid needing to use the restroom while flying, such as dehydrating themselves or wearing catheters.
Now, new federal rules aim to improve in-flight restroom access for travelers with disabilities: All new single-aisle planes with at least 125 seats will need to have accessible lavatories, the U.S. Department of Transportation announced last week. Restrooms will need to be large enough for a traveler with a disability and an attendant to be able to "approach, enter and maneuver within as necessary," per the announcement.
"This really goes a long way in saying that we recognize that passengers with disabilities are people that deserve to have dignity and, just like every other customer, should have a chance to use a lavatory if they need to," Heather Ansley, the chief policy officer for Paralyzed Veterans of America, tells the New York Times' Mark Walker.
These changes, however, won't actually take effect for more than a decade, only applying to planes that airlines order beginning in 2033 or that are delivered beginning in 2035, per the ruling.
Wide-body planes with two aisles—which are typically used for international flights—have been required to have accessible lavatories since 1990. Until now, these requirements haven't extended to single-aisle planes, which have historically been used for shorter domestic flights. But as technology improves, these planes have started flying longer and longer routes. As USA Today's Zach Wichter writes, "Such planes are commonly used on coast-to-coast flights today, which can be scheduled for six hours or more."
While researching the new rule, the department found, for instance, that the percentage of flights between 1,500 and 3,000 miles being flown by single-aisle aircraft has increased from 40 percent in 1991 to 86 percent in 2021. These flights often last more than four hours—and sometimes up to eight hours, as Chris Dong reports for AFAR—during which time many travelers with disabilities cannot access the lavatory.
These scenarios "can impact the dignity of passengers with disabilities and deter them from traveling by air, limiting their independence and freedom to travel," reads the ruling. It continues: "This final rule addresses a human rights issue and promotes freedom to travel for people with disabilities."
While these requirements are a long way off, smaller changes are coming much sooner. For single-aisle planes delivered in 2026 and beyond, bathrooms must have grab bars, as well as accessible faucets, controls, call buttons and door locks. Lavatories must also have a visual barrier for privacy and "minimum obstruction" for on-board wheelchairs to be able to pass, per the ruling.
These improvements aren't a fix-all for travelers who use wheelchairs, but they're a shift in the right direction. As wheelchair user and travel writer Cory Lee tells AFAR, the changes could "potentially open up flying to many [people] for the first time." The recent announcement comes on the heels of a new convertible airplane seat for wheelchair users that Delta unveiled in June.
"I am incredibly happy that accessible restrooms will soon be more widely available on planes," adds Lee, "and I know that it will make flying so much easier for many people with disabilities."