Could This Convertible Seat Improve Air Travel for Wheelchair Users?
If adopted, a new prototype would allow passengers to remain in their own wheelchairs on flights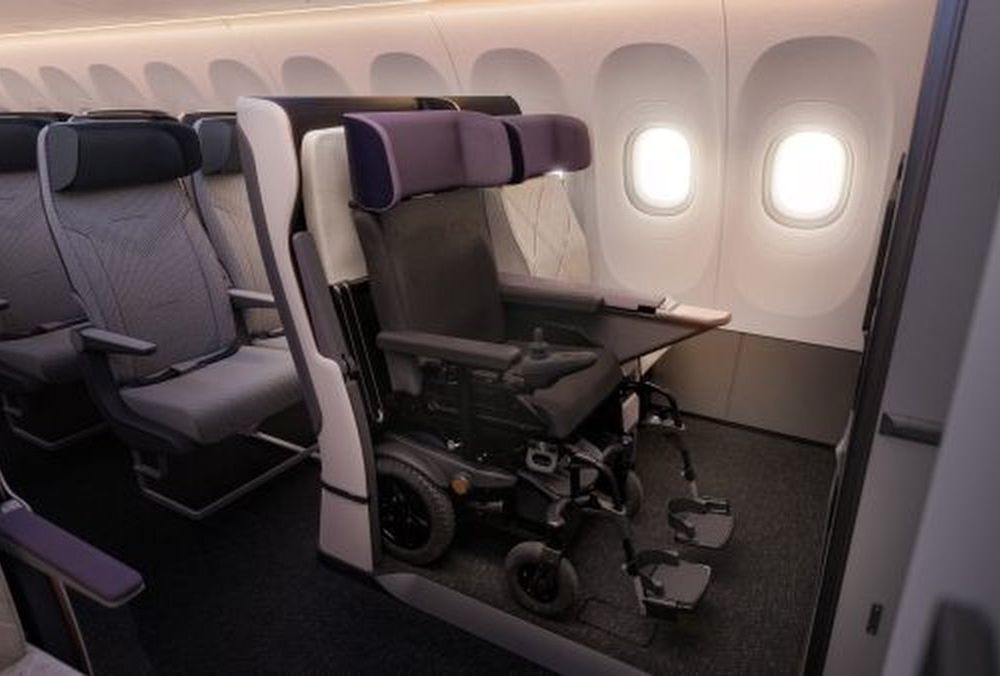 In a bid to make air travel more accessible, Delta has developed a new convertible seat that allows individuals to remain in their own wheelchairs while on board flights. The new prototype was unveiled last week at the Aircraft Interiors Expo in Hamburg, Germany. 
When it's not occupied by a wheelchair user, the device functions as a standard airplane seat. Crew members are then able to fold it up and make room for a wheelchair, which can be docked securely in place.
The tray table is adjustable, so that passengers seated at different heights are able to use it. The headrest also remains in place for comfort. From start to finish, the conversion process takes roughly 90 seconds, reports CNN's Francesca Street.
If airlines decide to install the prototype, it could debut within 18 months. It's designed to be incorporated into existing seating systems, without requiring any major structural changes. The team behind the prototype hopes to eventually see the convertible chairs installed on every plane.
"An innovation like this in air travel provides those with reduced mobility a safe and comfortable way for them to travel and remain in their own power wheelchair," says Chris Wood, founder of Flying Disabled, an advocacy group that worked on the prototype, in a statement. "It has taken truly a collaborative effort to develop this seat, and we believe this product provides an optimal solution for all parties."
The prototype is designed to give passengers more autonomy. Currently, commercial air travel can be "tremendously difficult" for wheelchair users, as traveler Cory Lee tells CNN.
Lee writes about his travel adventures on his blog, Curb Free With Cory. He uses an electric chair to get around, but because airlines typically can't accommodate his device, he has to give it up and instead use an airport-owned, non-powered model. During boarding, staffers must first lift him into a special aisle wheelchair, push him through the plane and then lift him into his airplane seat.
"During those transfers, I've nearly been dropped on several occasions," he tells CNN.
He adds that he also spends the flight worrying about how the crew will handle his personal electric chair, which has been damaged "so badly that I couldn't even drive it out of the airport on two different occasions."
It's travelling in your own wheelchair… but not as we know it Jim @Priestmangoode @WCTravelOrg pic.twitter.com/iKwLT2uL4H

— Christopher Wood MBE (@flyingdisabled) June 6, 2023
Lee is far from alone: Last year, 11,389 wheelchairs, power wheelchairs and scooters were mishandled during enplaning, according to the latest figures from the Office of Aviation Consumer Protection. That represents a small fraction of the total 741,482 devices airlines handled in 2022, but lawmakers say it's still too many. Earlier this year, they introduced legislation to help improve air travel for people with mobility challenges.
And broken chairs are just the start. Wheelchair users have also been stranded for hours, have had to crawl off planes and often must forgo eating or drinking before flights because they cannot access the bathroom, among other "embarrassing" and "frustrating" situations, as traveler Charles Brown told the New York Times' Amanda Morris last year. In one instance, a cabin crew member told wheelchair user Geraldine Freeman that "in the event of an emergency, they wouldn't be coming back for me," as she told BBC News' Dan O'Brien last year.
Despite a 37-year-old U.S. federal law that prohibits discrimination against people with disabilities in commercial air transportation, as well as a similar European Union law, many travelers feel they don't "get an equal service to others," as Carrie-Ann Lightley, who uses a wheelchair, told CNN's Julia Buckley last year.
"I pay the same price as everyone else, but I can't even access the toilet independently," she said. "Not a week goes by without a headline about assistance failures, but we're not viewed as important enough a customer group."