After 45 Years, the FBI Has Officially Stopped Looking for D.B. Cooper
The mysterious skyjacker got away clean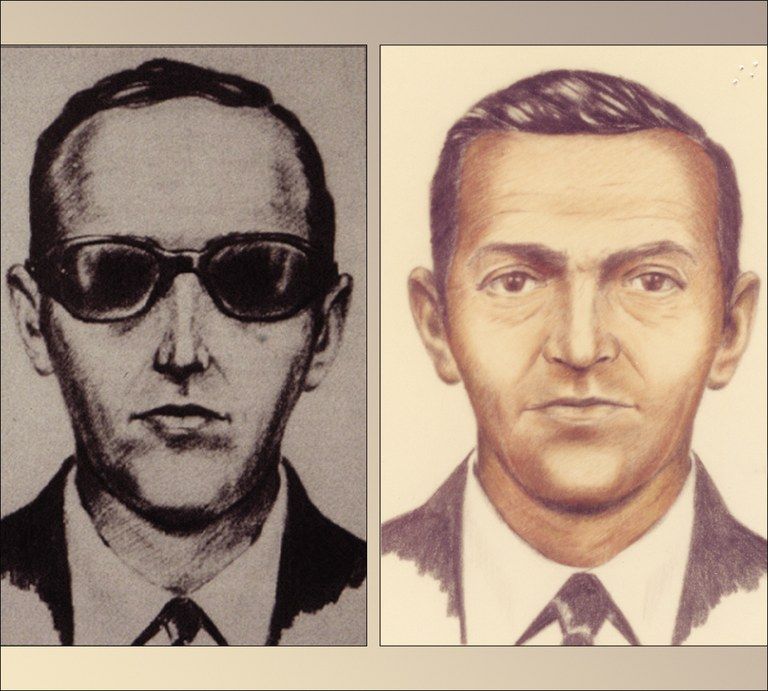 For decades, the FBI has done their best to hunt down the mysterious skyjacker known as "D.B. Cooper." Though he has been a wanted for years for orchestrating one of the most infamous skyjacking incidents of all time, the perpetrator who is known only by his pseudonym has managed to evade the authorities since he jumped out of a plane with a parachute and $200,000. Now, after 45 years of search, the FBI has announced that it is officially giving up on finding him.
"We have arrived at our conclusion today that it was just time to close the case because there isn't anything new out there," Special Agent in Charge Frank Montoya, Jr. tells Farida Fawzy for CNN. "There's a lot that goes into that decision but really it was just time."
As the only unsolved skyjacking in American history, D.B. Cooper's dramatic caper has been as much of an inspiration in the public imagination as it has been frustration to the FBI agents tasked with solving it. It began on the night of November 24, 1971, when a man identified only as "Dan Cooper" used cash to buy a one-way ticket from Portland, Oregon, to Seattle, Washington. Once the plane was in the air, he told a flight attendant he was carrying a bomb in his suitcase, and ransomed the plane for $200,000 in cash, four parachutes, and a flight to Mexico City, Peter Holley writes for the Washington Post. Once he successfully negotiated a trade for 36 of the plane's passengers in Seattle, the plane took off once again. However, a little while later and almost two miles above the ground, Cooper jumped out of the back of the plane with the cash strapped to his body. Since then, no one has seen or heard any sign of him.
"Although the FBI appreciated the immense number of tips provided by members of the public, none to date have resulted in a definitive identification of the hijacker," the bureau writes in a statement. "In order to solve a case, the FBI must prove culpability beyond a reasonable doubt, and, unfortunately, none of the well-meaning tips or applications of new investigative technology have yielded the necessary proof."
Over the years, the enduring mystery of who Cooper really was has elevated him to a sort of urban legend. Even the name, "D.B. Cooper" was an invention of the press who wrote about the story, according to the FBI. His disappearance has been the subject of a number of books, movies, songs, and television shows, while local historians have held on to the story as a fascinating moment in the history of Washington state, Jennifer Sullivan reports for KOMO News Seattle.
"People are fascinated with this case," Gwen Whiting, the lead curator at the Washington State Historical Society, tells Sullivan. "They're likely to write more about it and maybe someone out there is going to make a connection [the FBI] didn't make."
While FBI officials say the bureau will pick the case back up if they do finally come across actionable evidence, after nearly 50 years the chances of that happening are slim. But while it's frustrating to leave a case as high-profile as Cooper's unsolved, FBI Special Agent Curtis Eng, who has been on the case since 2010, says he's ready to move on.
"If it [a new lead] comes in, we've got to follow up with it," Eng tells Fawzy. "It takes time and resources away from my other cases, where there are victims now. Where there's problems and crimes now."