After 163 Years, India Sends Its Last Telegram
Thousands crammed into India's telegram offices on Sunday as the 163 year old service shuts down for good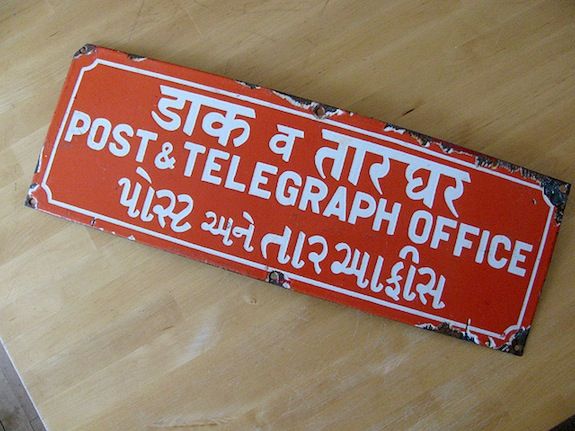 Thousands crammed into India's telegram offices on Sunday as the 163-year-old service shut down for good. The service began in 1850, as an experiment to connect Kolkata and Diamond Harbor. In 1854, it was made available to the public. Since then, the service has sent millions of telegrams across India. India Today wrote:
Curtains came down today on the 163-year-old telegram service in the country – the harbinger of good and bad news for generations of Indians – amid a last minute rush of people thronging telegraph offices to send souvenir messages to family and friends.
The Tribune ran an obituary to the telegram, titled "Telegram, harbinger of good & bad news, dies at 163." They write that along with the good news that telegrams could bring, they also brought sadness:
In fact, most Bollywood movies used a telegram to signal a bad happening — "mother ill come soon" — while members of the Armed Forces used the service extensively to seek leave or to give transfer or joining reports. In all, it was a quick mode of communication in the days when letters would take four to five days, or even more, to reach their destination. An important mode of communication in pre-Independence era, revolutionaries often snapped telegram lines to stop the British from communicating.
According to CBS, seeing the postmaster at the door meant something had happened. "The telegram was the only source for getting news quickly. So whenever there was any development in the large extended family — whether it was a death, or a birth, or news about that much-coveted government job, the telegram was the quickest way to get the news," Abhilasha Kumari, a sociologist, told CBS.
Many of those who crowded the four telegraph centers in the Capital had never sent one before. Others remember when telegrams were the fastest way to communicate with friends and family across the country. But in the advent of mobile and digital technologies, the humble telegraph has fallen out of favor. According to CBS news, in just the last seven years the telegram service has lost $250 million.
Early telegraph operators had to undergo extensive training on Morse code. Less than thirty years ago there were 45,000 telegraph offices across the country. Today there are 75. The main telegraph office once sent 10,000 messages day. They now send 100. Starting today, they'll send none.
In the rush to send the last few telegrams, messages included things like "Keep this safely as a piece of history. Mom" and "While we communicate with improving modern means, let us sample a bit of history." Another read "The End of an Era." The last telegram will be preserved as a museum piece, reports India Today.
More from Smithsonian.com:
Document Deep Dive: What Did the Zimmermann Telegram Say?