Africa's Last Rare Glaciers May Soon Disappear
The continent is especially vulnerable to the impacts of climate change, despite its population contributing little to the problem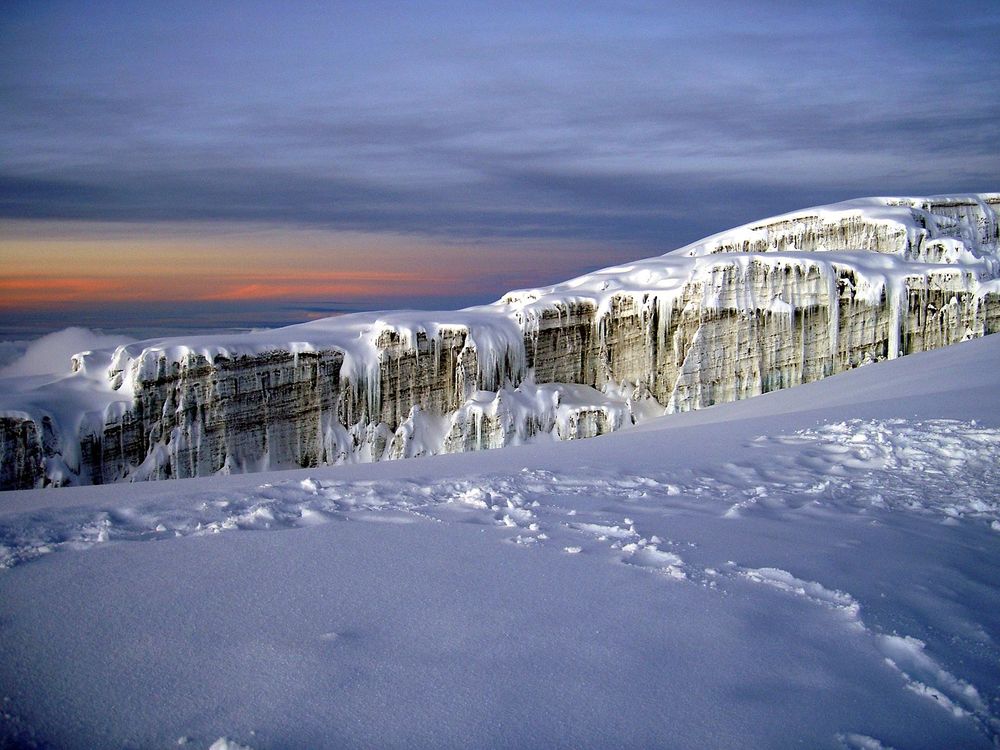 Africa's mountain glaciers are melting so quickly, they're likely to disappear within two decades, according to a new United Nations report. The loss of the snowpack's life-giving water could threaten over 100 million people with drought, food insecurity, and displacement from their homes.
"The rapid shrinking of the last remaining glaciers in eastern Africa, which are expected to melt entirely in the near future, signals the threat of imminent and irreversible change to the Earth system," said World Meteorological Organization's secretary general Petteri Taalas in the report.
The report also acknowledged that the impact of climate change on the continent is worsening faster than scientists anticipated. At this rate, Africa's three remaining glacier regions found on Mount Kilimanjaro in Tanzania, Mount Kenya in Kenya, and the Rwenzori Mountains bordering Uganda and the Democratic Republic of Congo, will be perminatly lost within a span of 20 years, reports Marc Santora for the New York Times.
"If [warming] continues, it will lead to total deglaciation by the 2040s," states the report. Mount Kenya is expected to lose its glacier even sooner, making it "one of the first entire mountain ranges to lose glaciers due to human-induced climate change."
The recent collaborative assessment paints a grim picture for Africa. Despite the continent's minimal greenhouse gas emissions, climate change will continue to intensify heatwaves and extend drought periods. The announcement comes a week ahead of the 26th UN climate conference in Scotland that begins at the end of the month, in which wealthier countries have been called to help lower-income nations adapt to the climate crisis. The world's 20 largest economies produce more than three-quarters of greenhouse gas emissions, reports Reuter's Tim Cocks, but those emissions affect climates around the globe. Though Africa contributes just 4 percent of global greenhouse gas emissions, the continent is among the most vulnerable to the impacts of climate change.
By 2030, up to 118 million severely low-income people "will be exposed to drought, floods and extreme heat in Africa if adequate response measures are not put in place," said H.E. Josefa Leonel Correia Sacko, commissioner for Rural Economy and Agriculture African Union Commission. Sacko noted that climate change could cut into Africa's gross domestic product (GDP) up to 3 percent by the end of 2050. "Not only are physical conditions getting worse, but also the number of people being affected is increasing."
Because Africa is warming faster than other parts of the world, reports Cara Anna for the Associated Press, and some nations are already facing climate-related disasters. This summer, severe droughts in the East African island nation of Madagascar caused widespread famine and forced thousands to flee their homes.
"Families are suffering and people are already dying from severe hunger. This is not because of war or conflict, this is because of climate change," said David Beasley, head of the U.N. World Food Program, in a statement earlier this year. "This is an area of the world that has contributed nothing to climate change, but now, they're the ones paying the highest price."