Adult Coloring Books Were Popular (and Subversive) in the 1960s
Coloring books made fun of corporate culture, conspiracy theorists and Communist fears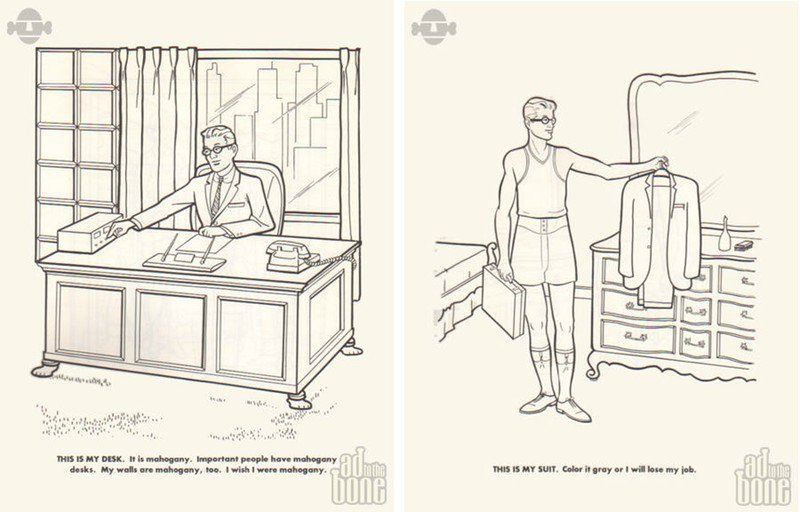 Over the past few years, adult coloring books have become popular as a form of art therapy. Aided on by an increasing "Peter Pan" adult demographic market, along with social media virality, some books have sold hundreds of thousands of copies worldwide. The adult coloring book concept, however, is not exactly new. During the 1960s, bookstores exploded with all kinds of satirical and subversive coloring books geared towards adults that offered a mocking look at American society, Laura Marsh writes for The New Republic.
But reading through Marcie Hans, Dennis Altman & Martin A. Cohen's "The Executive Coloring Book" isn't as much relaxing as it is a biting indictment of 1960s corporate culture, Marsh writes.
The first coloring book made expressly for adults, "The Executive Coloring Book" was published in 1961. While most of the drawings—featuring a businessman getting ready to go to work in a big office building—might have passed muster for a kid's coloring book, the captions describe a bleak, unforgiving world.
As Marsh writes:
"This is my suit. Color it gray or I will lose my job," reads a caption next to a picture of a man getting dressed for work. Another page shows men in bowler hats boarding their commuter train. "This is my train," it reads. "It takes me to my office every day. You meet lots of interesting people on the train. Color them all gray." The rare appearance of a non-gray color is even more disturbing: "This is my pill. It is round. It is pink. It makes me not care."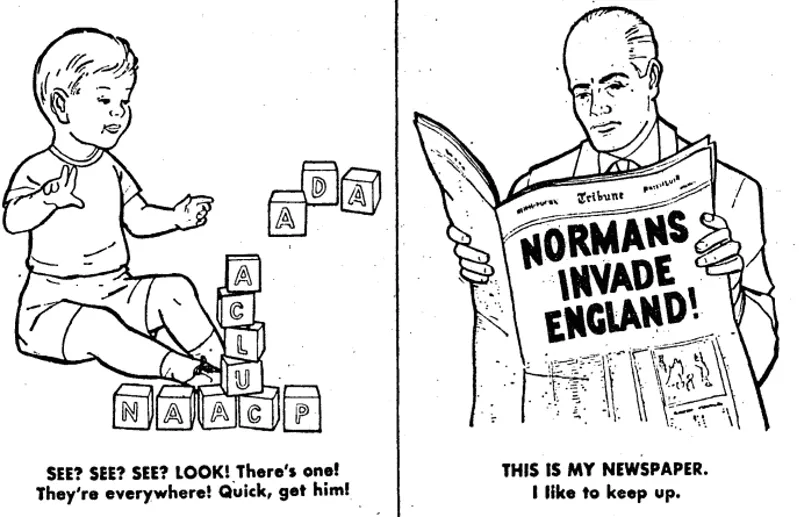 Dysfunction in the workplace was just the first target: a swathe of satirical adult coloring books followed, satorizing conformism, John F. Kennedy and the Soviet Union, among others. The fringe conspiratory group, the John Birch Society, was one of many targets parodied, and in the book, there is a picture of the society's founder with the words, "These are my crayons. I use them a lot. Color them scarlet, crimson red and pinko." But unlike the adult coloring books flying off the shelves today, these books were not created with the intention to be colored in.
"Most adults appear satisfied with a one-time laugh at the book," Milton Bracker wrote for the New York Times in a 1962 article about the popularity of adult coloring books. "But there have been many multiple sales – some bought several copies of one book for gifts, and others several different books."
Bracker added that he did find one adult who admitted to coloring in every adult coloring book he could find, with the caveat that the man worked for a crayon company.
This first wave of adult coloring books died off by the 1970s, and while the trend reared its head again several times during the 1980s and '90s, the political coloring book never really became as popular again, Marsh writes. The current trend of adult coloring books may have more to do with nostalgia and relaxation than political awareness, so it's still unknown if this iteration is here to stay.