A Four-Year-Old Bibliophile Is the Library of Congress' Latest Guest Librarian
Daliyah Maria Arana has read more than 1,000 books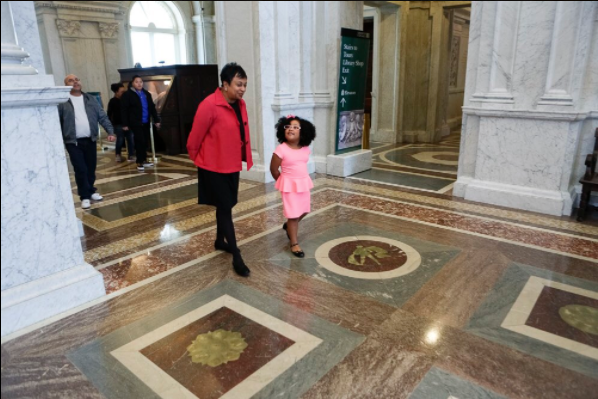 For Daliyah Marie Arana of Georgia, reading is practically a way of life. Though the four-year-old tot has yet to start kindergarten, she's managed to blaze through about 1,000 books—an accomplishment that nabbed her the prestigious position of Guest Librarian at the Library of Congress earlier this week.
It's fair to say that Daliyah has spent nearly half her life as a voracious reader. As The Washington Post's Samantha Schmidt reports, Gainesville's resident bookworm got through her first book by herself just before she turned three. After her mother enrolled her in Georgia's "1,000 Books Before Kindergarten" program, she blew through the goal before she even started preschool.
"I read 1,000 books by the time I was 3-years-old and I hope to read 100,000," Daliyah told Astrid Martinez for Atlanta local news station CBS 46.
These aren't just picture books, either. Though many kids Daliyah's age are still learning to read, she's started taking on more complicated pieces, like William Lyons Phelps' speech, "The Pleasure of Books, "Schmidt reports. Still, her favorites include books about dinosaurs and the Pigeon series by writer and illustrator Mo Willems.
After Daliyah's achievement made the news, she won accolades from all over her community. But it may be her trip earlier this week to the Library of Congress that took the cake.
"She just kept saying how the Library of Congress is her most favorite, favorite, favorite library in the whole wide world," Daliyah's mother, Haleema Arana, tells Schmidt.
It was fun to have 4-year-old Daliyah Marie Arana of Gainesville, GA as "Librarian For The Day." She's already read more than a 1,000 books. pic.twitter.com/MQfwlUrakO

— Carla Hayden (@LibnOfCongress) January 11, 2017
Haleema reached out to the Library of Congress to try and arrange the visit, resulting in the little bookworm getting to spend the day shadowing Librarian of Congress Carla Hayden. Over the course of her visit, Daliyah sat in on top meetings and walked the halls of the largest library in the world, Paulina Firozi reports for The Hill. She even recommended that the library install whiteboards so that kids like her could practice their handwriting.
"They said they would try to make that happen," Haleema tells Schmidt.
Daliyah may have blown past her goal, but she's not resting on her laurels. Now, Martines says Daliyah hopes to bump up her target to 1,500 books read by the time she starts kindergarten next fall—as well as learning to read in Spanish.