$2 Million in World War II-Era Cash Found Under Floor of Churchill's Tailor
The 30 bundles of £1 and £5 notes were likely stashed away amidst wartime uncertainty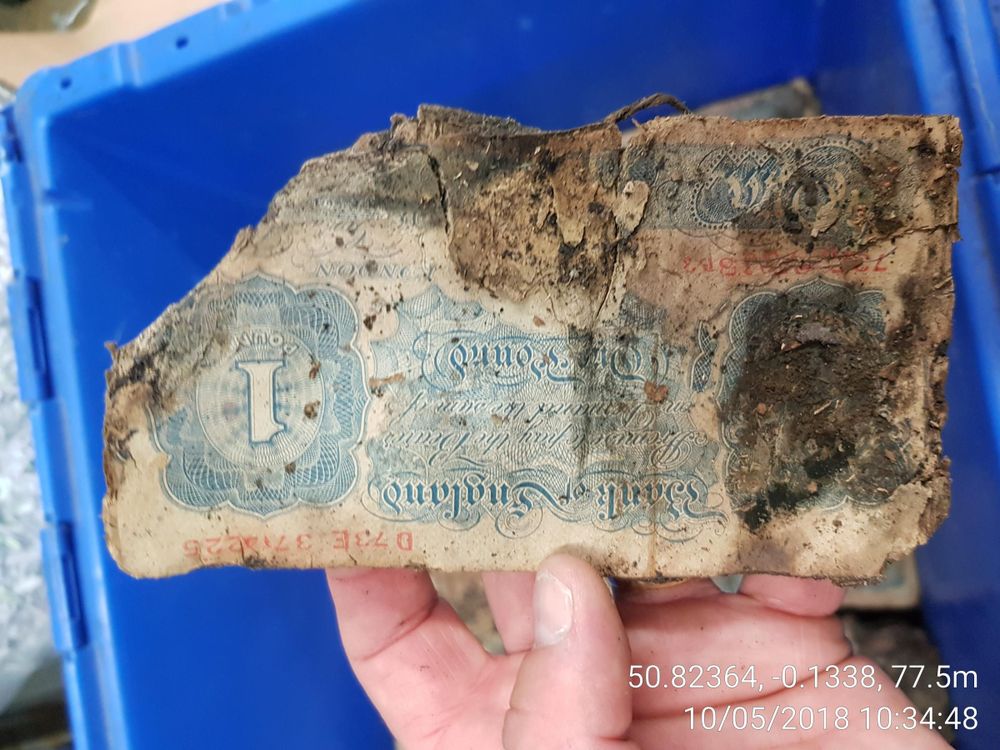 Shopfitter Russ Davis was working on renovations at the Brighton location of recreational retailer Cotswold Outdoor last month when he chanced upon what appeared to be a block of wood. Upon snapping it in half, however, he spotted a £1 note. Soon, Davis unearthed more bundles of cash, all of which were carefully stashed underneath layers of rotting carpet, tiles and floorboards.
According to BBC News, Davis knew the money was old based on the amount of flooring he had removed. The bundles, which contained a mixture of £1 and £5 notes, were also an unusual shade of blue, indicating they had been issued by the Bank of England as emergency currency during World War II.
"All the notes were stuck together, you couldn't separate them, and they were caked in dirt," Davis tells the BBC. "Some of them were really bad where you could see the metal water marks that run through the notes."
When he added it up, the 30 bundles of £1 and £5 notes had a face value of about £30,000—or £1.5 million (around $2 million) in today's currency.
CNN's Lauren Said-Moorhouse reports that the money will be held by Sussex police for "safekeeping" as investigators work to identify its rightful owner.
Given that the property housed a Bradleys Gowns store between 1936 and 1973, the prime candidate is Howard Bradley, last living heir to the family's London-based furrier and couturier business.
Today, all that remains of Bradleys Gowns is a specialist dry cleaners run by Bradley in Milton Keynes. Local Brighton outlet the Argus notes, however, that during the company's heyday, its clientele included the Royal Family, Winston and Clementine Churchill, and starlet Brigitte Bardot.
Bradley tells the Argus' Joel Adams that the business was his "grandfather's baby." In addition to opening a number of branches across England, the elder Bradley pioneered the "'guinea gown,' which was a way for people who weren't quite so well-to-do to … afford a beautiful dress."
According to CNN's Said-Moorhouse, Bradley's relatives never mentioned a wartime cash hoard, but he understands why the money may have been hidden.
"We can trace our British family history back to the 1300s and we had Jewish roots as well," Bradley says. "Obviously during the Second World War, during the '30s, with what was happening in Germany, they would have been concerned. And the Dunkirk evacuation was going badly, sons were out fighting ... I would imagine they were thinking the worst — that nobody would come back. I don't blame anyone for taking precautions."
The Bradley family was closely involved in the war effort: Bradley's father, Eric enlisted in the British Royal Air Force on his 18th birthday and fought in the North African campaign, while his uncle, Victor served as a pilot. Back on the homefront, the Bradleys' London household was hit by a "doodlebug" flying bomb, necessitating his grandmother to be rescued from the debris.
It's unclear why no one retrieved the hidden cash after the war's end. Still, the heavily damaged notes are worth more than a neat story. Although the currency has since been removed from circulation, apparently the hefty stack of bills can still be exchanged at the Bank of England for full market value.