Wednesday News Roundup — Cool Gadgets, Sperm Whales, Giant Spiders and more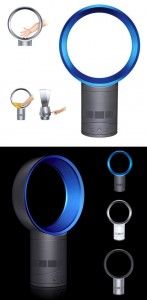 A quick smattering of science and gadget news on this Wednesday:
Perhaps this is the wrong time of year to be talking about air conditioning, but when an invention this cool comes around, it's nigh impossible to ignore. Courtesy of Core77 comes news of a bladeless fan from Dyson. The company designed a fan that looks a giant magnifying glass, without the glass at all. Using what Dyson calls a "annular aperture," air is drawn in and then channeled out at a quick, breezy speed. The 10" version can be yours for a retail price of $299. So start putting it on your holiday wish lists now so your friends and family can save.
In climate change news, we've read much about methane-producing cows and sperm whales had been assigned similar blame for contributing to global warming. According to Discovery News, however, the whales actually help fight combat climate change by emitting high levels of iron into the upper levels of the ocean water, which in turn fosters plankton growth. Plankton, like most land-based plant life, helps with the capture of carbon dioxide. A team from Flinders University in Australia says that "Sperm whales in the Southern Ocean should rank as carbon neutral at least. The animals may even be capturing a net 5 million metric tons of carbon from the atmosphere per year."
The BBC reports that scientists have discovered a giant spider in southern Africa and Madagascar that is about the size of the human hand. Nephila Komaci can spin webs of up to one meter in diameter. If Tolkien predicted the existence of these giant spiders, does that mean talking trees are next?
And just in case you missed it, a few recent stories from Smithsonian:
As featured in the November issue, the Asian Longhorned Beetle has shown up in Worcester, Mass., of all places, where government forestry agents are doing what they can to limit the spread of these invasive species. Also be sure to check out our photo essay of other dangerous beetles that live in the United States.
Also in that issue -- our monthly Wild Things feature which this month highlights geckos, the Raptorex previously written about in Dinosaur Tracking, and asexual reproduction among ants
Lastly, blog editor Laura Helmuth contributed her list of the "10 Places Where Life Shouldn't Exist...but Does."