This is What a Huge, Rotating Supercell Looks Like
Photographer Mike Olbinski captured a massive and rare type of thunderstorm along the Texas panhandle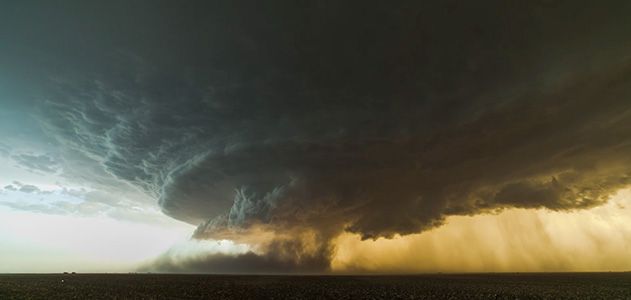 On June 2, Phoenix-based photographer Mike Olbinski was shooting a wedding. The day after, he was speeding through hail and heavy rains from Denver down to the Texas panhandle, a hotbed for tornadoes.
It was there, near the border of Texas and Oklahoma, that Olbinski came upon a massive supercell slowly spinning over the flat landscape.
"It was probably one of the most amazing things I've ever witnessed," says Olbinski, who's been chasing storms in the Central Plains since 2010. "It just looked like an alien spacecraft."
Using a Canon 5D Mark II, Olbinski tracked the monster cloud's movement for 24 minutes. The first three sections of the video are a composite of 878 shots, and the last clip consists of 93. The supercell looks a lot farther away from Olbinski in the video than it actually was, he says, thanks to a wide Rokinon 14mm 2.8 lens.

"Once I got my camera set up and was able to sit back and watch it for a second, I got teary-eyed and hugged my buddy," Olbinski says. His storm chasing partner, Andy Hoeland, had been convinced the pair would find a good storm in the area that day.
A supercell is a rare type of thunderstorm with a mesocyclone, a deep rotating updraft that sucks up rain, dust and other particles into a vertical column, much like a vacuum cleaner.
In the beginning of the clip, raindrops can be seen being sucked into the swirling supercell. Next, dust from the cornfield below is pulled into the cloud. Eventually, lightning streaks across the darkening sky, briefly coloring it with blues and purples.