The Strawberry with "Wicked Wiles"
David Chelf, a former physicist who shifted gears into horticulture, launched a venture in 2003 to grow large quantities of Mara des Bois strawberries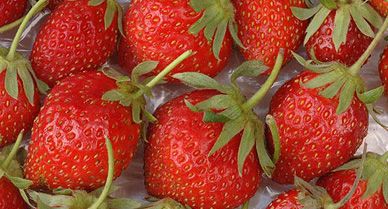 In 1991, a French nursery called Marionnet introduced Mara des Bois, a deep red strawberry with soft, melting flesh and a fantastically intense perfume that is caused by a compound also found in moschata. The standard of quality for strawberries at French markets, it fetches a premium price, and accounts for about a tenth of the nation's strawberry harvest.
In the United States, most growers would sooner raise wombats than highly flavored but perishable strawberries. Until last year, only the Chino family, legendary for their secrecy and superb produce, grew small amounts of Mara des Bois at their farm in Rancho Santa Fe, outside of San Diego. They sell at their chic farm stand, and to restaurants like Spago and Sona in Los Angeles, and Chez Panisse in Berkeley.
Now others are following suit. David Chelf, a former physicist who became disenchanted with academics and shifted gears into horticulture, launched a venture in 2003 to grow large quantities of Mara des Bois. Putting his knowledge of physics to work, he designed and built high-tech greenhouses that will enable him to harvest berries year-round.
Some 60 miles northeast of San Diego, Chelf's farm sits amid high desert chaparral, ringed by stark, arid mountains—a bizarrely unconventional location for growing strawberries, but one he chose deliberately for its microclimate and intense light. He carries a spectrometer to analyze the light, and a tensiometer to measure the water content of the soil, in the expectation that such careful attention to growing conditions will enable his Mara des Bois to flourish in this environment.
When I visited his planting this past November, a relentless 40-mile-an-hour wind whistled through the wires supporting the various windbreaks and fences that gave his compound an appearance of mystery. Chelf, 46, put in his first strawberry plants in February 2005, and he's planning on doubling production every year, to the equivalent of 10 conventional acres in 2008.
Today he sells his certified organic berries to chefs, mostly at fancy restaurants in Las Vegas, by overnight mail, but as production increases he intends to supply retail stores. Like at least two other specialty berry farmers in California, he's also looking into the possibility of growing moschata.
As for his company's strange name, Wicked Wilds, he explained that it was inspired by a youthful mishearing of a scene in the movie Snow White, in which Grumpy tells Bashful that women are "full o' wicked wiles."
Wicked Wilds Mara des Bois strawberries:
Six punnets (about three pounds) for $60 to $75, including overnight delivery, depending on destination. 509 South Cedros Ave., Suite E, Solana Beach, CA 92075; tel. (858) 755-7650; www.wickedwilds.com.