The Pioneering Project Paying for Ghost Fishing Gear
A new program is rewarding shrimpers who collect and recycle derelict crab traps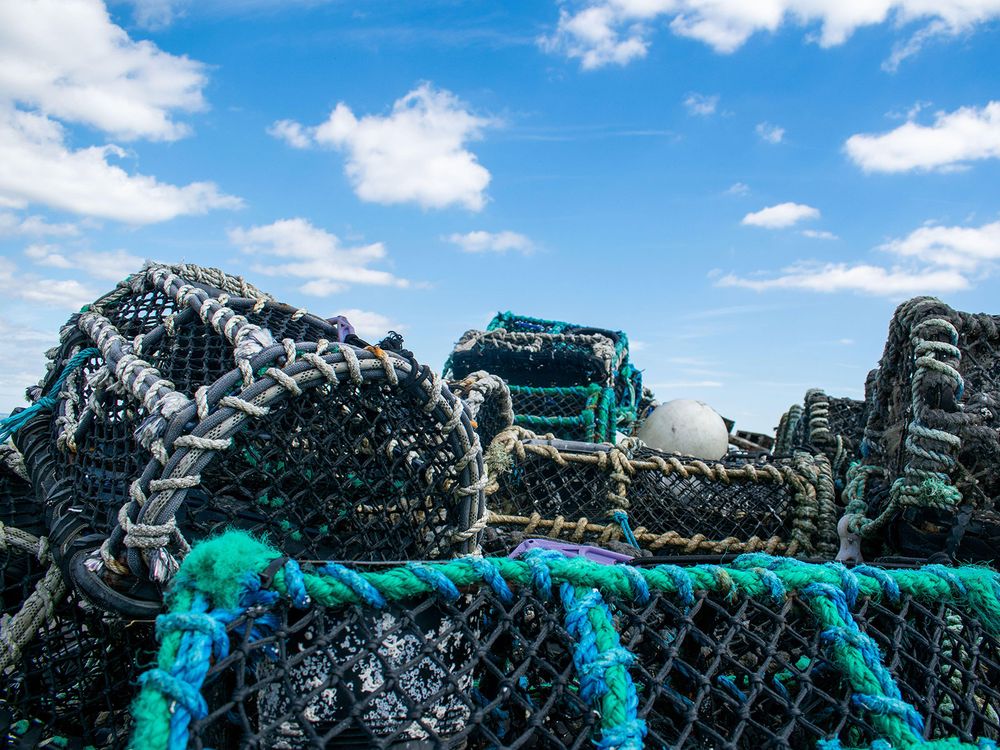 This article is from Hakai Magazine, an online publication about science and society in coastal ecosystems. Read more stories like this at hakaimagazine.com.
Crab traps work a bit like Roach Motels: crabs crawl in, but they don't crawl out. That's good news for crab fishers' chances of pulling in a good catch, but when traps get lost at sea, they become a menace to all sorts of animals.
With no one there to retrieve them, the traps continue to fish, says Ryan Bradley, head of the Mississippi Commercial Fisheries United, a nonprofit fishermen's organization. "Marine life gets into the trap. Eventually, they can't eat so they die, and then other marine life becomes attracted to it. They get into the trap, and they die. It just becomes this awful cycle of death."
Derelict crab traps harm wildlife and disrupt other fishers, especially shrimpers. Bulky crab traps get caught in shrimping nets, tearing them open or blocking them from catching shrimp. Frustrated shrimpers, with nowhere to put the smelly traps, generally just throw them back, continuing the cycle.
But a group in Mississippi has found a solution: paying shrimpers a $5 bounty to collect and recycle derelict crab traps. In just three years, the program has removed almost 3,000 crab traps from Mississippi waters. Crab traps are tagged, and those that are still in good condition are returned to their owners, while traps that are too broken down are recycled.
It's a real win-win. Wildlife is safer, the water is cleaner and, says Bradley, who cofounded the program, there's been a clear trend that shrimpers are encountering fewer traps.
The group, which includes the fishers' association, Mississippi State University, the Mississippi-Alabama Sea Grant Consortium and the National Oceanic and Atmospheric Administration (NOAA) Marine Debris Program, recently published a paper expanding on the project's accomplishments.
Alyssa Rodolfich, a graduate student with Mississippi State University, knows the central-northern Gulf of Mexico well. She grew up in the area fishing with her dad, a charter boat captain. But she hadn't thought much about derelict crab traps until she started working with the incentive program as an intern.
"I didn't realize how big of a problem it was until I was on the cleaning-up end of it, after a few months of removing, like, 200 crab traps at a time," she says. "It was heavy and gross, and the amount of by-catch in the traps was a lot."
At the same time, she was talking with shrimpers, learning about the problems derelict traps pose for them. Now working as the program's manager, Rodolfich says it's gratifying to see the results. "It feels like a big accomplishment, not just to see the amount of debris that's been removed but also to see the change in attitude and behavior," she says.
The incentive works like a bottle-redemption program. Participating shrimpers register for the program, document the traps they collect, and tag them before turning them in to a redemption site and documenting the drop-off to claim the reward.
"It's not uncommon for our guys to turn in 5, 10, 15 of these traps from one multiday shrimping trip," Bradley says.
Chloé Dubois, the cofounder and head of the British Columbia–based Ocean Legacy Foundation, a nonprofit focused on marine debris, calls it "a great success story." Her organization was not involved with the project but is advocating for a similar program to be piloted in British Columbia.
Dubois says redemption programs have historically been very successful at diverting waste products at the end of their life cycle. But in the ghost fishing and marine debris sphere, she says, the Mississippi program is a pioneer. "There aren't many examples of programs like this," she says.
Partnering with the fishing industry on the incentives and using the program to gather data on the numbers and locations of traps while also removing marine debris further sets the program apart, she says.
Bradley says his group has fielded calls from other communities hoping to develop similar programs, though he notes that some states have legal issues that make it difficult for fishers to collect traps that aren't their own.
In the meantime, the Mississippi program is growing and expanding. With a recent grant from NOAA, they're starting a new pilot project—paying shrimpers to collect all the other stuff they find littering the Gulf.
"We've seen everything from washing machines to toilets to tires to plastic bags," says Bradley. "The other day, one guy told me he pulled up a shopping cart. So these are the types of things we want to get out of our marine environment."
This article is from Hakai Magazine, an online publication about science and society in coastal ecosystems. Read more stories like this at hakaimagazine.com.
Related stories from Hakai Magazine: