Major Disease Outbreak Strikes California Sea Lions
Leptospirosis afflicts sea lions on a semi-regular cycle, but warming waters and migrating fish could make the marine mammals more susceptible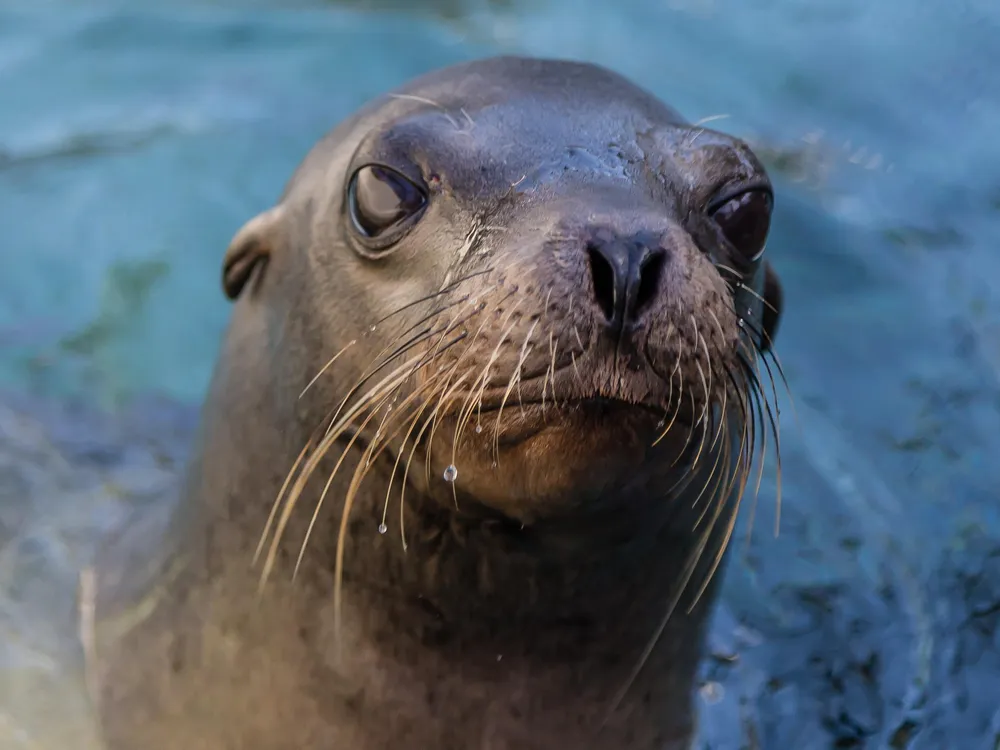 Shawn Johnson knew it was coming.
"Last fall, we saw a few cases," he said. "And that was a warning signal, so we were prepared—well, we weren't prepared for this level of an outbreak."
Over the past month, Johnson, director of veterinary science at the Marine Mammal Center, just north of San Francisco, and his team have been getting an average of five sick California sea lions a day. The animals have leptospirosis, a bacterial infection that affects their kidneys, causing fatigue, abdominal pain and, more often than not, death.
As of October 16, Johnson's team had seen 220 sea lions with the disease, which made it the center's second largest outbreak. Since then, the center reported 29 more sea lions have been rescued and 10 of those died due to leptospirosis. More than a dozen animals are still awaiting diagnosis. The number of cases has started to slow, but if historical trends hold up, Johnson expects this outbreak to eventually surpass 2004's record of 304 cases of sea lion leptospirosis.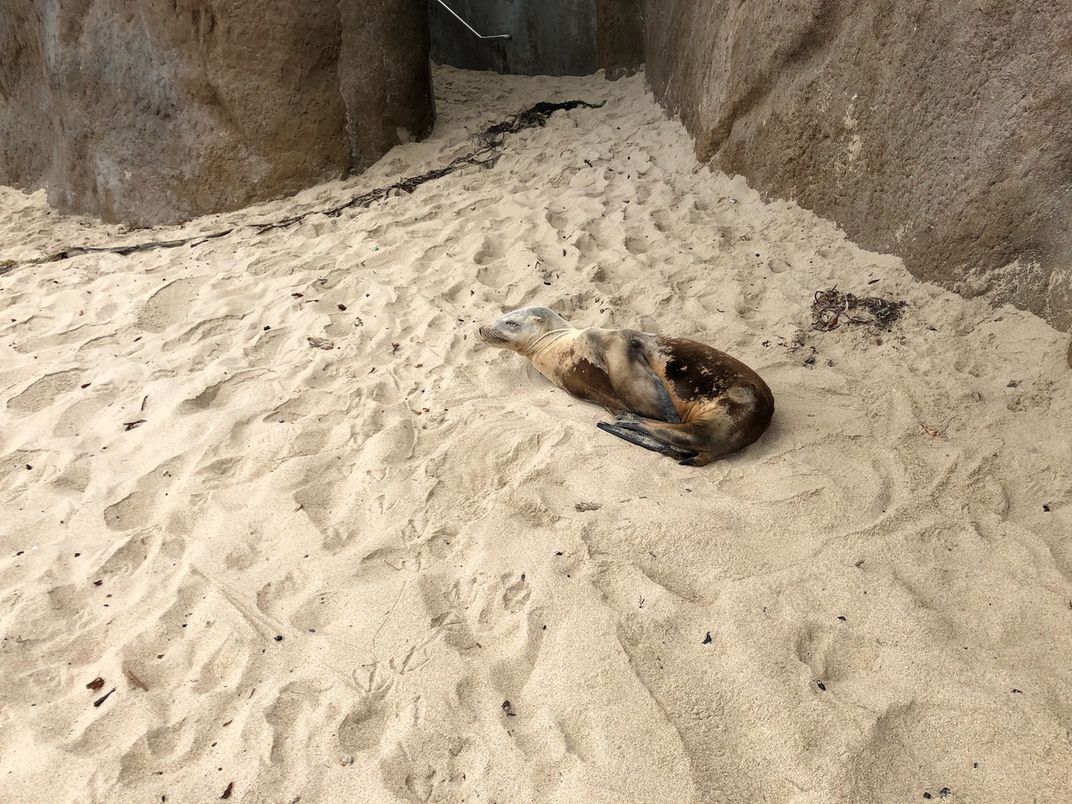 All told, about 70 percent of the sea lions the team tried to save have died.
Leptospirosis outbreaks among sea lions occur at fairly regular intervals, but changing ocean conditions—warmer waters and relocating fish—are affecting how the disease strikes populations along the Pacific Coast. The threats aren't new, but they're threatening in slightly new ways. Changes in marine conditions appear to be affecting the population's resiliency to this disease and others. While researchers scramble to save sick sea lions today, they are also studying what this year's outbreak can tell us about how sea lions will fare down the line.
The good news is that sea lions are fairly mobile and resilient animals. And until recently, their populations were booming. The National Oceanic and Atmospheric Administration announced in January that California sea lions had reached carrying capacity—the number of individuals their environment can sustainably support—in 2008.
Since then, though, their numbers have fluctuated. A "blob" of unusually warm and long-lasting water moved in along the West Coast from 2013 to 2015, causing widespread algal blooms that spread a neurotoxin called domoic acid throughout the marine food chain. Sea lions with elevated levels of the toxin suffered brain damage, resulting in strokes and an impaired ability to navigate, ultimately killing most of the afflicted individuals.
The warm water also sent fish and smaller marine life out to search for cooler environments, meaning the sea lions had to travel farther to find food. The combination of more distant hunting and impaired navigation led to record numbers of stranded pups—many taken in by the Marine Mammal Center—as well as a dip in the sea lion population during those years.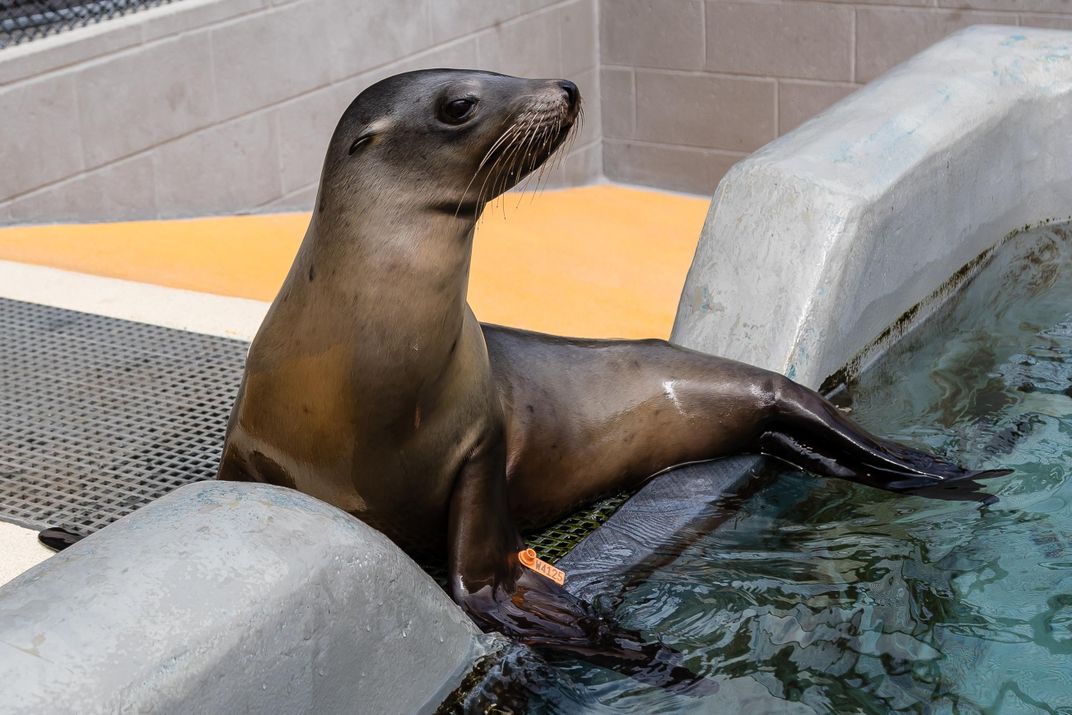 But the warm water conditions also led, ironically, to a decline in cases of leptospirosis during that time. Over the past decade, scientists have determined that the disease, which spreads via a parasite, is endemic to the population. Some animals carry the disease and don't get sick, but they do excrete the parasites in their urine, which is how it spreads to other individuals. When sea lions haul out on a pier or beach, they freely roll around in each other's pee.
When the blob of warm water appeared, sea lions had to swim farther to find food and had less time to haul out and be social, Johnson says, meaning less time sitting around in each other's pee and parasites—and fewer cases of leptospirosis. But the lack of the disease a few years ago led to consequences today. Sea lions that get leptospirosis and survive develop antibodies that fend off the parasite in the future, says Katie Prager, a veterinarian researcher at UCLA's Lloyd-Smith Laboratory who collaborates with the Marine Mammal Center. These antibodies, however, cannot be inherited by offspring.
"It's not something that can be passed on," Prager says. "Antibodies are something that the pup has to develop on its own."
The warm waters meant fewer sick sea lions, but it left the population very vulnerable. Now the disease is back with a vengeance.
"A lot of the animals are now naive to that bacteria and their immune systems haven't been exposed to that," says Alissa Deming, a veterinarian researcher at Dauphin Island Sea Lab in Alabama who previously studied sea lion diseases at the Marine Mammal Research Center. "There is a group of animals that haven't seen this before."
The risk, according to the researchers, is that continued domoic acid outbreaks could result in a vicious cycle—fewer cases of leptospirosis produce unexposed populations, and then major outbreaks flare up like we are seeing this year.
"This is a great example of how environmental change has so much impact on a wild species—all the way from where they eat, where they migrate and how their diseases change over time, just based on a few degrees' increase," Johnson says.
The first documented case of a marine mammal suffering from the domoic acid toxin was in 1998, and the events are now increasing in frequency—so much so that the spread of domoic acid has become a yearly sign of the changing seasons around San Francisco Bay. "The days are getting shorter, pumpkin spice lattes are here and once again, it's time for that other Bay Area rite of fall: worrying about the levels of toxins in local Dungeness crabs," begins a recent San Francisco Chronicle article on the influence of the toxin on the start of crabbing season.
Sea lions don't wait for permission from the Department of Public Health before they start eating crabs, though.
To exacerbate the issue even more, an El Nino event is predicted over the coming months, meaning warmer ocean waters off the West Coast and possibly more algal blooms and toxins. Already, Southern California waters—where researchers have found some of the highest concentrations of diatoms that produce domoic acid—have had record high temperatures this year.
NOAA has even deemed the recent warm-water years a "climate change stress test" for West Coast oceans. The agency said the conditions "may offer previews of anthropogenic climate change impacts projected for the latter part of the 21st century."
If this has been a test, sea lions might not have passed, says Robert DeLong, a scientist with NOAA's Alaska Fisheries Science Center. DeLong has been studying California sea lions for decades at their breeding grounds, Channel Islands off Santa Barbara. He says the species should be pretty resilient in the face of climate change, but the rate of warming waters is proving a major challenge.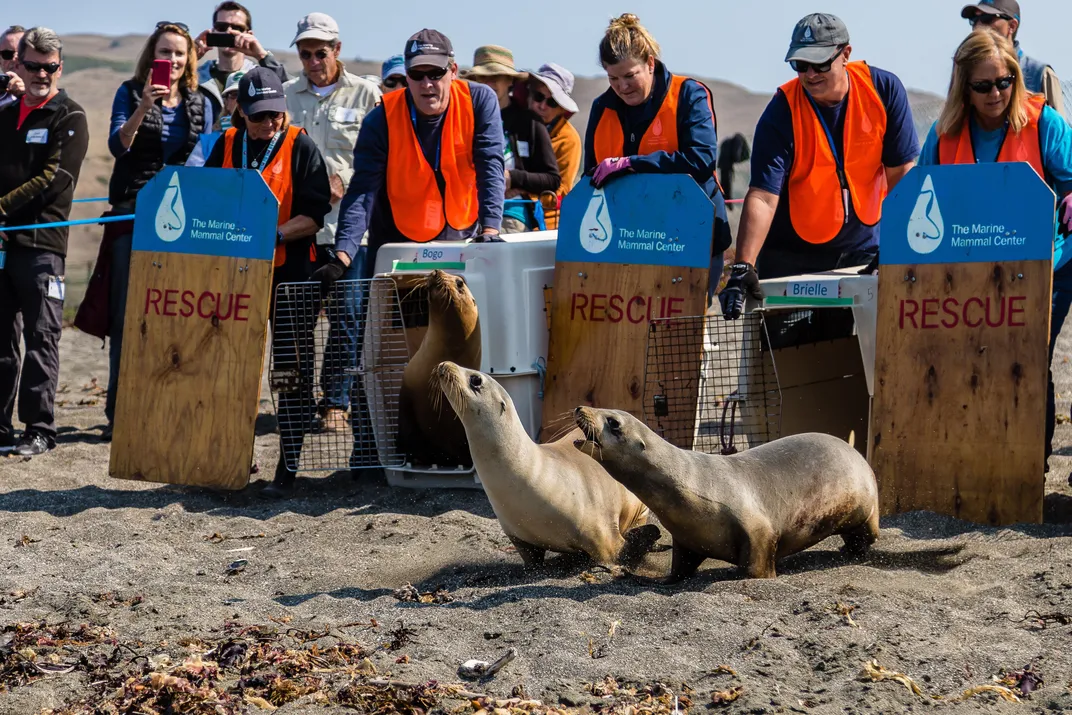 The center of the West Coast sea lion population is around Baja California, so the species has adapted to warmer water than is currently being seen farther north up the coast. "They have that capability to live in warmer water," DeLong says. And unlike, say, coral reefs, sea lions are very mobile, able to swim long distances to find suitable habitats.
But while males can chase food far up north, during the breeding season females are tied to a small radius around the rookery. If there is less food available there because fish have moved to cooler waters, it could present a major problem for sea lion mothers and their pups.
"So if this is what climate change looks like, and this period is an adequate proxy, if that's really the case, then sea lions may not do as well as we would think," DeLong says.
There are still signs of hope. Sea lions are increasingly moving north to new breeding grounds off the San Francisco Bay, for instance. The limiting factor is time.
"If the environmental changes are slow enough to adapt, they'll be able to move and will probably move farther up the coast," Johnson said. "If changes are slow enough, I could see them being able to adapt."