To Live in the Anthropocene, People Need Grounded Hope
A Smithsonian symposium about human impacts on Earth looked past warnings of global doom to discuss the necessary balance of achievable solutions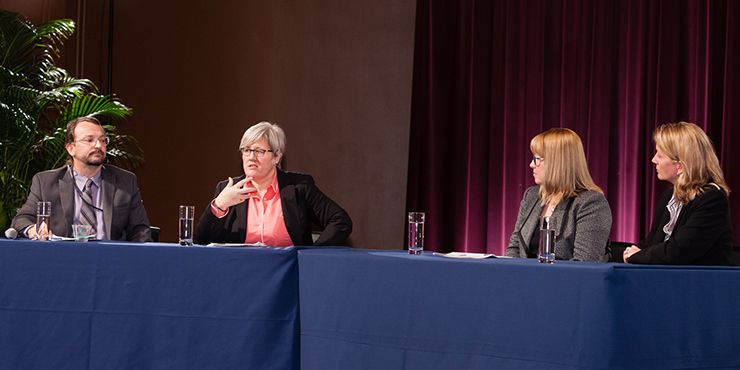 Drop the phrase "climate change" into casual conversation, and chances are the minds around you will flood with images of destruction and doom. Hurricanes, species loss, droughts and pandemics have become our collective mental image of the future whenever the topic arises—and with good reason. We're already seeing it happen, and the best available forecasts tell us it's only going to get worse if the world continues on its current path.
Drew Jones, co-director of Climate Interactive, wants people to instead associate climate change with what he calls grounded hope—the idea that humans can live in ways that will ultimately reduce our footprint on the planet. "Hope is not an assessment, it is a choice," he told the audience on Thursday during the Smithsonian symposium "Living in the Anthropocene" in Washington, D.C.
For the event, the Smithsonian called together diverse speakers, along with panels of its own research scientists, to look at the effects of environmental and climate change on all aspects of society, said W. John Kress, the interim undersecretary for science at the Smithsonian. The symposium carried the additonal purpose of announcing the Institution's first public statement on climate change, which says: "Scientific evidence has demonstrated that the global climate is warming as a result of increasing levels of atmospheric greenhouse gases generated by human activities." The statement notes that Smithsonian researchers are not just observing this trend but are also responding in several ways, from sharing scientific findings with the public to making its own facilities more sustainable.
Jones and Bethany Patten at the MIT Sloan Sustainability Initiative were invited to present a simulation tool called En-ROADS, which allows users to test out different solutions to climate change from a laptop or smartphone. Making adjustments to land use, subsidies or energy efficiency shows a corresponding impact on projections for carbon emissions and global temperature. The model revealed a clear message: no single fix is enough to make a difference. Instead, the world will need to use the right balance of solutions to keep emissions in check, and possibly even reduce them. "There is no silver bullet," Jones says. "It's silver buckshot."
So just how reliable are these types of tools? James J. Hack, director of the National Center for Computational Science at Oak Ridge National Laboratory, made the case for using climate models to make informed decisions. "Applied computer performance has increased by a factor of more than one billion in last half century," he noted. Computational methods were even honored by the 2013 Nobel Prize in Chemistry, signaling to the world that carefully constructed models can play an essential role in scientific discovery and understanding. Climate modeling is especially complex, so predicting the exact details of what will happen may never be possible, he said. But the models do show that big changes are on the horizon, and they can tell us when and how to prepare. "Climate science is settled enough to adopt carbon policies that make sense," said Hack.
For Rachel Kyte, group vice president and special envoy for climate change at the World Bank, putting a price on carbon emissions is the next logical step. "The ultimate destination is an economy that is zero net emissions," she said during the symposium. Making these kinds of changes can be difficult, but there are countries leading the charge. Kyte pointed to Morocco, which began offering incentives for investment in renewable energy in 2012. The project attracted $1.8 billion in local and foreign funds by 2013. "This at a time when investment into the Middle East was cratering because of political problems," said Kyte. Such changes in economic thinking come about when governments help people aspire to a higher quality of life that still reduces their carbon footprint, she said. "We're not selling sack cloth and ashes. We're selling the possibility of a bright, green clean future."
In a similar vein, getting people to act on climate change may be easier when you illustrate how it will affect their individual well-being, said epidemiologist George Luber. Earlier in the day, one anonymous viewer bluntly asked the symposium panelists, "How would I be personally affected by the extinction of the panda?" Melissa Songer at the Smithsonian Conservation Biology Institute noted that, aside from the intrinsic value of biodiversity, climate change would see winners and losers in terms of the wildlife able to adapt. The winners will be species that are generalists and highly adaptable—such as the invasive Asian tiger mosquito, which is now carrying West Nile virus into wider ranges.
Luber, who is associate director for climate change at the Centers for Disease Control and Prevention, walked through several more public health risks that are being exacerbated by climate change. Some of the examples are easy to see, such as more deaths linked to heat waves and air pollution. But Luber also identified a few of the more bizarre risks we are facing. Large dust storms in the parched U.S. West, for instance, are carrying more particulates—including higher concentrations of the fungal spores that can cause valley fever. And down in the Gulf of Mexico, oil rigs have essentially become artificial reefs, providing new habitat for marine microalgae called Gambierdiscus toxicus. Eating fish that contain the toxic algae can cause Ciguatera fish poisoning, which induces nausea and neurological troubles.
Climate change is also impacting mental health, such as the anguish caused by large natural disasters. Luber noted that in a CDC climate risk assessment in Austin, Texas, a survey revealed that the top climate concern for the central Texas city was hurricanes. Austin has never experienced a hurricane, but every time a major storm hits the Gulf Coast, the city is inundated with thousands of refugees, putting a strain on local resources. Perhaps that's why Admiral Thad Allen advocates for more coordinated responses when dealing with the unforeseen consequences of humanity reshaping the planet. Admiral Allen is a former commandant of the U.S. Coast Guard, and he was the principal federal official for response and recovery operations in the aftermath of Hurricane Katrina. According to Admiral Allen, one of the biggest lessons he took away from Katrina and other disasters is that the complexity of the interaction between human infrastructure and the natural environment can amplify risk when leaders are unsure who is in charge and how to pool their resources. "There has to be a change in how we raise leaders, with the ability to collaborate, work across vertical boundaries, network and create a unity of effort based on a set of shared values," he said during the symposium.
You can watch an unedited recording of the entire event webcast, or see people's Twitter reactions by checking out this Storify of the hashtag #AgeOfHumans.