How "Slurpee" Waves Formed Along a Nantucket Beach
New England's record cold created the perfect conditions for waves of slush, offering an unusual opportunity to ski on the beach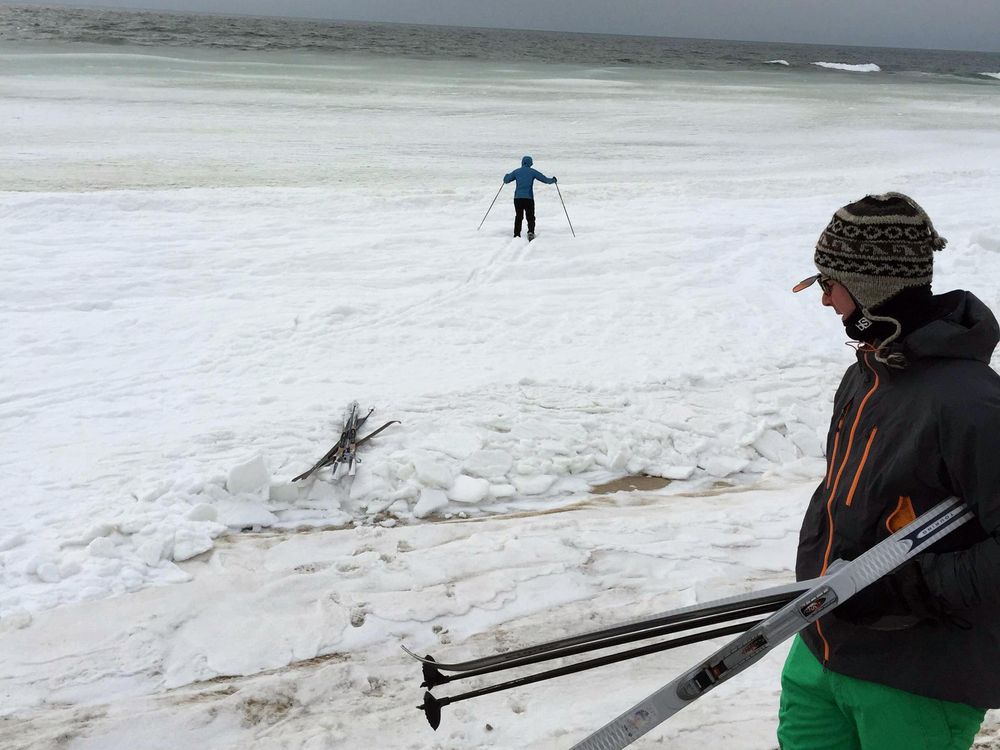 When my fiancée and I left snow-entombed Boston last weekend for the relatively balmy isle of Nantucket, we thought we were putting this winter's outlandish weather behind us. "It's warmer here," one of our island-dwelling hosts promised. "Very, very slightly."
Our first morning on the island, we all strapped on Nordic skis and set out on what proved to be a desultory session, spoiled by bare earth poking through the trail. Shrugging, we carried our skis over the dunes to the beach, where we were surprised to find a wide, white field hugging the coastline in either direction. It looked like untrammeled snow—except snow doesn't move like that. The Atlantic had become roiling, undulating slush. 
Far from shore, dark blue seawater was visible, but closer in, curling white waves of frozen slurry were breaking, depositing ice with the consistency of a Slurpee in waist-deep piles on the shoreline. Soon we were cruising among those piles on our skis, careful not to stray into the slushy breakers.
Ice can form along a seashore in two ways, says biological oceanographer Carin Ashjian, a scientist at the Woods Hole Oceanographic Institution. Salt water freezes at 28.8 °F (-1.4 °C), and when the air is colder than that, breaking waves can deposit layer upon thin layer of ice onto the ground, which add up to form a solid rind. I saw some evidence of that process on the beach, where shelf-like formations lined the occasional sandy stretch.
But the vast majority of the icy sludge we encountered was sea ice that had made its way ashore. The prior night had been frigid, part of a cold weather system that had settled on New England with the seeming intention of hanging around for a while. Seawater in winter is generally a degree or two above freezing, Ashjian says, but when the air is breathtakingly cold for a period of time, the topmost layer of water several yards thick can approach the freezing point. 
When the surface skin of that layer loses heat to the sub-freezing air, there's no heat to be gained from the water below it, and the surface freezes. For a time, the wave action of the sea prevents individual chunks larger than kernels of corn from forming, although ice of that consistency is on its way to freezing solid, Ashjian says.
Wind and currents take the newborn, floating ice where they will. In our case, that place was an Atlantic-facing Nantucket beach, but it wasn't the only New England location where sea ice was appearing. Far thicker ice in the harbor of Hingham, a suburb of Boston, had closed down the commuter ferry for nearly the entire week prior. "This winter has definitely been one of the worst," Coast Guard Petty Officer Ross Ruddell told the Boston Globe. "We're definitely approaching records for the amount of ice formed and broken" by Coast Guard ships.
But still, such freezing near the shore is not uncommon, Ashjian says, adding that she's seen Buzzards Bay freeze over several times in the 20 years she's lived in the area. "It's not common in the sense that you see it every winter, or see it all the time. But I wouldn't call it rare."
We continued to ski, keeping the ocean to our left. At one point, my ski plunged into a pocket of water that had been concealed by the slush, requiring a heroic effort to extricate it. Stoically, we pressed on, until finally we approached a barrier that we couldn't pass: a grey seal. Brown in color—a juvenile—it was lying on a patch of sand surrounded by the ice. It picked up its head as we neared and we stopped, concerned.
We needn't have worried. Though not native to sea ice like its cousin the harp seal, the grey seal is well adapted to extreme cold. "Probably, the seal was fine," Ashjian says. "Maybe a little surprised, if a seal can be surprised." Other coastal species were also likely untroubled by the conditions. "The minnows will be fine," she said, reassuringly. "They're just going to be under the ice."
We turned our skis back towards home. Later that afternoon, it warmed up and rained; we kept dry at the Cisco Brewery. The next morning, the seaside slush was all but gone. I asked Ashjian what it would take for the waves to become icy again. More cold weather, she says.
This coming Saturday, Nantucket will see temperatures between the low twenties and the teens.